Ryan Companies and Jim Stowers Announce "The Center for Excellence For Precision Health Research" at The Glade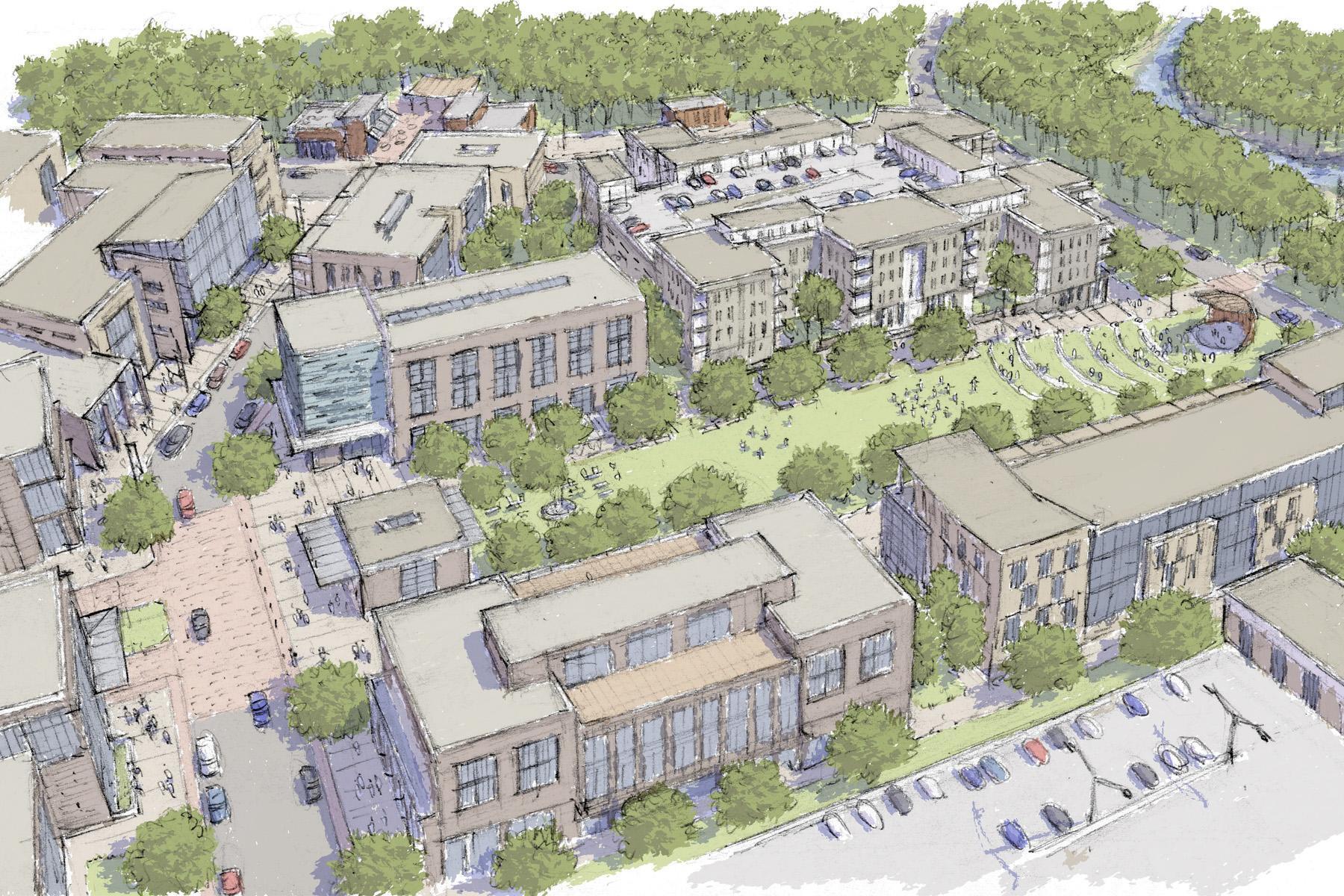 Kansas City, Mo.
(
Nov 09, 2021
)
Following Port KC's development committee approval and board approval regarding the partnership's Memorandum of Understanding (MoU), we're excited to announce, along with Jim Stowers III, "The Center of Excellence for Precision Health Research" at the Glade, a 325-acre planned community located just minutes from downtown Kansas City.
At the heart of The Glade is the Village Center, a purposefully built mixed-use district boasting live, work, and play amenities amid walkable sidewalks, bike-friendly streets, and green plazas. The Village Center is planned to host over 1 million square feet of genomic research, genetic counseling, genetic sequencing, clinical research organizations, health clinics, and higher education known
collectively as the "The Center of Excellence for Precision Health Research" alongside traditional and creative office users. Over the course of the next 10-20 years, The Glade is estimated to generate 4,000 jobs which in turn will create growth opportunities for small businesses, professional services, start-ups, and entrepreneurs in support of this economic development effort.
"This is not only the first step in implementing the vision I've had for this site for many years but will continue to make a positive impact on the Kansas City community in the area of life science forever," said Jim Stowers. "At its core, we are creating opportunities for the Kansas City economy to continue the growth of the life sciences by creating a vibrant, sustainable, and thriving community for
all."
The district's first phase includes a 120,000-square-foot best in class life sciences and office facility focused on cutting edge precision medicine research. This lab-ready space will house supporting innovation, incubation, meeting spaces, and retail amenities. Dedicated to the benefit of innovative research and development, financial success generated by Building 1 will go directly to support a 501(c)3 non-profit donor advised fund at the Greater Kansas City Community Foundation. A curated team at JLL has been selected to lead the brokerage role both within the Village Center and throughout the overall development. The curated team includes JLL's life science specialty group, Grant Schoneman from San Diego and John Cunningham from New Jersey.
"JLL is proud to be playing an integral role in bringing this exciting project into being in Kansas City," said Larry Glaze, managing regional director at JLL. "We have assembled a proven team whose focus and expertise, both locally and nationally, will help propel The Glade and the region's life sciences economy forward."
Phase two includes an estimated 100,000-square-foot commercial greenhouse and farmer's market, envisioned to create a commercial production greenhouse facility while partnering with sustainable agriculture academia to address the growing need for research, education, and responsible, locally grown food.
The vision of The Glade is to inspire leaders, fuel visionaries, and propel discovery by creating a unique 325-acre planned community. Situated just minutes from downtown Kansas City and adjacent to Cerner Corporation's Innovations Campus, The Glade will unite the best minds in research, academia, precision medicine, technology, and commerce to create purposeful collaborations to drive new research, scientific breakthroughs, and life science investment. Assembled by Jim Stowers over 60 land transactions, the property has been planned by Ryan and renowned Miami based town planner, DPZ CoDesign. At full build-out and as entitled, The Glade will be comprised of office, retail, hospitality, sustainable agriculture, single-family residential, multifamily, multiple parks and green spaces and senior living, totaling over 3 million square feet of commercial use and up to 2,500 residential units.
"The Glade is an exceptional opportunity to create a mixed-use community focused on the enhancement of health and the furtherance of purposeful collaborations within the science and technology community," said Brandon Brensing, director of real estate development at Ryan. "We envision the research to benefit not only human health but of plants and animals as well."