5 Ways to Create Caring Communities for Seniors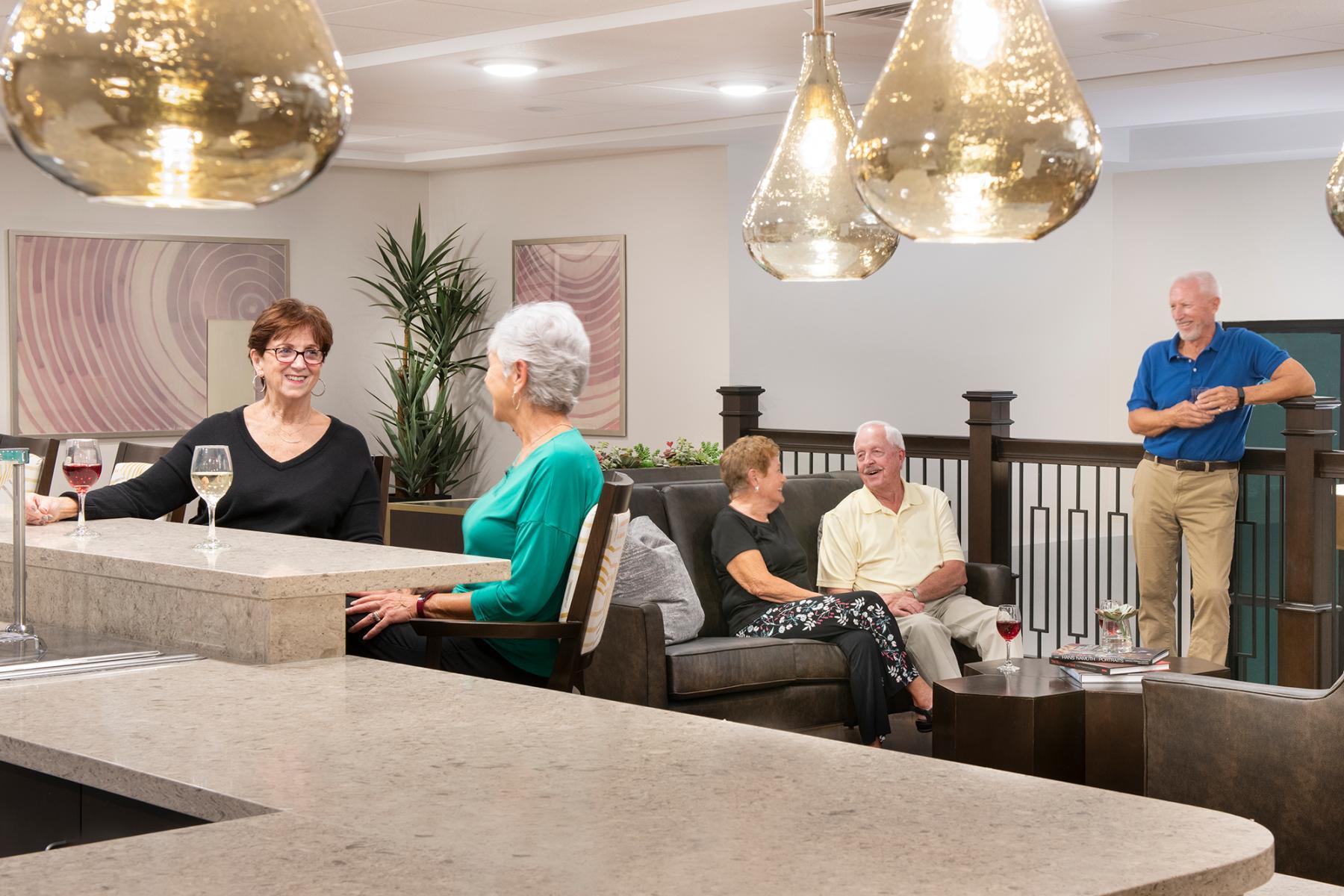 Feelings of isolation and loneliness (which were only intensified by the COVID-19 pandemic), along with access to affordable healthcare, continue to be a few of the biggest challenges that seniors face. And with the average life expectancy on the rise, the demand for quality senior living communities is more prevalent than ever—which makes our jobs only that much more important.
But building high-quality, desirable senior living communities isn't just about the built structure or return on investment. It's about creating spaces where seniors feel safe, supported, connected and cared for. Communities where we would want our own parents—and even ourselves—to live. Since 2010, we've built over 2,500 units of caring communities where seniors can create their new story. Here's a few tips we've learned along the way:
1. Choose a strategic location
When it comes to selecting sites for senior living communities, it's important to take the surrounding environment into consideration. Sometimes this means within a suburban area close to local businesses, while other projects are built within an urban environment. Placing buildings near accessible amenities like grocery stores, restaurants, neighborhoods and parks, will enable seniors to engage in the nearby community and experience life outside their walls. And choosing locations near major roads provides accessibility for family members to visit.
2. Implement thoughtful architecture & design
The built environment of a senior living community has a large influence on residents' overall opinion of the space. Factors like room temperature, noise levels and the physical seating of a space can negatively impact residents' experiences.
By combining luxury finishes with practical design, you're able to make spaces feel warm and welcoming, all while being functional for an aging population. Paying special attention to every detail and thinking through senior-specific design elements like seamless flooring transitions, furniture that supports ease of movement and stability, impermeable upholstery fabrics and memorable art for wayfinding and navigating can make all the difference. We've also learned the importance of connecting spaces to nature, known as biophilia. This can be through indoor-outdoor spaces, or ensuring there's plenty of natural light, open layouts and green spaces for seniors to enjoy.
3. Offer age-in-place models
According to a study by AARP, two-thirds of all adults — and 79% of those 50-plus — want to stay in their current communities or residences for as long as possible with the care needed as they age. Offering this specific continuum of care model allows residents ability to transition from independent living to assisted living, without the stress of needing to transfer dwelling units or refamiliarize themselves with their surroundings and community.
4. Provide access to healthcare         
Senior living communities need to focus on creating convenient access to the healthcare seniors often need. Beyond offering assisted living and memory care programs, many communities implement on-site services that provide routine assessments of residents' physical and cognitive capabilities or are available in case of emergency. In addition, transportation to-and-from doctor appointments and assistance with telehealth visits should be offered.
5. Don't skimp on the amenities
Offering high-end amenities in senior living communities isn't just about luxury living; it's about enhancing the lives of seniors and creating spaces that foster a sense of community. Amenities like fitness centers, therapy rooms and pools help seniors stay physically fit, while spas and salons help them feel and look their best. Spaces like chapels, theaters, music rooms, arts & craft studios and libraries allow for personal expression and continued growth and learning. Providing ample common areas both indoors and out will allow residents to naturally gather with themselves and visitors. Senior living communities are also moving away from only offering "three-square meals" in a dining hall and are implementing bistros and cafes that offer fresh and healthy options at any time of the day.
Interested in learning more or working with our senior living team? Visit us here.