Building Stories of Resiliency: Helping health systems think differently about facilities and real estate.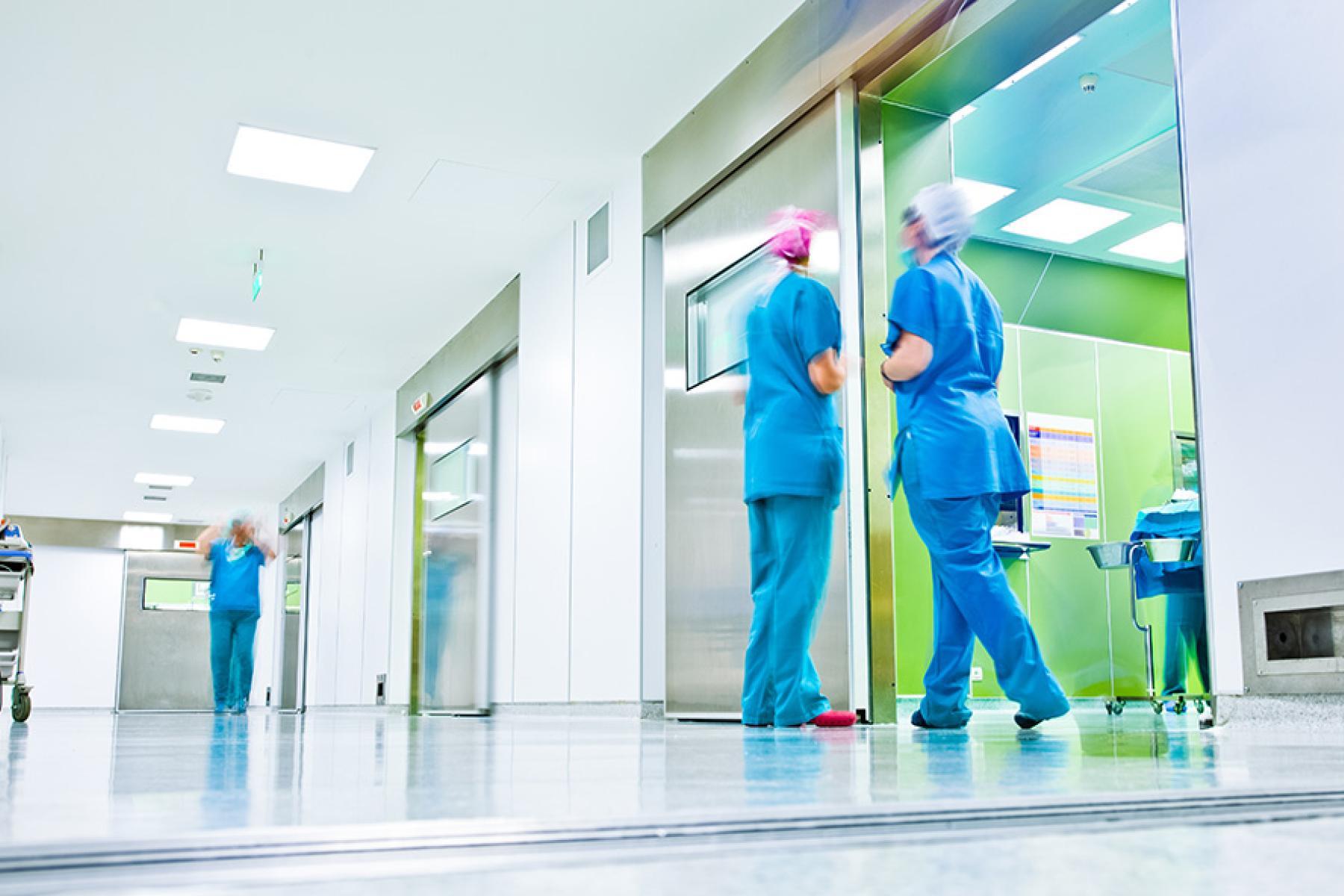 The global healthcare community is currently fighting an unprecedented battle. The COVID-19 crisis is challenging our conceptions for how we design, build and operate medical facilities as we watch the inspiring strength and compassion of doctors, nurses and healthcare professionals worldwide. The healthcare design and construction community has been enlisted in this effort, designing and erecting temporary screening facilities and Alternate Care Sites, as well as repurposing existing inpatient spaces. Across the country, Ryan's interdisciplinary healthcare team has stepped in to help our customers evaluate their options in responding to novel challenges in this quickly evolving landscape.
CONVERTING NON-TRADITIONAL SPACE FOR TRIAGE AND RECOVERY
Our development, design and construction teams consulted health systems in Tampa to identify available, vacant spaces that could be converted – cost-effectively and quickly – for triage and recovery if needed. Having identified five buildings with potential for repositioning, we focused in on two former retail spaces to retrofit. We found a two-story option ideal for putting utilities on the first floor while running med-gas lines upstairs where beds could be placed. Another vacant retail building had moveable partitions that can be used in other facilities – adaptive solutions using available resources. We connected our customers with our contacts in the real estate community to find spaces we could quickly convert toward serving patients being diagnosed – and later recovering – from COVID-19.
"We were already seeing retail spaces converted to healthcare facilities prior to this situation, so looking at those potential sites to accommodate low-acuity surge capacity like triage and recovery seemed like a natural option," said Connor Lewis, VP of Real Estate Development. "Combining this idea with my knowledge of the Tampa real estate market, I was able to help connect the dots and find viable options quickly for our customers, in case they were needed."
MANAGING FACILITIES THROUGH CRISIS
Keeping people and the environments where they work safe continues to be critically important in battling this virus. Our facility maintenance team assisted early on with setting up drive-through testing sites at several healthcare facilities we manage. Our role also included helping coordinate essential vendor access and enforcing safety and screening protocols. As part of our protocol, emergency information is stored virtually to ensure accessibility—forgoing binders in favor of going digital to make virus spread less likely while ensuring clear communication. Within the buildings, we helped increase air exchanges and have undertaken various cleaning measures. As always, we worked in lockstep with clinic administrators to ensure the safety of providers, patients and staff.
"Leading a team of facility managers and engineers for clinics in Wisconsin, I'm seeing the frontline impact first-hand. Now, more than ever, having clear protocols in place—even simple things like ensuring consistent communication between building tenants, owners, and our staf —make operations run as smoothly as possible," said Gabriel Fernandez, Associate Director of Management. "We're also proactively creating, amending, and implementing processes and procedures based on the changing situation to enhance the safety of all building occupants—our number one priority."
SURGE FACILITY ASSESSMENT
For one of the top five largest Minnesota-based health systems, we delivered facility assessment and actionable recommendations in less than 24 hours for anticipated surge of COVID-19 patients. We evaluated the building from the standpoint of mechanical, electrical and plumbing (MEP), architectural design and constructability, helping our customer understand key factors impacting their budget and timeline. Our interiors team fast-tracked info from flooring, wall base and ceiling manufacturers to identify readily available products and delivery timelines to share with our construction team, which in turn delivered multiple repositioning scenarios with cost estimates and constructability considerations.
"A major health system requested rapid evaluation of one of their outpatient facilities for its ability to accommodate a surge of COVID-19 patients," said Alena Johnson, Director of Architecture, Healthcare. "Together with MEP partner, Dunham, we assessed what could be done in terms of revamping existing space for treatment of patients requiring ventilators. We also looked at alternative uses for the building, including retooling the space for sta respite versus treatment of non-critical, non-COVID patients to free up bed capacity in the main hospital. Since none of us knew how quickly the COVID-pandemic would materialize locally, our assessment was somewhat of a race against the clock. I am very proud of our team for responding immediately to an urgent need to inform our client as to what their existing facility is capable of."
We continue to stand ready to provide our insights, knowledge and expertise in healthcare construction, design, facility operations, and strategic planning services and are here for you in partnership as you continue to fight on the front lines of this pandemic. Also, we will remain here as you work through how this may impact your strategic priorities and plans moving forward. There is no doubt that this experience will change aspects of how we all do our work in the future, and we are here to collaborate with you to adapt to those changes.
We are all in this together.
Mike McMahan
Senior Vice President, National Healthcare
mike.mcmahan@ryancompanies.com | 763-516-2368