A Closer Look at Two Ryan-Designed Senior Living Communities in the Midwest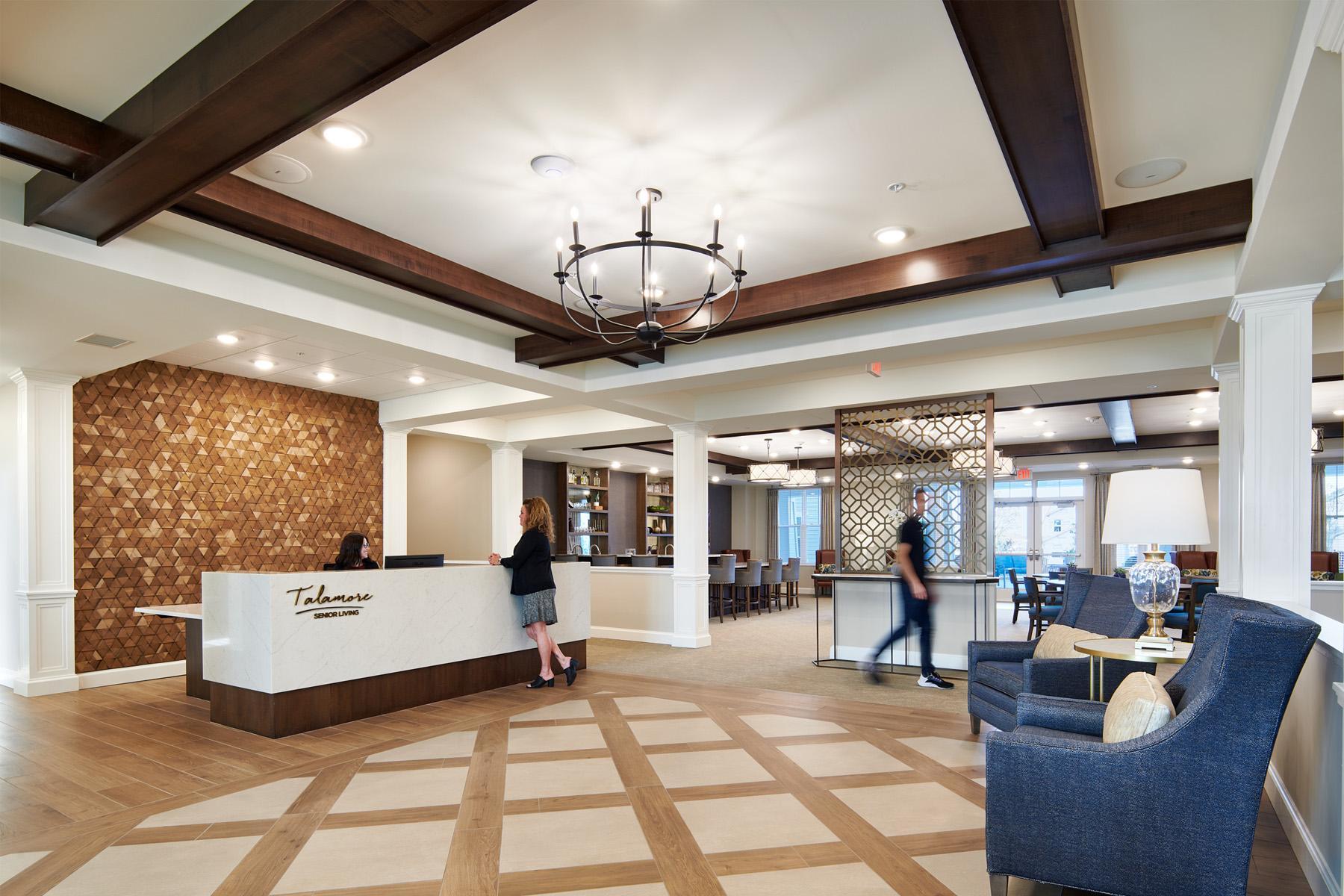 Minneapolis, Minn.
(
Dec 15, 2021
)
A new chapter began for many seniors in West Des Moines, Iowa, and Sun Prairie, Wisc., this season. Grand opening celebrations of these modern aging communities took place in both locations, marking the start of a new place for many to call home.
Ryan's holistic senior living team worked hand-in-hand with our trusted partners to bring new and exciting housing options for seniors living in these cities within Iowa and Wisconsin.  
"Our team is hyper-focused on creating places for seniors to thrive" said Chris Teigen, national director of architecture, senior living, Ryan A+E, Inc. "From program layout to club room aesthetics, our team ensures that every detail is carefully curated—we're thrilled to see these communities come to life,"
Ryan was the designer, developer, builder and capital markets partner that brought these projects to fruition. Now, as partial owner, Ryan provides asset management oversight to both communities.
Grand Living at Tower Place
Grand Living at Tower Place is an elegant 231,000-square-foot senior living community, located in West Des Moines, Iowa. The community includes 138 independent and assisted living residences and 38 memory care residences. Unique for this market, seniors can age-in-community; meaning a resident can remain within their apartment and continue to receive services over time—even as their needs change.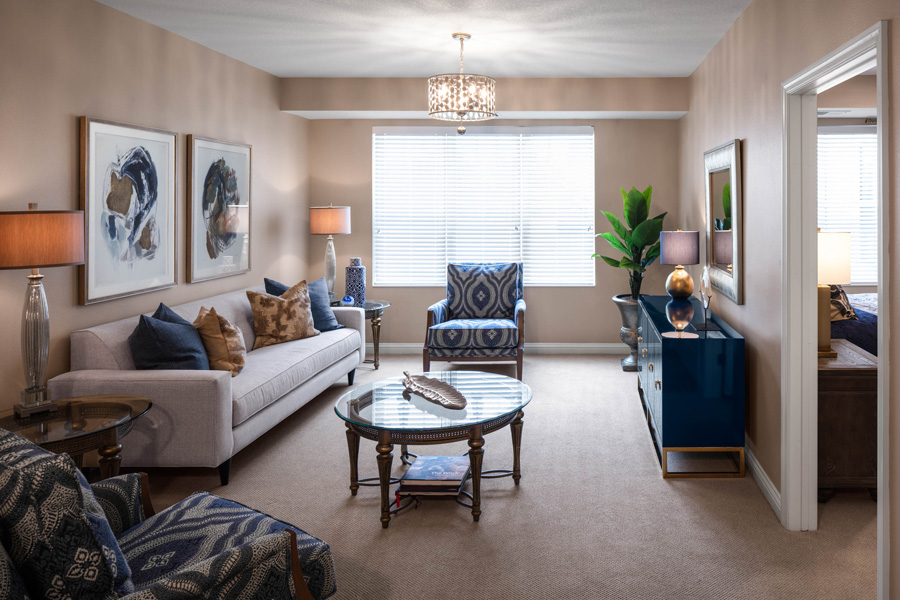 Designed around the goal to blend community and luxury, Grand Living at Tower Place offers world-class amenities, chef-prepared top-notch cuisine, exciting entertainment, and a professional staff focused on enhancing the lives of the residents. Residents can enjoy the many amenities the community offers including the Grand Lounge and Legends Club, Grand Library room, formal, casual, and bistro dining, the Forum Performance Theater, Grand Spa and Fitness Center featuring a full-service salon, indoor pool, and therapy rooms, game room, gift shop, and chapel.
The design was inspired by the adjacent neighborhood and is reminiscent of traditional residential architecture; the striking stone façade is balanced with shaker siding and gabled roofs. The layout features a prominent main entry that leads to shared common spaces flanked by two five-story residential wings.
With a focus on biophilic design, a technique that promotes human connection to the natural environment, special attention was focused on using the landscape to create different gathering areas and an abundance of amenities. For example, a main exterior courtyard was incorporated into this community and features a large amenity area for activities; it was designed in a circular manner and relies on the building to provide shade during the afternoon hours. Seniors also have access to a courtyard dedicated to dining with a variety of seating options—suitable for groups or more cozy fireplace scenarios.
This third Grand Living community in Iowa is helping to fulfill the demand in the area and the design is providing seniors a place that is both luxurious and fun to call home.
Ryan A+E, Inc. was the architect of record in partnership with Spellman Brady & Company as the interior designer.
Talamore Sun Prairie
Talamore Sun Prairie, another age-in-community option, is located on an ideal property in a beautiful, under-served suburb of Madison, Wisc. The design of the 141-unit senior living community is focused on resident experience, keeping compassion, comfort and family feel at the forefront of all design decisions.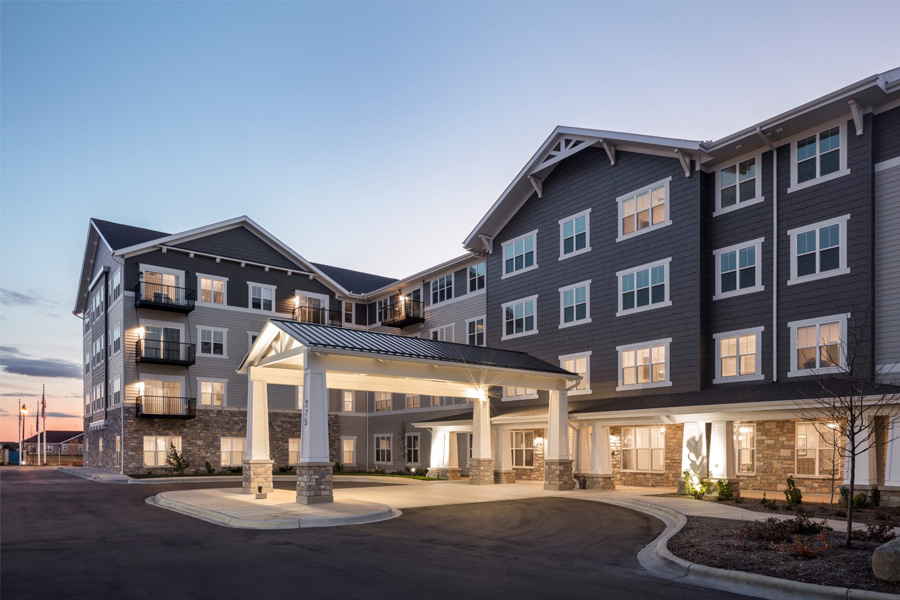 The entry is grounded by a grand porte-cochere, where residents enter a welcoming lobby flanked by higher-end amenity spaces. The first floor is designed around a central Club Room, with open flow to the adjacent library, mail room, breakfast "perk" gathering area, and outdoor courtyard. Beautiful finishes and furnishings were selected with a focus on creating a welcoming environment that aligned with the context of the community. Throughout the community's various gathering spaces, varied seating options accommodate residents of all capabilities and give them more freedom to choose their preferences and comfort levels. In addition to an already-health-focused atmosphere, a high-performance ventilation system, among other design and safety measures, were put into place to protect community health in response to the pandemic.
The exterior design reflects a modern craftsman style, nestling seamlessly to a new residential development to the west side, while also acting as a point of visual transition from an active retail hub on the east. The U-shaped community hugs a large courtyard that offers outdoor dining spaces and areas to gather around fireplaces and strategically placed landscaping.
Ryan A+E, Inc. was the design architect, interior designer, landscape architect and civil engineer, in partnership with UrbanWorks as the Architect of Record. Despite challenges posed by the pandemic and even severe rainfall, the community successfully opened in July 2021.
To learn about other senior living projects completed by Ryan, click here.