Community Celebrates Start of Construction on Fully Reserved Building at Friendship Village Tempe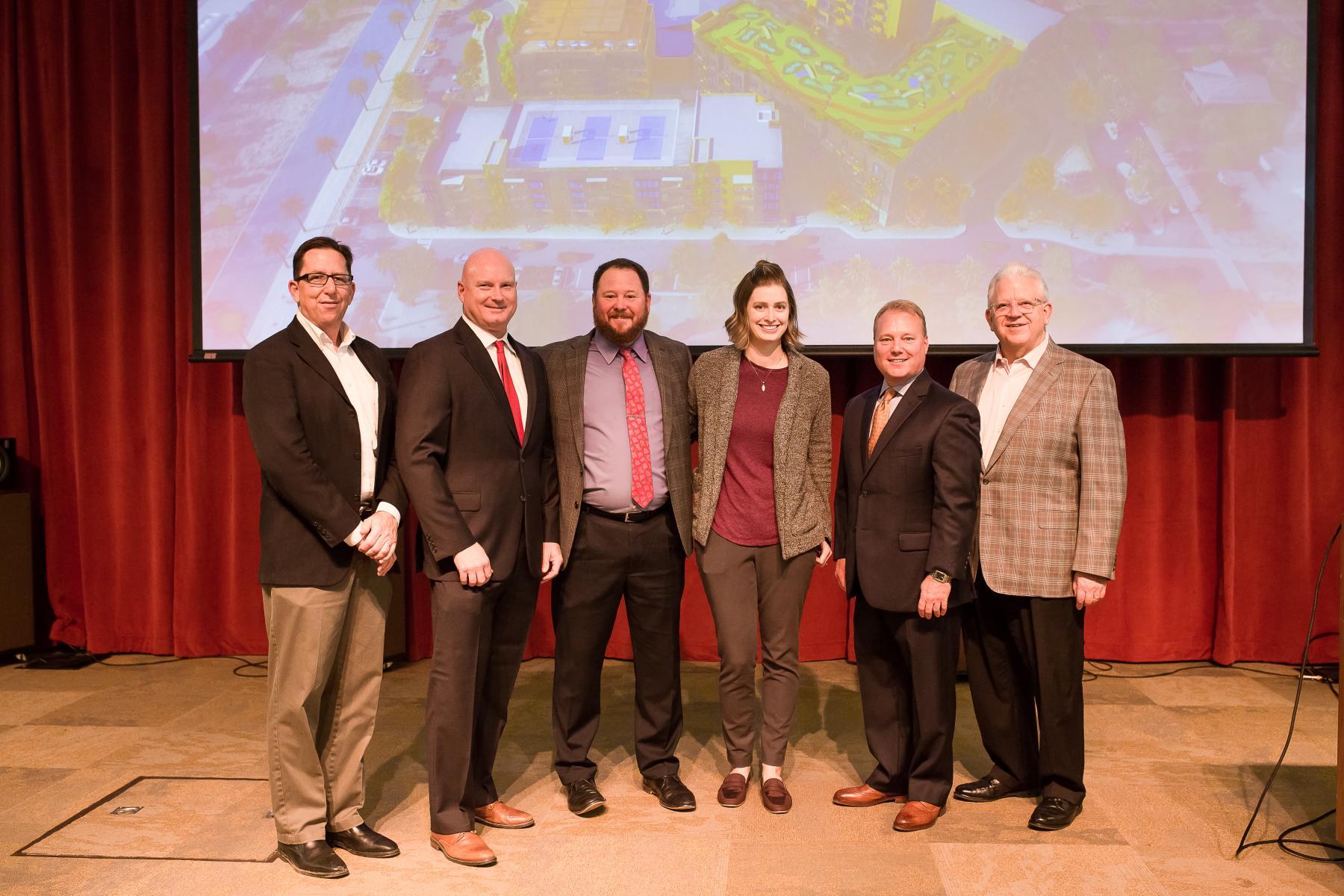 Tempe, AZ
(
Dec 05, 2019
)
Friendship Village Tempe, community members, City of Tempe and the project team, gathered to celebrate phase one of a six phase master plan renovation of their 50 acre campus. The new 101,000 square foot building at Friendship Village Tempe, designed by Ryan Companies and managed by LCS, was fully rented before Ryan's construction team broke ground.
Friendship Village Tempe, one of the first continuing care retirement communities in the region, was originally built in 1980. The revitalization will bring the phase one building to the community by spring 2021 with plans of five additional buildings to come later. Ryan A+E, provided full design for the first phase and has completed schematic design of the remaining buildings.
"We are very excited about the future of Friendship Village; we have invested significant time and effort into getting this project underway and believe it is going to benefit our residents and team members which will ensure our ongoing success well into the future," said Cole Marvin, executive director, Friendship Village Tempe. "The Village has a reputation for staying ahead of the curve in all things senior living and this project will be no exception. We have solid partnerships with Ryan Companies and Life Care Services Development who are both committed to the success of our community."       
The 101,000 square foot new building will include 40 independent living apartments and 66 below-grade parking spots. The one- and two-bedrooms apartments range from nearly 900 square feet to 1,600 square feet and include top-of-the-line finished designed by Thoma-Holec Design. Residents will have access to all amenities and services on the community grounds which includes multiple dining options, spacious common areas, a woodworking shop, computer lab with training classes, three libraries, an auditorium, on-site banking, a recreation center, a gift shop, swimming pool and spa.
"We have thoroughly enjoyed working through the design of this building; by leveraging our integrated team and advanced technology, we were able to immerse the friendship village team into the floor plans through interactive virtual reality and 3-D printing" said Beau Dromiack, director of architecture, Ryan Companies.
Ryan Companies has built 45 senior living communities throughout the country and Friendship Village will be its fifth senior living project in the region.
"We are grateful for our long-standing partnership with Friendship Village Tempe and Life Care Services; we are thrilled to be the design-builder on the first piece of this exciting revitalization of the campus," said Chuck Carefoot, senior vice president of construction, Ryan Companies.
About Friendship Village Tempe 
Since 1980, Friendship Village Tempe has set the standard in senior living and provided its residents with a fulfilling retirement lifestyle. The community offers one- and two-bedroom independent living apartments and Garden Homes. As a Life Care community, Friendship Village Tempe also provides a full continuum of care, including on-site assisted living, skilled nursing, and memory care residences and services. Friendship Village is managed by Life Care Services™, a leading provider in Life Care retirement living. For more information about Friendship Village, call (480) 831-5000 or visit www.FriendshipVillageAZ.com.
About Life Care Services®
Life Care Services, An LCS Company, established in 1971 and based in Des Moines, Iowa, is the third largest manager of full-service senior living communities. Life Care Services currently provides operations, and marketing and sales management services for not-for-profit and for-profit Life Plan Communities, formerly known as Continuing Care Retirement Communities (CCRC), and rental independent living, assisted living, and memory care communities nationwide. For more information, visit lifecareservicesLCS.com


Image from left to right: Beau Dromiack, Director of A+E, Ryan Companies; Chuck Carefoot, Senior Vice President of Construction, Ryan Companies; Cole Marvin, Executive Director, Friendship Village Tempe; Emily Garba, Associate Executive Director, Friendship Village Tempe; Mayor Mark Mitchell, City of Tempe; Rick Collin, President, West Division, Ryan Companies.