Construction of Ryan Tower is Now Underway in Plano, Texas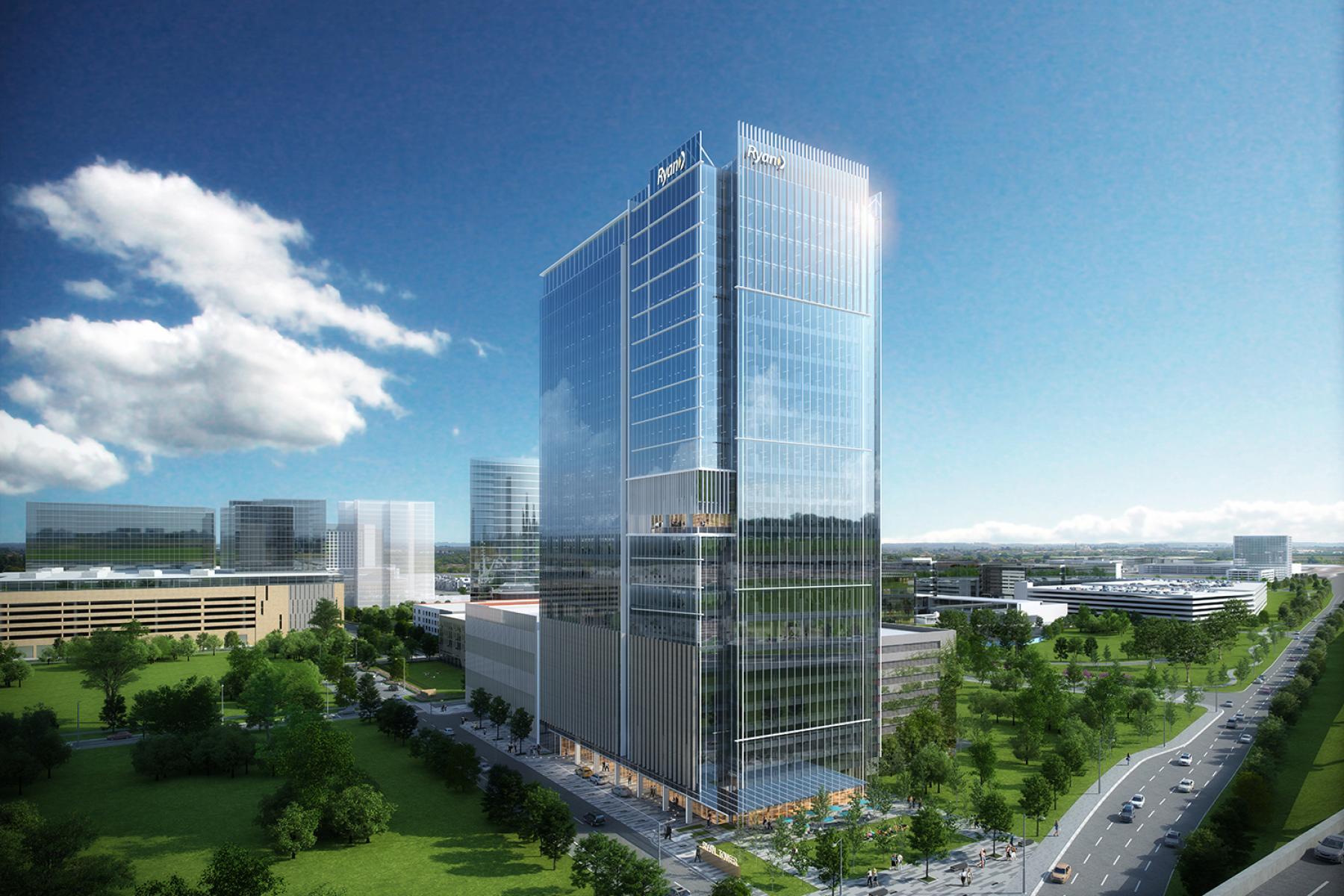 Plano, TX
(
Jun 27, 2022
)
After announcing the forthcoming development of Ryan Tower in October 2021, construction has commenced on the 23-story multi-tenant Class AA office tower. The 409,000-square-foot tower is located in the heart of Legacy West, a lush urban destination lined with retail, dining, residential, hotel and office spaces. Ryan LLC, a global tax services firm with no affiliation to Ryan Companies, will relocate its world headquarters from the Galleria to Ryan Tower when construction is completed in Q3 of 2024.
"Our selection of Legacy West as the site for our new headquarters is a purposeful part of our team member-centric strategy to be the best workplace in tax globally," said Brint Ryan, chairman and CEO of Ryan LLC. "We'll be at the center of where our team members live, complementing our myRyan® hybrid work environment and providing them with the best opportunity possible for work-life success."
Situated on a 3.6-acre site and located at the intersection of State Highway 121 and Windrose Drive, the Class AA tower includes efficient 29,000 SF floors and will offer 10-foot, floor-to-ceiling windows and a virtually column-free workplace.
"Ryan Tower is an iconic new gateway tower for Legacy West," said Paul Rowsey, vice president of development, Ryan Companies. "It will be a best-in-class multi-tenant option for both tenants looking to relocate to DFW and tenants already in the region looking to recast their image, access the best amenities the area has to offer, and bring employees back to the office."
Gensler is the architect for the project. Designers worked closely with the development team to create a building that maximizes its potential as a beacon on the northern boundary of Legacy West, expressing verticality, clean lines and masterful detailing.
"Ryan Tower exudes the confidence and relaxed elegance of its anchor tenant," said Gensler Principal Scott Armstrong. "We think it will be seen as an example of how to come together to work, connect, celebrate, and promote the workplace of the future."
The tower will feature a variety of amenities including an onsite fitness center, multiple conference rooms, a tenant lounge and a café. Outdoor amenities include structured parking, an abundance of manicured green space and bike storage. Additionally, Ryan Companies is pursuing Fitwel certification which includes additional amenities to maximize the health and wellness of the customers in the building.
Construction financing for the project is being provided by ACORE Capital. Joint venture equity capital is being provided by Koch Real Estate Investments (KREI), the real estate investment vehicle for Wichita-based Koch Industries. The development cost was not disclosed.
"Ryan Tower's accessibility, top-tier corporate neighbors, and walkability to best-in-market retail and dining will provide an energetic environment employees will really enjoy," said Ryan Ross, managing director at KREI. "We are excited to partner with Ryan Companies and look forward to the addition of this first class building to the Plano skyline."
The building will offer urban walkability to Legacy West's world-class restaurants and lifestyle venues, including Tory Burch, Louis Vuitton, Tecovas, West Elm, North Italia, Haywire, Legacy Food Hall, and easy proximity to the Shops at Legacy and The Star. Adjacent corporate tenants include JP Morgan, Toyota, and Liberty Mutual, among others. Ryan Tower also has easy access to DFW Airport, the Dallas CBD, and the areas most coveted residential areas and schools.
As the anchor tenant, Ryan LLC is leasing 50% of the building. JLL has been selected to market and lease the project and are actively seeking tenants to lease the remaining 200,000 SF on floors 12 through 19. Ahnie Sheehy and John Brownlee of JLL will represent the property. For more information on leasing opportunities, please visit: www.jll.com