Dallas County and Ryan Officially Open $33M Oak Cliff Government Center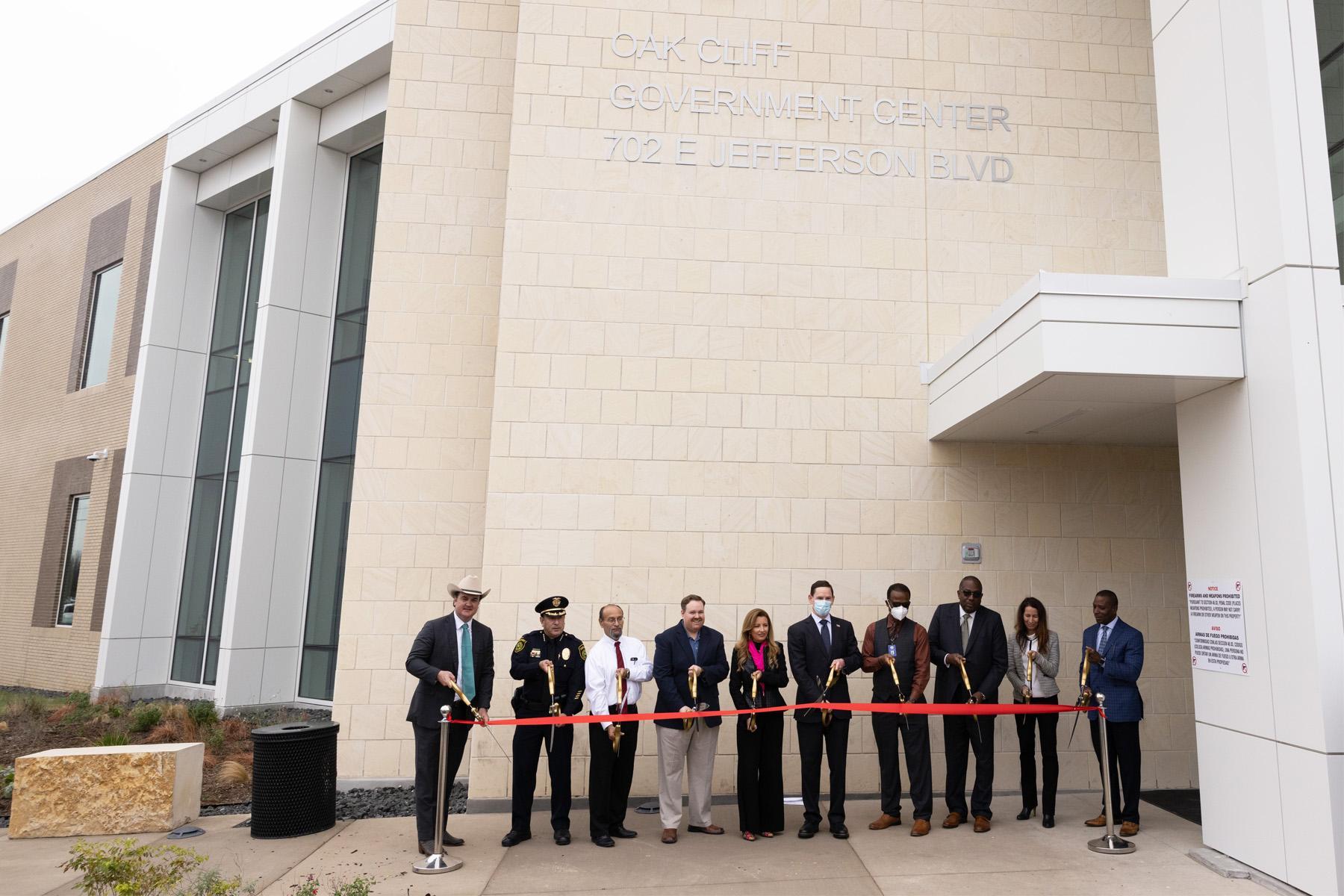 Dallas, Texas
(
Dec 20, 2021
)
Dallas County Commissioner Dr. Elba Garcia hosted a ribbon-cutting ceremony to celebrate the opening of the new Dallas County Oak Cliff Government Center located at 702 East Jefferson Boulevard. The $33 million two-story, 43,000-square-foot facility will house the Dallas County Justice of the Peace, Truancy, Constable and Tax departments. An adjacent three-story parking garage with 240 spaces and a sky bridge is also part of the project.
"Our goal was to create a modern, efficient facility to allow Dallas County employees and taxpayers to conduct business safely," said Dr. Elba Garcia, Dallas County Commissioner, District 4. "Even the seemingly smallest details were considered. For example, we ensured the path from the garage to the main entrance is covered to keep visitors dry if it's raining. We also worked together to recommend and approve safety measures and building improvements that were not part of the original facility design in preparation for a post-COVID working environment."
Ryan was the developer and general contractor of the project and GFF was the architect. Unique features of the building include a glass curtain wall that surrounds the building and public art murals incorporated throughout by local artists. In addition, the building received Leadership in Energy and Environmental Design (LEED)-Silver certification from the U.S. Green Building Council for its energy efficient and innovative design and sustainable practices. Native plants were used reducing the need for irrigation and recycled and regional materials came from within 500 miles of the project site.
"The completion of this project marks a much-needed update to the County's government offices," said Paul Rowsey, vice president of real estate development for Ryan's South Central division. "We had a vision to transform this block, right here in the heart of Oak Cliff, to have a beautiful, functional, aesthetic facility to house important government offices and provide a proud place to effectively gather and serve the people of this community."
The building sits on two acres in Oak Cliff's original downtown, which is experiencing a revitalization. As part of the project scope, 52 percent of the vendors participating in the construction were minority- or women-owned businesses. In addition, Ryan hired subcontractors who worked with the Regional Black Contractors Association to recruit employees from their "Second Chance" Program who were previously homeless or had criminal backgrounds.
Local and state officials along with community members attended the ceremony including Dallas County Judge Clay Jenkins and Dallas County Commissioners Dr. Theresa M. Daniel, District 1; J.J. Koch, District 2; and John Wiley Price, District 3.
Since opening its first office in Texas in 2012, Ryan has grown to offer development, architecture + engineering, construction, real estate management and capital markets. Some of Ryan's projects in Texas include the office tower at Legacy West in Dallas, 321 West and the Oracle Corporation headquarters, both in Austin.