GlobeSt. Real Estate Forum Names Ryan Companies as Influencers in Two Sectors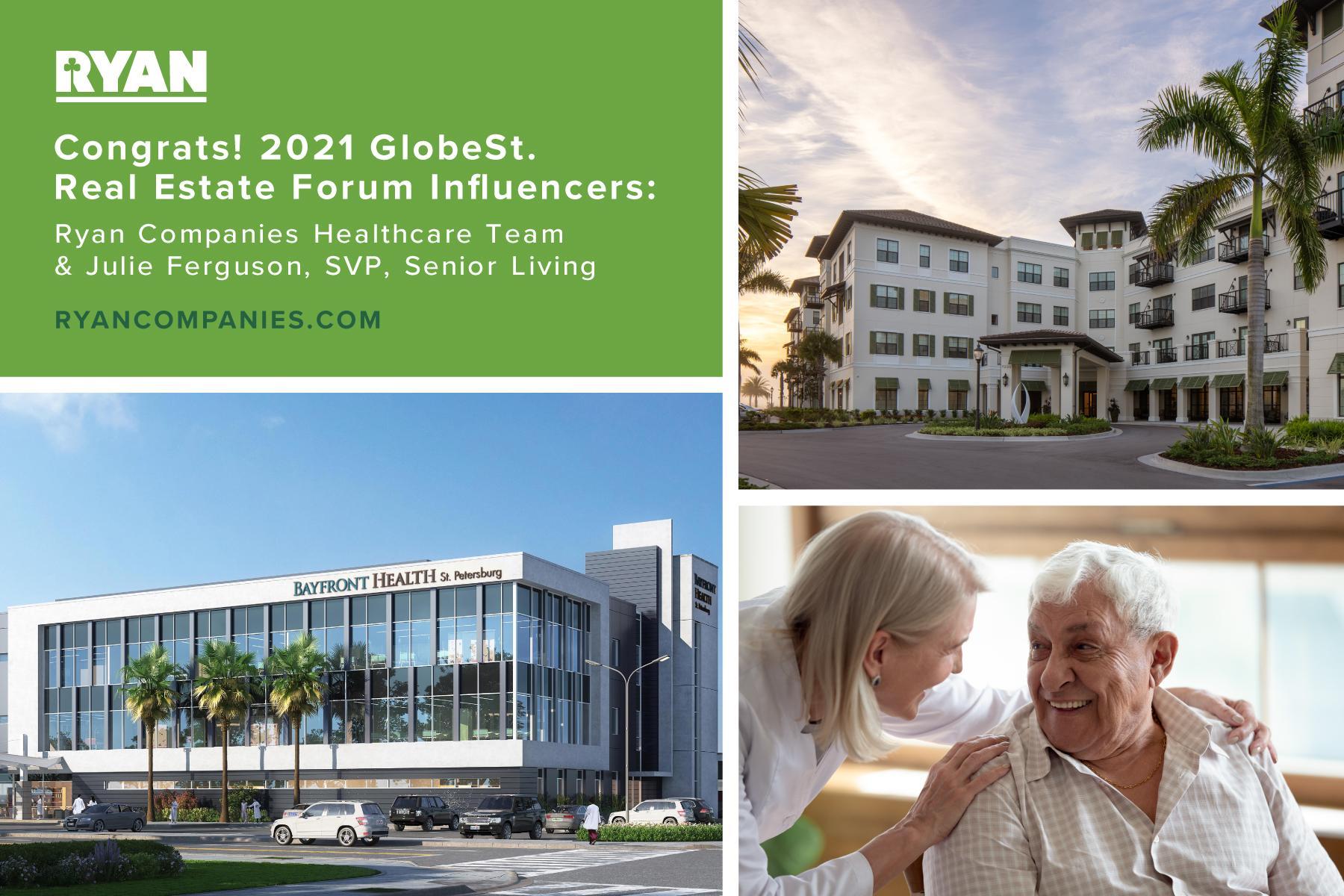 Minneapolis, Minn.
(
Dec 08, 2021
)
A round of applause is in store for our senior living and healthcare teams. GlobeSt. Real Estate Forum, a magazine for the nation's leading decision makers in all segments of the commercial real estate industry, picks the top influencers within their respective sectors annually. For 2021 (cue the drumroll), Julie Ferguson is named a Senior Housing Influencer and the Healthcare team is being recognized as Healthcare Influencers!
The senior living sector has navigated a number of challenges throughout the pandemic. Despite the hurdles the industry faced, senior living is poised for strong growth through this decade and beyond. Julie's passion for senior living started very early in her career and when she joined Ryan in 2019, that passion continued to deepen. During her first year at the company, four communities opened their doors and nearly $320 million of senior living developments broke ground. She has also grown the senior living team by nearly 50% in the past year and a half. In Q3 of this year alone, the senior living team was responsible for 10% of the construction starts across the country. Under Julie's leadership, the senior living team expects to break ground on 16 projects in the next 22 months, totaling 2,750 units and over $1.1 billion in total project costs – a 300% increase from the the four projects Ryan kicked off in 2020. Aside from her accomplishments, she's also actively involved with American Seniors Housing Association (ASHA), the national Investment Center for Seniors Housing and Care (NIC), Environments for Aging (EFA), LeadingAge, Argentum and Urban Land Institute (ULI).
The healthcare team at Ryan was recognized for their ability to challenge conventional thinking by bringing in perspectives from all aspects of healthcare real estate and facilities, leading to unique and impactful solutions for our clients. As the pandemic continues posing new challenges in the industry, helping healthcare clients realize new possibilities is essential. For instance, our development, design and construction teams helped health systems in Tampa identify available, vacant spaces that could be converted – cost-effectively and quickly – for triage and recovery. To date, Ryan has completed nearly 1.5 million square feet of healthcare projects in 16 states since 2018. The team has also started work on 28 projects of varying sizes throughout the pandemic. Mike McMahan, leader of the healthcare team, received a Twin Cities Business 100 People to Know award in 2021 and was named GlobeSt.'s Healthcare Influencer last year, in part for serving as a Healthcare Executive Liasion for the State Health Care Coordinating Center with the State Emergency Operations Command Center.
Congratulations to our talented team members for being recognized as trailblazers in their industries. To see Julie's highlight in GlobeSt. Real Estate Forum, click here. For the healthcare's team highlight, click here.