Improving Healthcare Supply Chain Efficiency with Consolidated Service Centers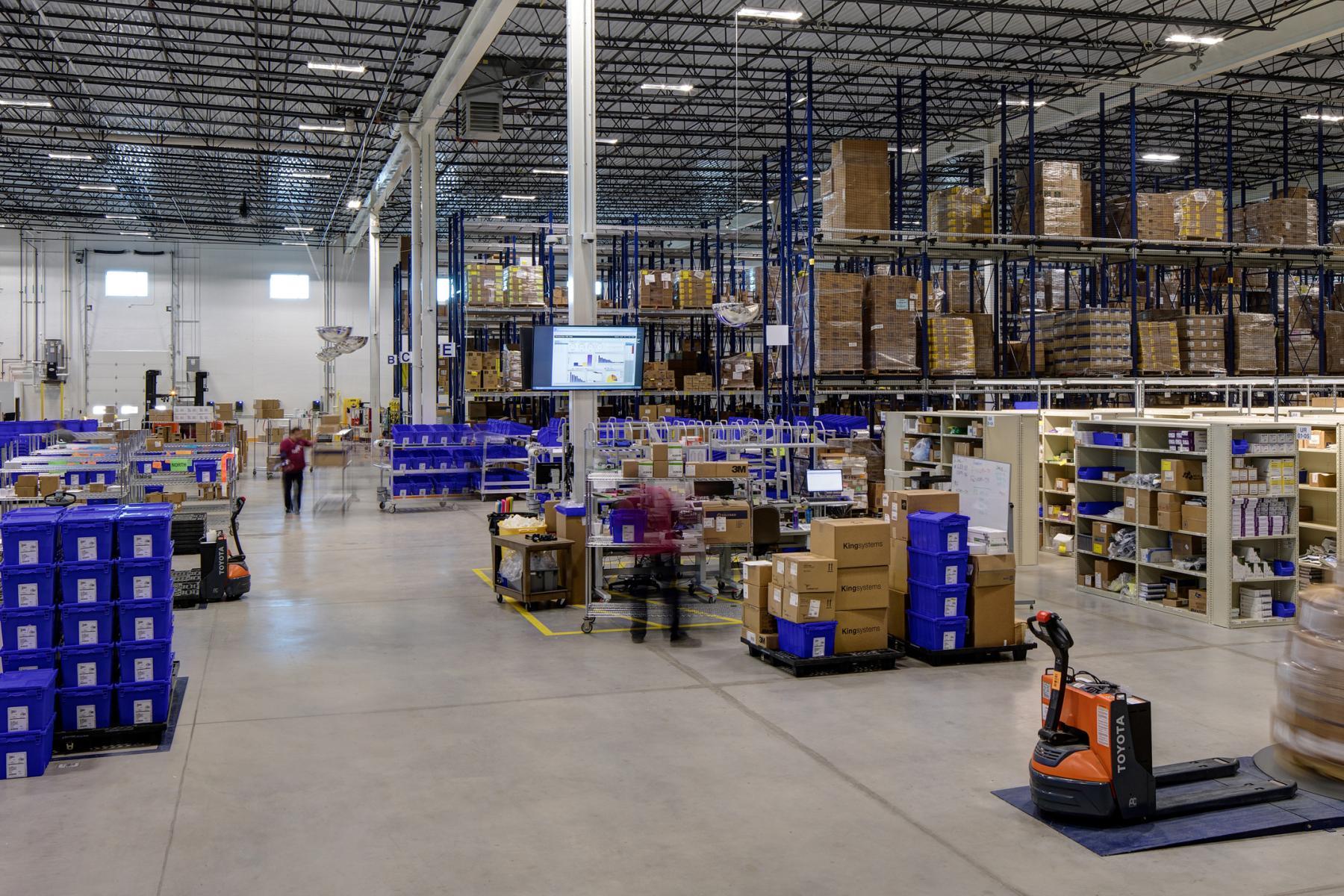 Prior to COVID-19, many hospitals and health systems were thinking about how to strengthen the healthcare supply chain. Then the pandemic hit, and supply chain challenges were impossible to ignore.
Other factors, including mergers and acquisitions, are also contributing to the re-evaluation of the healthcare supply chain. While these changes are shaping the overall landscape, some health systems are exploring the best ways to leverage economies of scale to save costs. Additionally, hospitals are looking for ways to be more efficient with how they provide services, especially as more procedures move to outpatient environments and reimbursements face downward pressure.
As part of a solution, some forward-thinking health systems have begun implementing a centralized service model using a Consolidated Service Center (CSC) to house services that are not tied to a reimbursement code. For example, an off-site CSC can be a great solution for common material storage challenges in typical clinical environments, serving as a resource for implementing a self-distribution approach.
Common services housed within a CSC include:
Warehousing and distribution
Printing
Laundry
Data Center
IT and other support staff offices
Pharmacy and drug compounding
Sterile processing and surgical packs
Laboratory
Maximize Space and Staff
By locating non-clinical services into one off-campus location you can reduce your on-campus footprint or re-purpose your on-campus space for uses better conducive to that environment (like additional procedural or ED space). If some services—laundry, printing, and data storage—are currently handled at multiple locations across your system, you could further reduce overhead and drive standardization by consolidating staff and those operations into one centralized facility. A CSC has lower initial and operational costs when compared to a clinic or hospital so can potentially reduce annual expenses while simultaneously allowing you to better leverage every square foot of your priority clinical and campus locations.
Reduce Supply Chain Complexity
Hospitals are spending $25.7 billion more a year on supply chain than necessary." - Guidehouse, November 2019
Once implemented, this model can help reduce supply chain complexity and provide the opportunity for a centralized supply chain staff to build relationships with vendors and negotiate bulk pricing with manufacturers for direct delivery to the CSC, rather than across multiple care sites. By controlling your own stock of supplies you can also limit your reliance on third-party providers and eliminate just-in-time deliveries from manufacturers, mitigating the risk of disruptions from external forces and black swan events.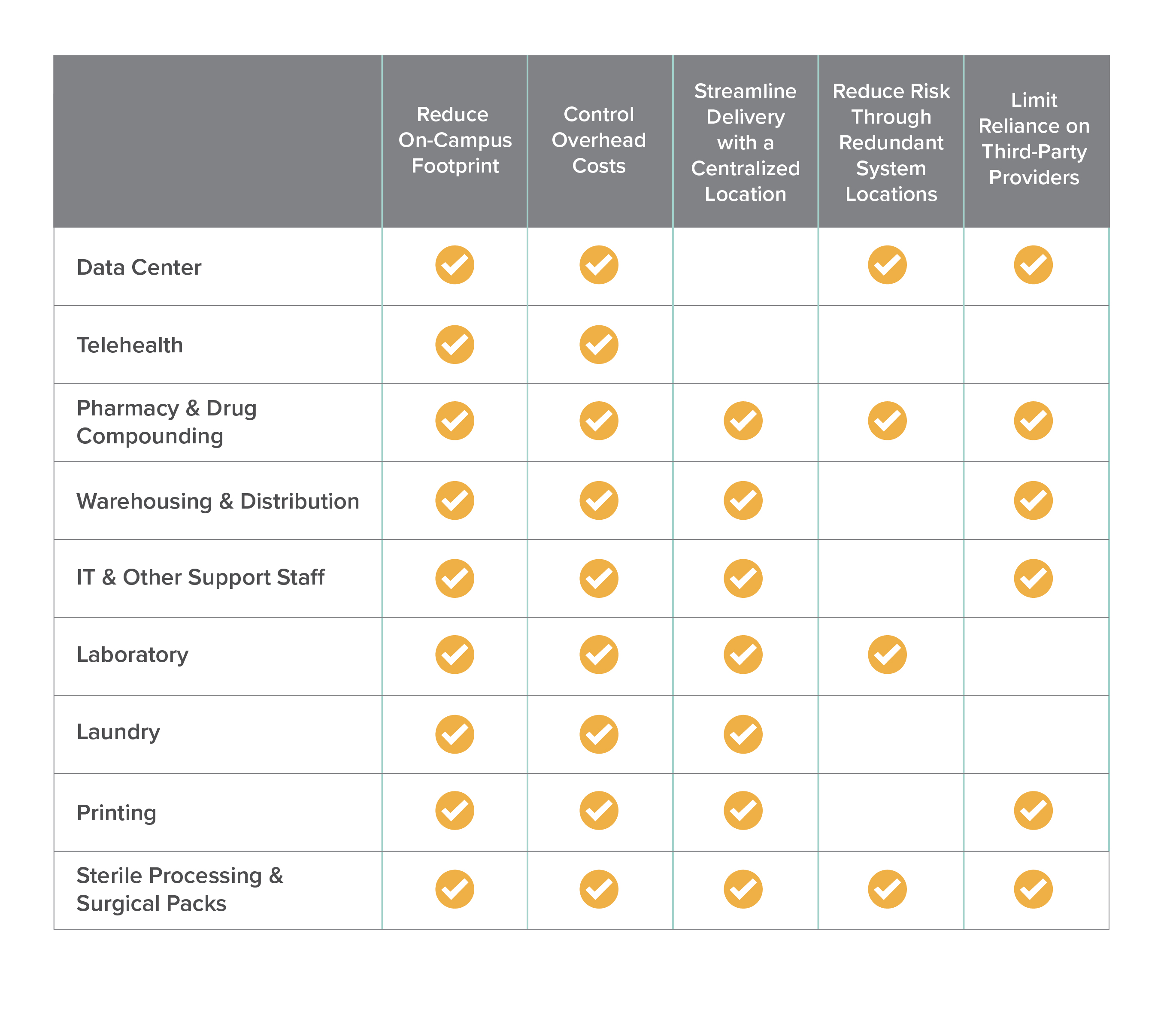 A glance at the various benefits associated with common services housed within a CSC

.

Real Estate Considerations
Once you've made the decision to move forward with a CSC, it's important to think about how this type of facility will fit in with your overall real estate strategy. Real estate developers, architects and builders can help you determine the best location, scale and design to accommodate your needs and help you locate and acquire available parcels of land to develop this unique type of facility.
One important consideration in site selection for a CSC is the proximity to transportation networks and the location relative to the facilities you plan to serve. This evaluation should include both existing and planned facilities to ensure the new location is a good geographic fit for your organization in the mid-to-long term view.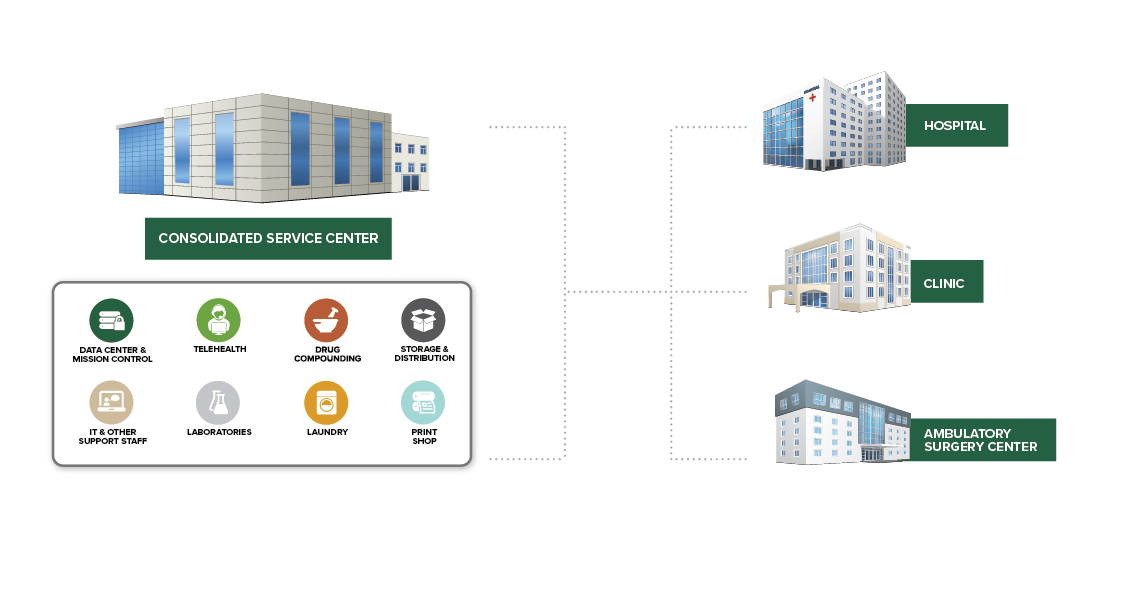 Another consideration in choosing a site is to accommodate for flexibility as your organization grows and changes. For example, we helped find and acquire a site for Froedtert Health's CSC in Wisconsin that accommodates future growth so they don't have to move to a new location or acquire adjacent land if they choose to expand. Our team focused on flexibility by designing and building a mezzanine space to accommodate additional square footage capacity without expanding the physical footprint of the facility.
It's important to recognize that CSCs are complex facilities to manage. Bringing in a facility management expert early in the development process to thoroughly understand your business model and operational standards will save headaches down the road. This way redundancies can also be built in, so you are ensured a fully optimized facility operating with as little down time as possible. In addition, simply maintaining these buildings requires fine-tuned oversight and integration of all teams involved in the operations.
Conclusion
More than 70 health systems, of various sizes across the U.S., are using CSCs to streamline their operations. To determine if this model is appropriate for your organization it is essential to have a clear understanding of your current and future needs and how this would fit into your broader real estate strategy. As with many real estate decisions, these facilities are an investment on the front end but can lead to vast cost savings and efficiencies for your system down the road.
Read more about how Froedtert Health implemented this model in partnership with Ryan's development, construction, and facility management team.