Iowa's First Modern Mass Timber Office Building Construction in Progress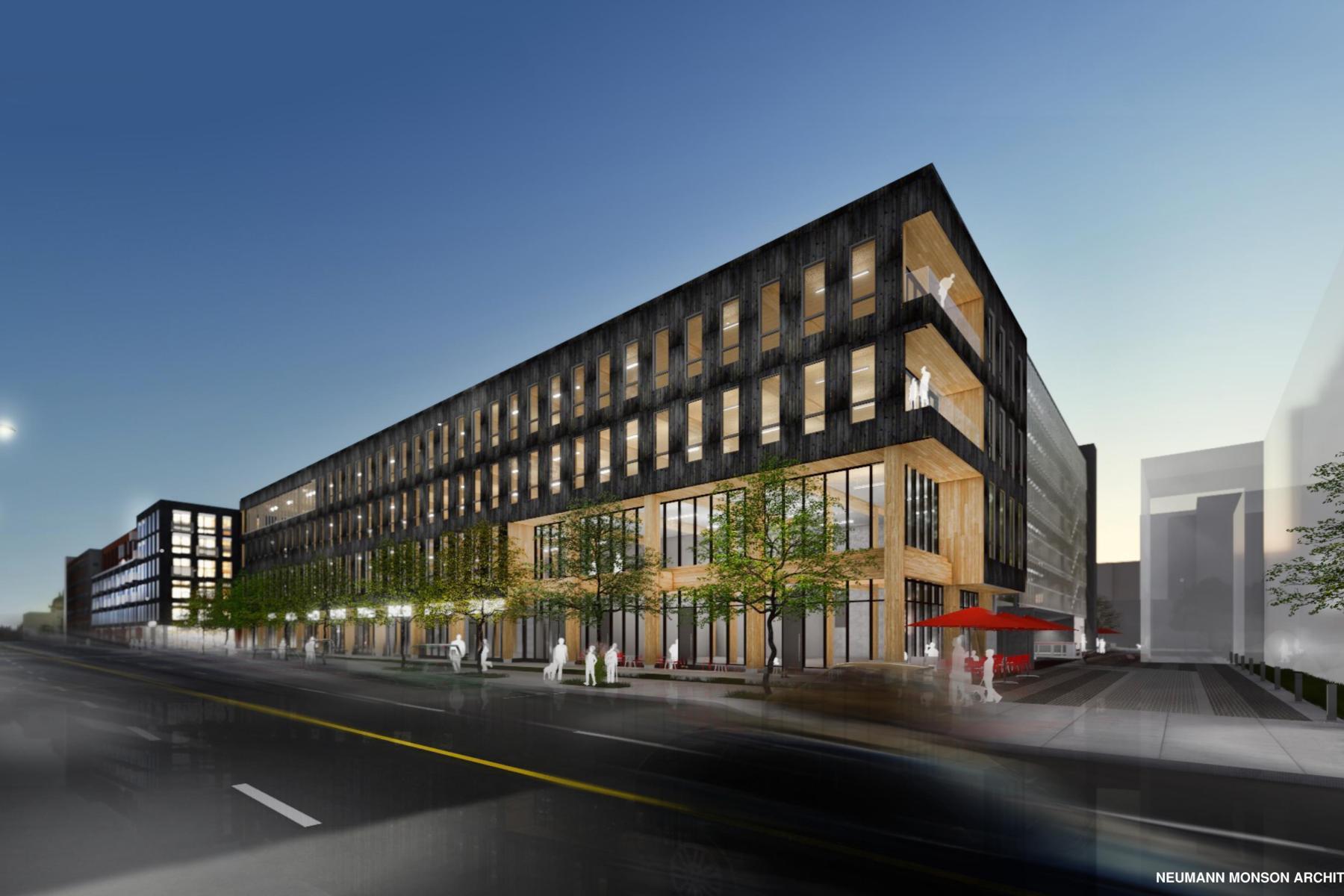 Des Moines, IA
(
Aug 23, 2018
)
Assembly of the mass timber components have begun on the state's first modern mass timber office building, 111 East Grand. The 66,800 square foot, four story multi-use building is located in the heart of the East Village of Des Moines. Featuring a "shou sugi ban" charred wood exterior and timber frame, the building continues the development of retail along Grand Avenue and connects City Hall with the East Village. 111 East Grand is a collaborative development between JSC Properties, Rypma Properties, Christensen Development and Ryan Companies and will be the largest project in North America to use Dowel Laminated Timber (DLT).
The use of mass timber provides a sustainable design solution with advantages in material and systems including the benefits of prefabrication, speed and quality, durability and strength among other attributes. In a mass timber project the primary load-bearing structure is comprised of wood. 111 East Grand will be the first office building and the second project in the US to utilize Dowel Laminated Timber (DLT) manufactured by StructureCraft for the floor and roof assemblies. DLT panels are made from stacked soft wood lumber boards which are friction-fit together using hardwood dowels. The timber is sourced from sustainable managed forests in North America. DLT does not contain any glue, VOCs or metal nails. As a result, there is no off-gassing which can result in improved air quality. The columns and beams are glue laminated timber which boasts high fire and chemical resistance.
"This is another high-quality building that adds to the unique nature of the East Village. Our team is very pleased to be part of 111 East Grand." - Jim Cownie, Chairman, JSC Properties, Inc.
Ryan Companies will move its Des Moines office team into the new project as one of the building's first tenants. Ryan Companies has 150 employees in the Des Moines area. Ryan will take 10,500 square feet of space in the new project. Three additional tenants have already secured leases; Neumann Monson Architects (4,500 SF) is the architect of record on the project, St. Kilda Surf + Turf (3,100SF) will open its second location, and West Financial Advisors (2,800 SF).
"We are very pleased with the early interest and commitment to the building by some very discerning tenants. We expect that interest will accelerate as prospective tenants see the special nature of the construction." – Paul Hayes, President, JSC Properties, Inc.
"There is no greater moment for a developer, builder and property manager than to realize you will be working in such a unique space that was the result of a collaborative effort" said Brad Schoenfelder, President of Ryan's Midwest Region. "Our team is incredibly excited about moving into 111 East Grand and being part of the team to redevelop the area." 
The remaining 32,500 square feet is expected to fill a demand for additional office and retail space in the area. The project is expected to be complete in Spring 2019 Ryan Companies Real Estate management team will manage the building.
Click here for more coverage from Building Design+Construction