Loving Where You Live: What Amenities Multifamily Tenants Really Want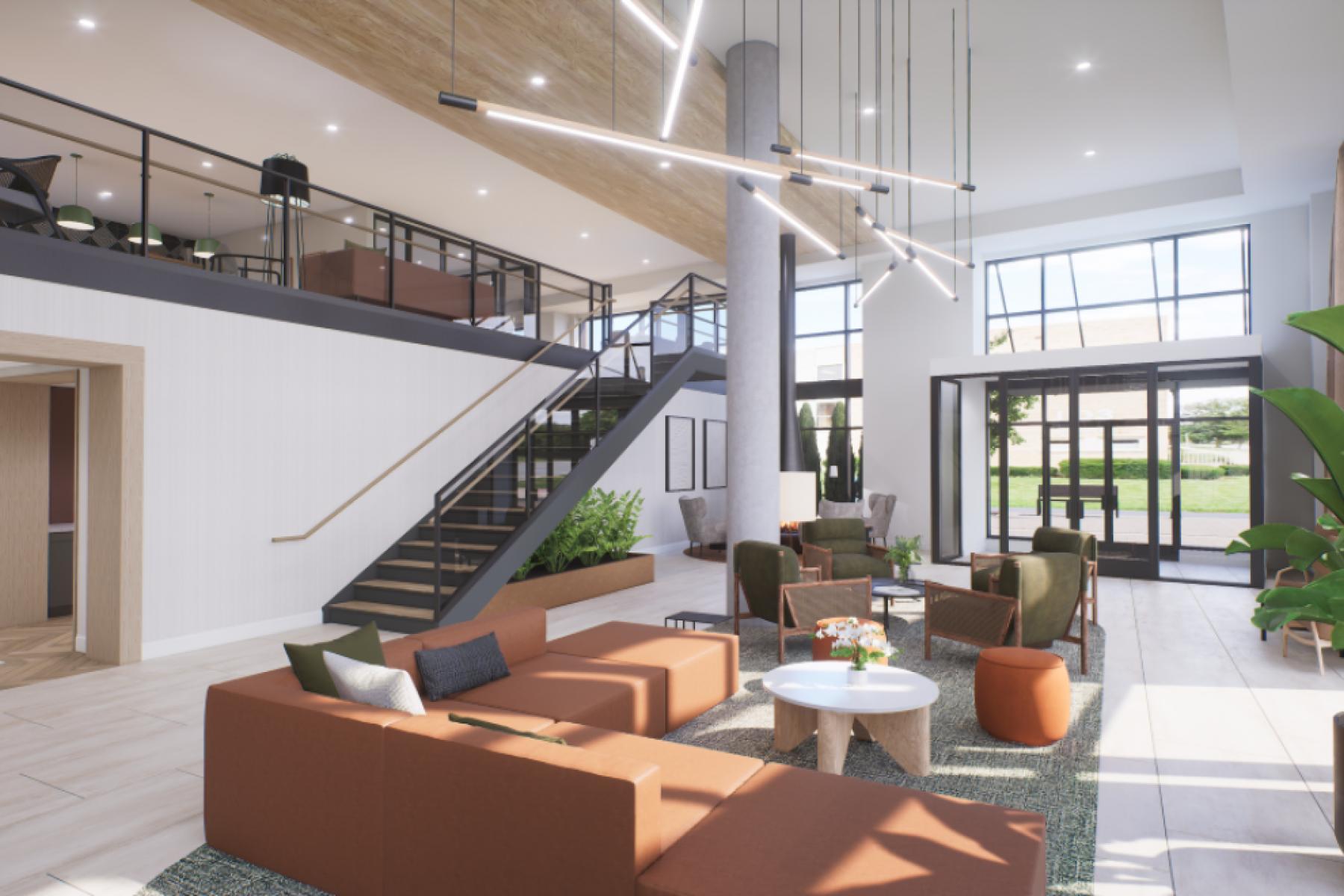 They say home is where your heart is. To help ensure people love where they live, multifamily amenities are adapting to give tenants what they really want in a living space.
The days of offering the trifecta of a pool, clubhouse and community kitchen are gone. Multifamily amenities are now more expansive and elevated than ever, helping to meet more of tenants' needs and exceed expectations to provide a home that is much more than a place to lay your head at night.
Today's multifamily spaces are truly places that give tenants the best of both worlds. Think hotel meets home: Welcoming and luxurious. Comfortable and classy. A place to entertain and a sanctuary to unwind. One step away from a bustling downtown and a few floors up to your peaceful resting spot.
Here are three popular multifamily amenities (along with examples from three of our recent and upcoming multifamily projects) that help give tenants live the lives they want in a multifamily space they love:
Collaborative spaces. The U.S. number of fully and remote and hybrid knowledge workers will account for 71% of the U.S. workforce in 2023. Adapting to a post-pandemic world packed with professionals working from home, multifamily spaces that create a work-friendly environment through collaborative areas help meet the needs of today's tenants. While working from home, residents continue to look for opportunities to connect and network with each other, often aiming to get a change of scenery from their personal home spaces and living areas. Providing the space to make that happen is key to tenant satisfaction, and our developers view coworking spaces as integral components to boost and retain satisfactory employee and tenant morale.

 
From our portfolio of multifamily projects, Vyne on Haven—a high-end rental community in Elmhurst, IL, designed by our Ryan A+E, Inc. team—offers residents a luxurious coworking lounge with a conference room and two private phone rooms adjacent to a kitchenette and coffee bar. In Florida, Renata at Lakewood Ranch – a multifamily project where we served as co-developer and general contractor— provides tenants with multiple conference room and office room options ideal for collaborative meetings, as well as individual private rooms to provide a fresh outlook, new surroundings and a chance to get a reprieve from a typical home office.
Elevated fitness and wellness options. Health and wellness amenities have expanded beyond the ole' traditional weights, treadmill, elliptical bike equation. Instead, today's multifamily fitness offerings include an extensive list of high-end options tailored to tenants' various preferences to feel healthy and find happiness.
Renata at Lakewood Ranch has numerous walking trails for tenants to enjoy around the centralized lake, as well as a, spinning room, yoga room, golf simulator, putting green and resort-style pool. Along with a state-of-the-art fitness center with top-of-the-line bikes, Vyne on Haven also provides a bike storage and repair station to make it easy for tenants to bike from place to place around the Chicago suburb.
From an overall wellness standpoint, multifamily spaces feature intentionally designed, unique areas to encourage connection and community. Outdoors spaces, such as rooftops, gardens, firepits, grilling areas and pools provide ample space and beautiful views to rest and relax or entertain and enjoy. The Avalyn— a high-end multifamily complex in Chula Vista, CA, that we developed, built, financed and now own —offers a showstopping abundance of wellness amenities, including a resort-style pool and spa, clubhouse kitchen with a lounge, rooftop deck, bocce court, pickleball court, live music studio and inviting community gardens. The Avalyn also offers a unique Prohibition-style speakeasy: the perfect place to grab a drink and engage in conversation with friends, family and colleagues in a unique setting that is worthy of showing off. Renata at Lakewood Ranch also provides easy access to local wellness amenities within the community, including a health and wellness network and nine community parks.
Pet perks. For many people, pets aren't just animals—they are family members. According to Forbes, 66% of U.S. households (more than 86 million homes) own pets. That's why available amenities aren't just made for people; pets can live lives of luxury and comfort thanks to the multitude amenities within multifamily spaces, too. The Avalyn offers two large dog runs to ensure tenants' four-legged friends get the exercise and space they need, while Vyne on Haven offers a special dog run and spa so pets can relax while they get clean. 
Today's multifamily spaces provide an array of amenities that cover many bases, bridging comfort and ease with connection and entertainment. But the amenities aren't just for show. With intentionality and thoughtfulness, these unique amenities of today can add quality to tenants' lives by offering robust health and wellness options. The amenities also give tenants a new ability to work and play with ease and efficiency. Multifamily is a sector that is both listening to what tenants want and taking action to make it happen, growing with the times and adapting to the needs