Making a Paws-itive Impact: Constructing a New Arizona Humane Society Campus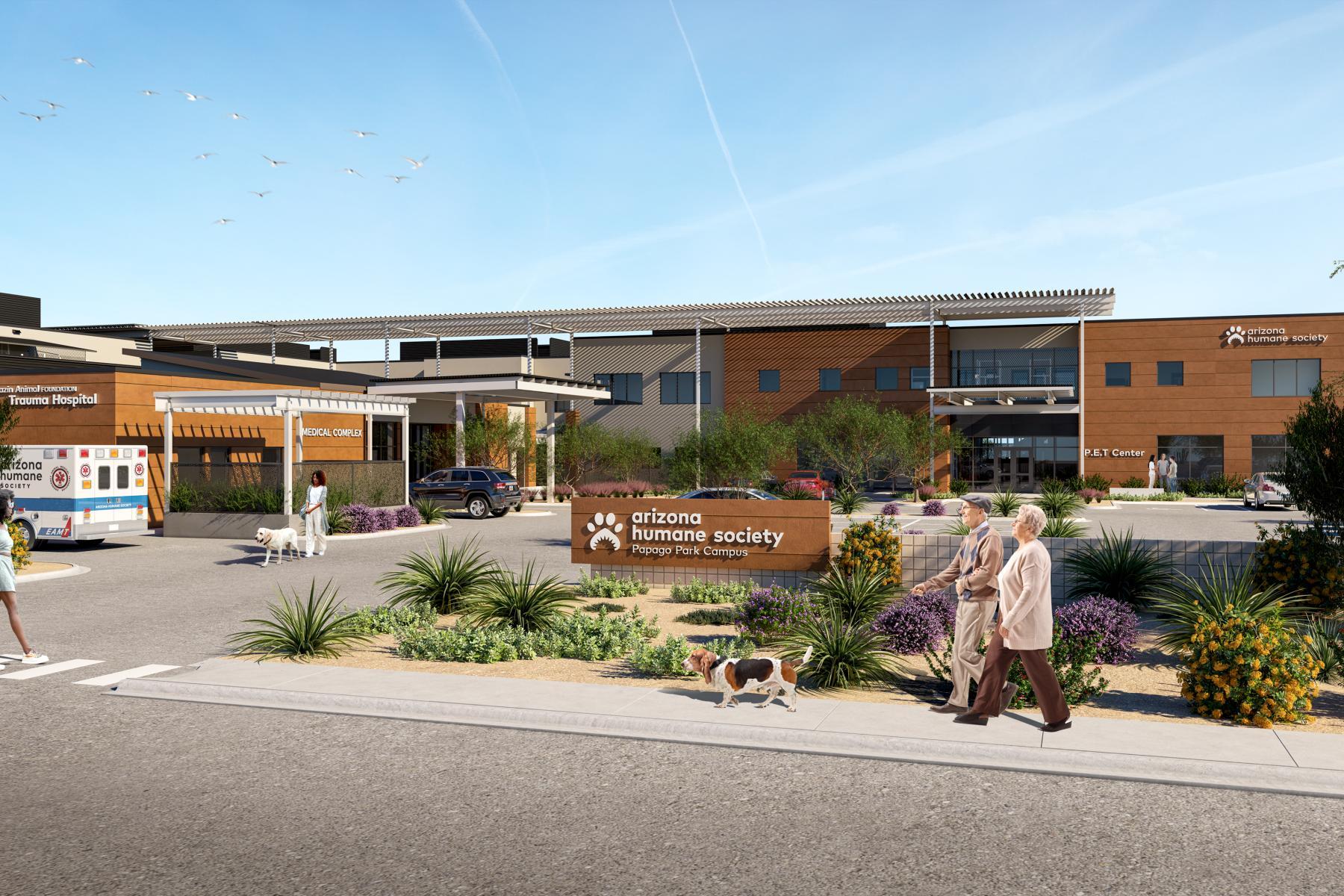 Phoenix, AZ
(
Mar 02, 2023
)
Since 1957, the Arizona Humane Society (AHS) in Phoenix has created new programs and life-saving services for the area's most vulnerable animals. The organization has led the single largest transformation for homeless animals of any community in the U.S. in the past seven years. But as the needs of Arizona's sick, homeless and vulnerable animals continued to grow, so did the nonprofit's need for more resources and new facilities. The Arizona Humane Society has dreamt of a top-notch, brand new campus of care for years.
Now their dream is becoming a reality, thanks in part to our construction team. We feel lucky to play a part in helping the Arizona Humane Society build this dream from the ground up.
Read on to learn how we are helping the Arizona Humane Society provide new, superior facilities to save thousands of animals' lives—and the nonprofit organization more than a million dollars.
Who? One way we bring our Ryan Impact mission to life is by selecting a non-profit project every few years and credit back all project profits. In 2021, we picked the Arizona Humane Society (AHS) as our project focus, signing on to construct the organization's new campus at cost, crediting all project's profits back and saving AHS more than one million.
Why?  It's no secret we love animals. The idea of working with the Arizona Humane Society on this facility resonated with our leaders and team for many reasons: the impact-focused mission of AHS, the ability to help them provide comprehensive care to animals and how this project will improve the environment enjoyed by staff, volunteers, customers and community members served by AHS. This new campus will also provide top-tier educational facilities for veterinarian students to practice and prepare for their future. The long-lasting, positive impact this project will have on treatment of thousands of sick, injured and abused homeless animals in the area; pets and their owners; AHS staff and volunteers; and the broader Valley community can't be overstated.
What? The new, two-story, 72,000-SF campus and medical complex, known as the Rob & Melani Walton Papago Park Campus, will help AHS establish a more sustainable, long-term system of care for animals. The campus is named after the project's lead donor organization: the Rob and Melani Walton Foundation. Rob Walton—retired chairman of the board of Walmart—and his wife Melani created the foundation to support efforts focused on sustaining life, advancing knowledge, promoting understanding of healing, and increasing the sustainability of people and our planet.
Services offered at this new campus will include:
Acute medical and trauma care

Spay/neuter services

Rescue and cruelty investigations

Pet adoptions

Education programs
An expanded triage area in the trauma hospital will also enable AHS to treat thousands more homeless pet patients than their current location.
How? Building the animal welfare campus of the future requires highly-specialized processes and innovations. From the site plan approval to the designing of the project, we collaborated with AHS nearly every step of the way. Although this is one of our first project for animals, our vast experience in healthcare played a major role in ensuring AHS' new campus will be a state-of-the-art facility.
Our construction team collaborated with architect/interior design firm Animal Arts to bring this cutting-edge campus to life. The new campus will include thoughtfully and intentionally constructed spaces that are conducive to the emotions that often accompany animal-related services, such as: calming "meet and greet" spaces for pet adoption; a specific lobby for welcoming adopters, children and public tours; a helpful retail store with canine-friendly gear-fitting areas and a coffee shop.
Where? The two-story campus Located at the juncture of the 202 and 143 freeways in the Papago Park area.
When? Having broken ground in November 2021, we are on track to complete the project in early Q3 of 2023.
AHS has long imagined a state-of-the art medical facility to meet the needs of their community's animals and pets. The Rob & Melani Walton Papago Park Campus will allow the nonprofit organization to offer comprehensive medical interventions in a world-class animal trauma hospital paired with behavioral care for pets at a level not yet seen in the United States.
This facility is proof that a building is more than a space….it can become a place of impact and life-saving transformation for people and animals alike.