Polaris Breaks Ground on 475,000 Square Foot Distribution Facility in Fernley, NV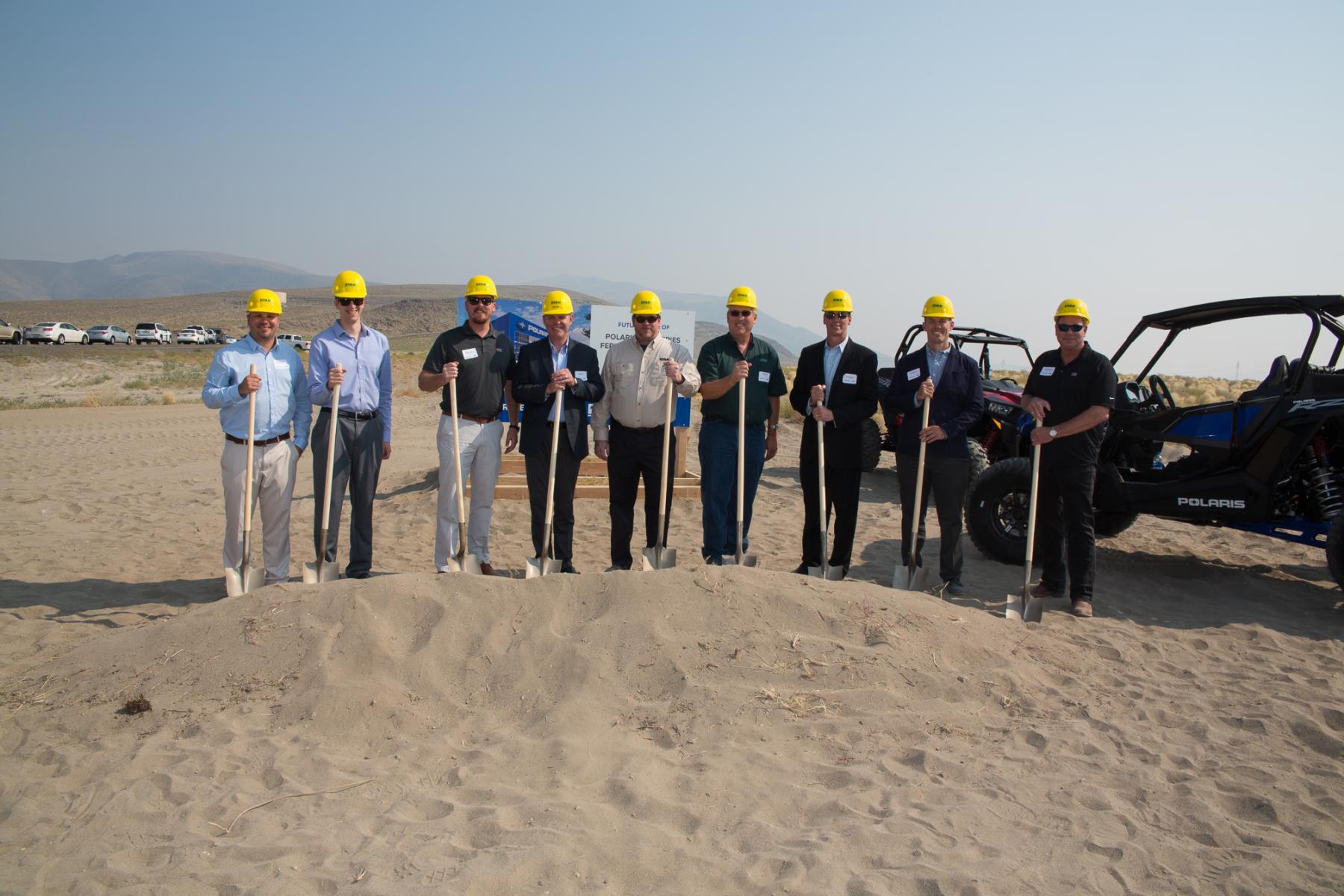 Minneapolis, MN
(
Aug 09, 2018
)
Polaris Industries Inc. (NYSE: PII) broke ground today on the site of the company's new distribution facility in Fernley, Nevada. The 475,000 square foot facility will be Polaris' first multi-brand distribution center and will be pivotal in supporting Polaris' growing Aftermarket, Parts, Garments & Accessories (Aftermarket, PG&A) businesses.
Strategically located 30 miles east of Reno, Nevada, the Fernley location will offer Polaris close proximity to its strong dealer and customer base in the western region of the United States and provide access to the state's experienced workforce and accessible transportation routes.
Polaris President of Aftermarket, PG&A Steve Eastman, joined by Ryan Companies Vice President of Industrial Todd Schell, broke ground on the company's new multi-brand distribution center. Fernley Mayor Roy Edgington Jr. was also involved in the ceremony.
"This is a very important moment for Polaris," said Eastman. "We are focused on optimizing our Aftermarket and PG&A operations, and aim to accelerate profitable growth and better meet the needs of our dealers and customers. By building this from the ground up, our team will apply best practices from each business to design and build an innovative multi-brand facility that will support our current and future businesses for years to come. This unique and highly integrated system will allow us to create a global competitive advantage and our entire customer fulfillment network will benefit from increased scale and efficiency."
The Fernley distribution center will initially distribute Polaris OEM parts and accessories, but will quickly expand to include Transamerican Auto Parts, and Kolpin, which are part of the Polaris brand family. The multi-brand facility will enable Polaris to optimally leverage shared capacity, shared systems and shared teams within Polaris and its Aftermarket brands, while supporting speed, delivery and safety. At full capacity, the facility will employ up to 100 people.
The construction effort will be led by Ryan Companies (dba Ryan Midwest Construction), the same firm that has led a number of construction projects on other Polaris facilities including the company's Product Development Center in Wyoming, Minn.
"We are thrilled to partner with Polaris on the construction of its new multi-brand distribution center," said Schell. "We value our longstanding relationship with Polaris and look forward to helping the company expand its distribution capabilities to better serve its strong dealer and customer base."
Construction on the facility is slated to begin this month and is expected to be complete in the second quarter of 2019.