Q&A with Bob West: Leading the Way in Food and Beverage Manufacturing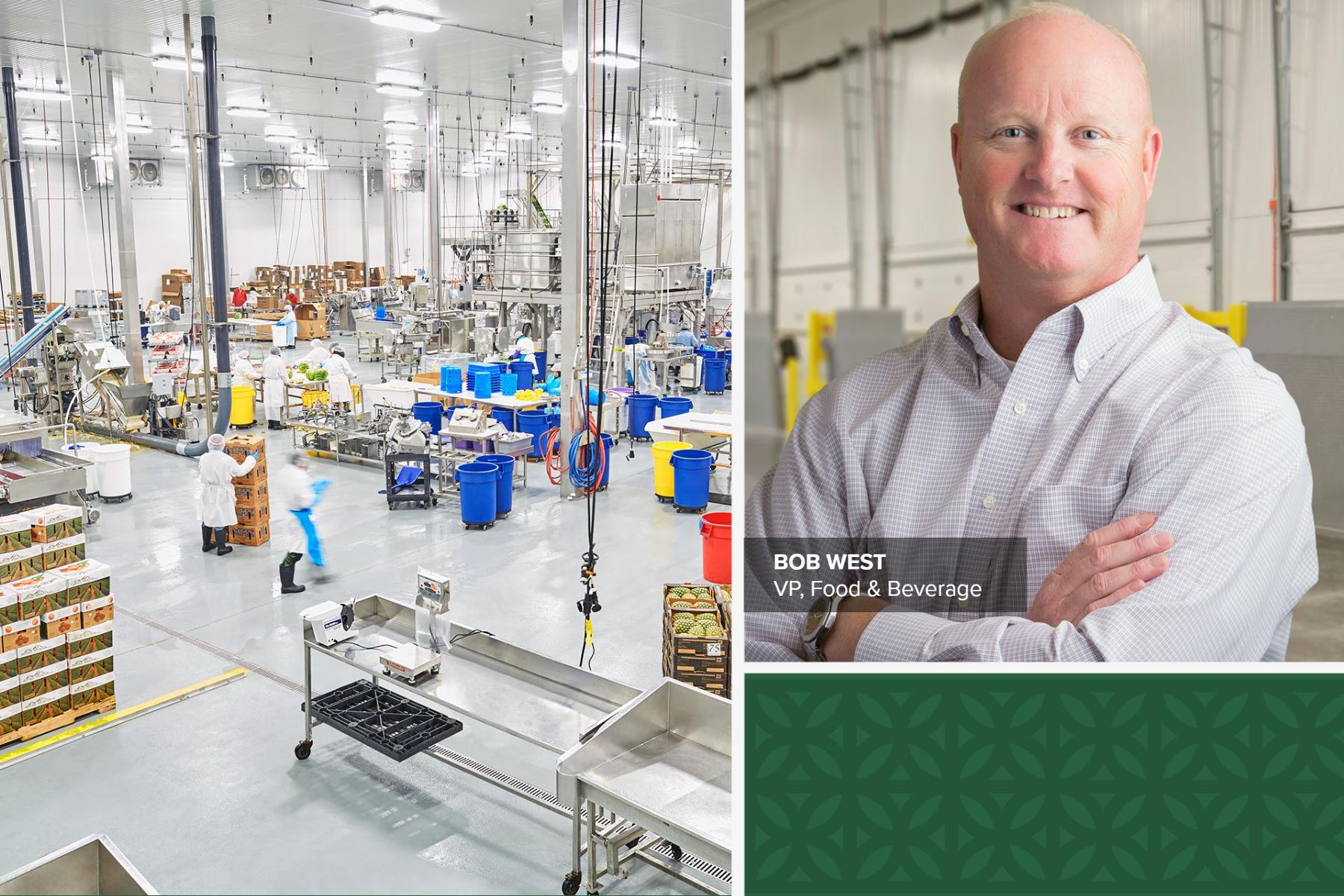 As one of only a handful of commercial real estate companies developing and constructing food and beverage manufacturing facilities across the country, Ryan is establishing itself as a leader in this complex and technical space. With single projects upwards of $800-million, cleanliness and safety regulations as strict as healthcare facilities and a constant drive for more sustainable practices, food and beverage manufacturing projects are truly their own specialized subset of industrial facilities – requiring their own team of experts.
Meet Bob West, vice president of food and beverage at Ryan.
With 30 years of experience, Bob leads our team in the development, construction and sometimes design of food and beverage manufacturing projects nationwide. Comprised of a process engineer, project developer, project managers, superintendents and field staff, the team leverages their own combined knowledge with Ryan's years of experience in grocery distribution centers and cold storage to execute these projects wherever they are needed.
We sat down with Bob recently to talk about this growing industry.
When did Ryan expand our food and beverage industry efforts and what are some of our current projects?
Bob West: While we completed several food and beverage projects in the past, we really refocused and invested in this subsector in the last year and a half, and it's been very successful. We set a goal for ourselves and have already reached more than 20 times that. As a part of that process, we're focused on national, programmatic clients and fostering ongoing relationships.
Right out of the gate, we created partnerships with two significant clients who hired us to create manufacturing plants for them with plans for future projects. We built upon those efforts by reaching out to other clients in everything from beverages and fast-food to indoor farming. We're currently building those projects all across the U.S.
What makes Ryan stand out from our competitors in this industry?
BW: Other than the outstanding Ryan culture and our respected name, I would say the sheer size of these projects. They are more than $100-million projects, and we do 10 or 20 of those a year, while most of our competitors do one or two. We know how to manage a large project and have the resources to do that. It's not just on operations and execution, but our collective insight across all internal services.
We've also brought on two key team members via Nghia Tran and Scott Baesler. They have spent 30 years in the food and beverage industry. Scott is on the process side and knows most all of the manufacturers and their principals that make the equipment. He speaks their language. Nghia is on the development and beverage side and is a relationship I built when I first came to Ryan.
What are food and beverage clients looking for when seeking a partner?
BW: I would say two things: trust and speed to market. These are massive projects with a lot of investment, and clients are looking for a true partner who can execute on schedule.
One of the reasons we felt so confident about the food and beverage industry is that a lot of our main clients were already manufacturing a lot of their own private label products like bread, chips, sauces or dips. That made a natural entry point for us as we were already involved in their supply chain. Now, we could help support their manufacturing needs.
What trends are you seeing in the food and beverage industry?
BW: There's a lot of focus on sustainability, especially in how it pertains to the entire supply chain. Companies are compiling statistics on products to track and try to reduce the overall impact to the environment, and then making that information available to consumers so they can see how much water each product uses and what the carbon footprint is. That's very new in our space, and it will impact us moving forward.
Sustainability is even a challenge for the indoor farms. They use nearly zero water, but they are a heavy load on electrical. We need to figure out how we can reduce that electrical load for the LED lighting and cooling systems. They don't take a lot of land or water, but they do take a lot of power.
We're always working with our Chief Sustainability Officer, Joe Rozza, to find ways we can help our clients be more sustainable. It's important to them and to us.
How have Covid and supply chain issues impacted the industry and how has it evolved?
BW: Covid definitely prompted some changes in the food and beverage side of e-commerce. People no longer wanted to shop the aisles for their groceries, instead preferring to pick them up or have them delivered.  They also showed a preference for cooking meals at home versus purchasing them from restaurants. Kroger Ocado [https://www.ryancompanies.com/news/bringing-krogers-vision-life-3-ways-ryan-helped-integrate-grocery-fulfillment-centers] stepped into this market with their fully automated grocery fulfillment centers, but we're also seeing the impact in other areas and companies with the increase in ready-to-eat meals that only require cooking, no prep. People have gotten used to this lifestyle of picking up groceries and ready-to-cook meals and eating at home. Covid did all of that.
The supply chain is stabilizing and it's a little more predictable right now, especially in construction. We're also finding creative ways of addressing the challenges, like how we pitched our first supply chain facility for one company during the peak of supply chain and commodity impacts. We showed them exactly how we would design the facility backwards from how we normally would with all of the systems first. It enabled us to get the long-lead-time items ordered and procured up front so we could hit their target date – and it worked. While still under construction, they hired us for several more facilities in other markets.
Resources also continue to be a challenge. Everyone is busy, especially in the industrial space. There's only a small pool of experts that you can pull from that know and understand these facilities.
What do you love most about the food and beverage manufacturing industry?
BW: I've always been intrigued by it. My whole career has been in food and beverage and cold storage. When I came to Ryan, I was hired to help lead us in industrial and cold storage and then grow into food and beverage. We've done just that—we've made the investments and brought experienced people on board. It's important and exciting work. Imagine building a cheese plant that makes 8-million pounds of cheese a day - that's like what you see on the Discovery Channel!
CONNECT WITH US
Contact Bob to discuss food & beverage manufacturing projects at Ryan Companies