RAQ: Ryan Asks Questions with Mike McMahan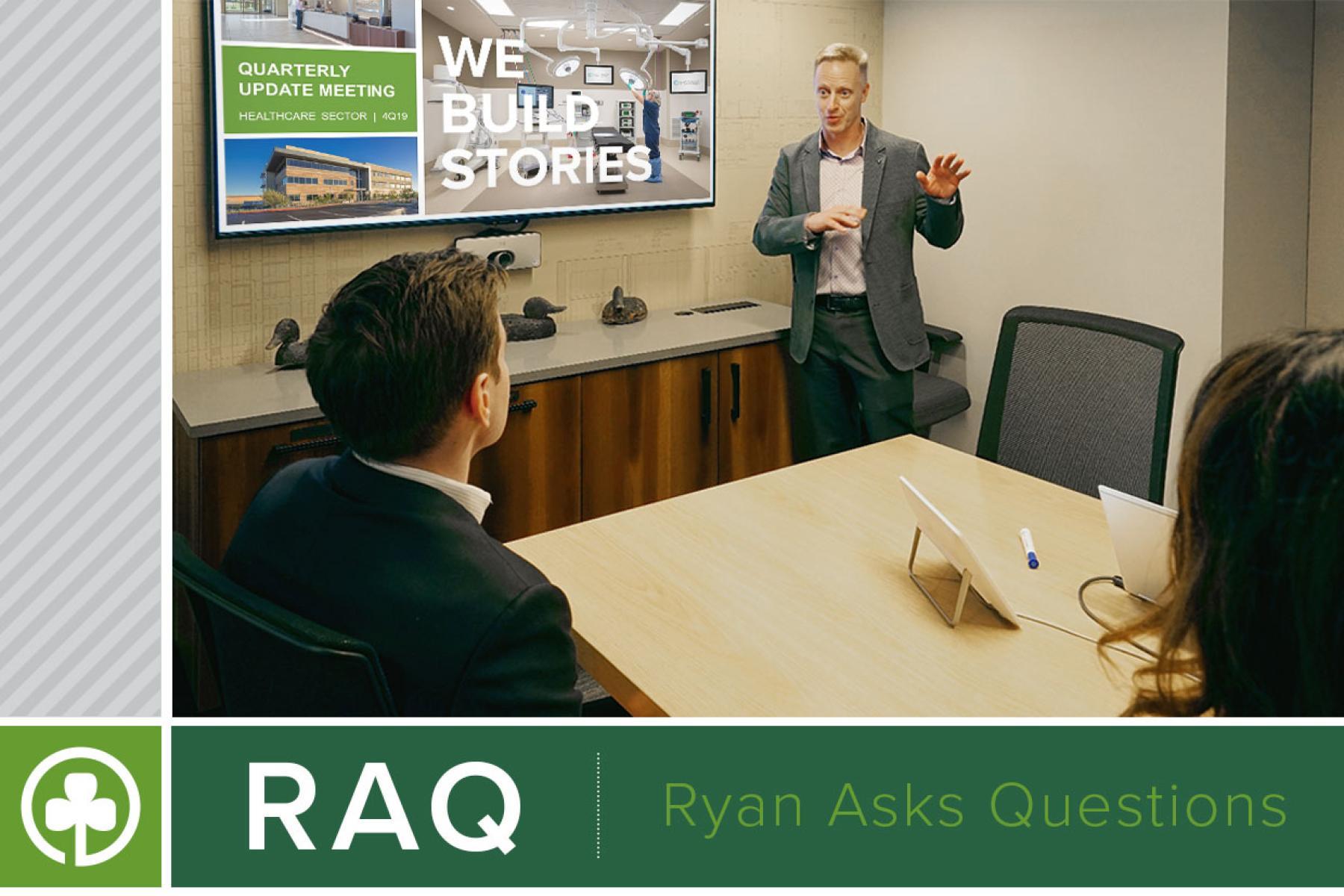 Ryan Asks Questions (RAQ) is a new series that asks Ryan Companies' leaders questions about their professional career, insight into the work they provide in building communities and creating spaces that bring our customers' stories to life.
In our first RAQ series, we sat down with new Senior Vice President of Healthcare, Mike McMahan, to understand his drive to bring his unique blend of experience and leadership to our customer focused strategies. We also discussed how being a catalyst for important conversations with a common purpose are what motivated his decision to join Ryan Companies.
WHAT DREW YOU TO WORKING AT RYAN COMPANIES?
Bridging the gap between challenges and the fundamental changes that are happening in healthcare today is extremely important and crucial to the success of any project. I saw an opportunity to be that bridge (or translator) and bring together healthcare leaders, executives, managers, thought leaders, etc. with our development, design and real estate teams to find ways to build value for health systems and the communities they care for.
I have been doing this a long time and love the part of my career that focused on growth, development and strategy – building things, figuratively or not, it was where I wanted to take my career. When I walked in the doors at Ryan for the first time, I just knew it was the right fit and where I wanted to be. It's the right job, the right time, the right people and the right organization. 
HOW WILL YOU USE YOUR EXPERIENCE AT A LARGE HEALTH SYSTEM IN YOUR NEW ROLE AT RYAN COMPANIES?
Change and managing through change, bringing folks together for a common purpose and driving them to a north direction is what I love most about what I do and how I can make an impact at Ryan. I sat on the other side of the table for a long time and because of that have the insight into what goes on before and after projects. Therefore, I'm providing our team with a broader perspective on healthcare so that we can provide immense value as a partner and produce great outcomes together. 
I plan to consult and guide those early conversations with current and future customers, focus on building strong relationships and use my previous experience as way to relate and share knowledge. I know the right questions to ask related to saving money, common workflow, finances, real estate capital, etc. How do we help our customers save money so that we can get them into a new building, remodel, etc. to stay competitive and best serve their communities?
Understanding the ins and outs of the health system is important and will be crucial to moving the needle and identifying where Ryan can best fit into the picture and help health systems in the areas of  growth, revenue and expenses.
IF YOU HAD THE POWER TO CHANGE ONE THING IN OUR HEALTHCARE SYSTEM WHAT WOULD IT BE?
Affordable quality care for all. The answer is easy, how we get there is hard.
WHAT TRENDS WILL SHAPE THE FUTURE OF HEALTH SYSTEM OPERATIONS?
Healthcare is going to continue to move towards the most affordable option and convenience for the customer. The biggest change is how the customer is searching for care and a hospital is typically the last thing they are looking for. At Ryan, we are focusing on how we can build models that are not only affordable but are customer-centric – built around the customer – to help support this growing trend.
It's also changing the idea of patient versus customer. For Ryan, it's understanding how we can help our customers (health systems or provider groups, for example) provide the highest value and highest quality for their customers (traditionally referred to as patients) at the lowest cost and at the right places.
Another trend to think about is telemedicine or virtual care. How do you provide care from a distance? It is hard to get doctors to move to smaller towns, because of that you need to find ways to provide care through other means. Accessible for all, may not be face-to-face.
HOW CAN RYAN COMPANIES HELP HEALTH SYSTEMS AND PROVIDER GROUPS SUCCEED IN THE CHANGING HEALTHCARE LANDSCAPE?
The beauty about Ryan is we have experts in everything from development to construction to architecture to facility management to finance. Understanding all these components together adds so much value to our customers and helps us to build trust, show our expertise and serve as a strategic advisor. It also helps cut costs, expedite the right decisions and streamline the time it takes to meet, plan and move forward with projects. Adding my healthcare background and perspective will just be the icing on the already reputable and accomplished cake.
IN WHAT WAYS CAN HEALTHCARE FACILITIES AND REAL ESTATE HELP ENHANCE OPERATIONS AND CARE DELIVERY?
By planning and building it with purpose and operations in mind. How can you more efficiently build and design in less steps, less hunting and gathering, organized in a lean way that provides best practice and best steps, but is also something flexible that can support change and different needs over time? Additionally, what is the look on the inside and what feelings does it give off? A relaxed environment that reduces stress? Remembering the physical environment makes a big difference, both externally and internally.
WHAT INSPIRES YOU?
What fills my bucket are the relationships and the people in my life – both at work and at home. Creating something for the greater good. Working to live and loving my job. Being a leader in all ways, whether at the office or as a soccer coach. All of that makes life worthwhile.
DO YOU HAVE ANY ADDITIONAL THOUGHTS OR COMMENTS?
Healthcare is not going away and is constantly evolving. We must stay on top of the trends and provide efficient and effective solutions the meet the needs of our customers. If I can bring a different lens to the table and help provide guidance and clarity through various aspects of those areas then I think it will make a huge difference, both internally with our team, and to our customers, allowing Ryan to more effectively partner with health systems and provider groups across the country.
Do you have your own questions for Mike? If so, you can contact him at the following:
Mike McMahan
Senior Vice President, Healthcare
mike.mcmahan@ryancompanies.com
763-516-2368