Ryan Breaks Ground on New Banner Health Clinic in Phoenix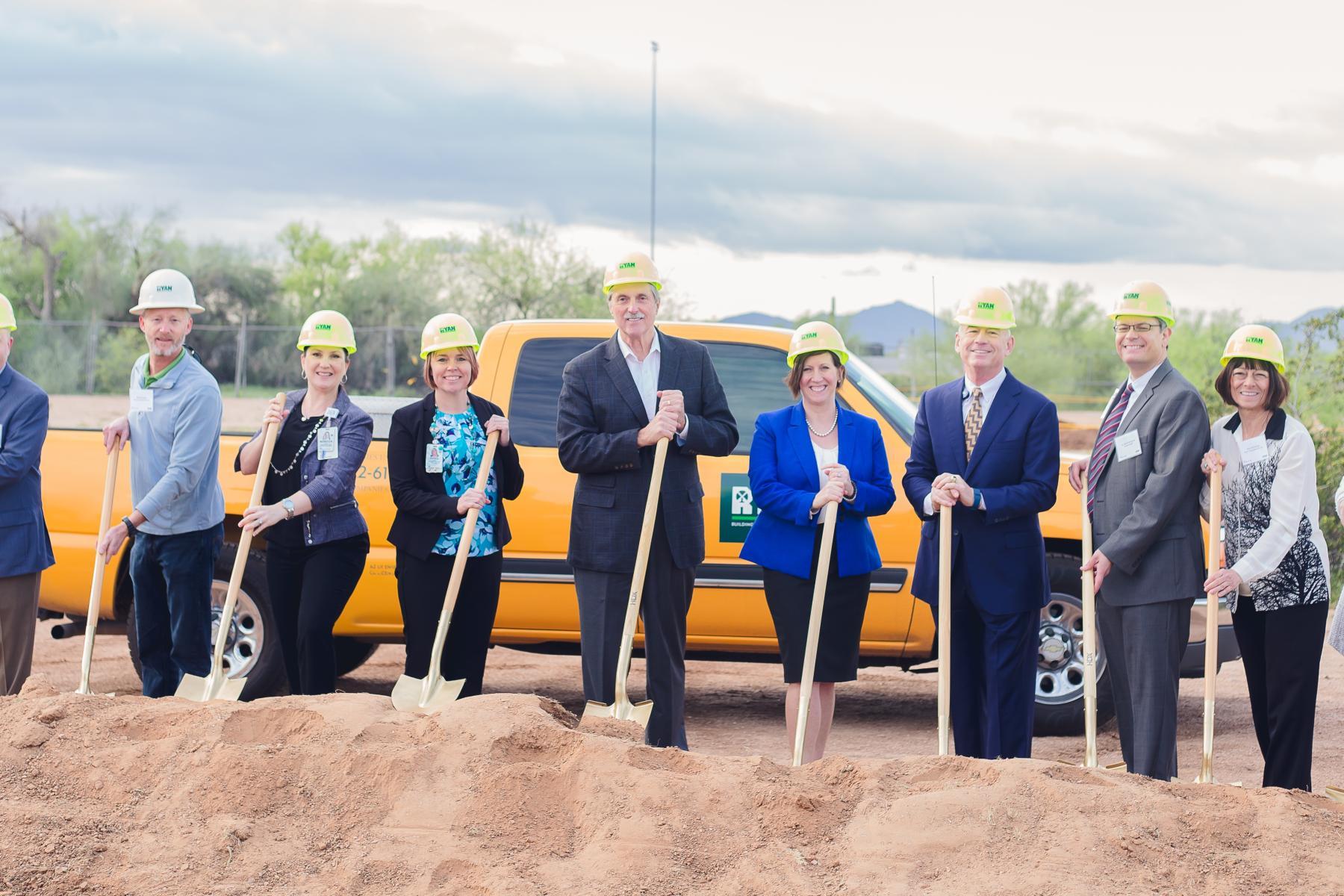 Phoenix, AZ
(
Mar 23, 2017
)
Ryan Companies US, Inc. and Banner Health broke ground today on a 29,350 square foot healthcare clinic in Phoenix, across from Desert Ridge Corporate Center.
The new clinic will provide primary care services, dermatology services with spa and laser treatments and x-ray imaging. The healthcare office will have 30 exam rooms, an independent laboratory and a conference room.

"We are excited to become part of the Desert Ridge community,'' said Mystie Johnson Foote, MD, Chief Executive Officer for Banner Medical Group. "We can offer our new community convenient, high-quality care for individuals and their families.''

This will be the first Banner Health clinic to provide dermatology and medical spa amenities. The medical spa rooms will be designed to enhance patients' experience and comfort.

"The new facility is designed to be a comfortable and empowering environment for the Desert Ridge community," said Rachel Jebaraj, Project Manager at DWL Architects + Planners, Inc. "It's been a privilege to support Ryan Companies and Banner Health, two leaders in their respective industries, in a building that demonstrates Banner's commitment to exceptional patient care."

Construction will conclude December 2017 and the new healthcare clinic will offer patients convenient access to primary care and dermatology services at one location.

Ryan Companies is providing development, construction and financing services for the project and will own the single-tenant medical office building once completed. DWL Architects + Planners, Inc. is the tenant improvement architect and Butler Design Group is the shell architect for the project.

"Banner Health is committed to excellent patient care and innovation, and Ryan is thrilled to develop and build an integrated clinic to meet existing community and Banner Health needs," said John Strittmatter, Chairman, Southwest, Ryan Companies US, Inc.

The medical office building will be located between Irma lane and the Loop 101, west of Tatum Boulevard and adjacent to Mountainside Fitness.
Click here for additional coverage from AZ Big Media
About Ryan Companies US, Inc.
Founded in 1938, Ryan Companies offers comprehensive commercial real estate services as a national developer, architect, builder, capital investment consultant, and real estate manager. Ryan's market depth includes retail, industrial, healthcare, and senior living, with development and corporate build-to-suit work spanning office, mixed-use, hospitality, multifamily housing and mission critical facilities. With a focus on bringing lasting value to its customers and the communities in which it works, Ryan has nearly 1300 employees in 13 offices and has completed projects in 40 states. For more information, visit ryancompanies.com.
About Banner Health
Headquartered in Arizona, Banner Health is one of the largest nonprofit health care systems in the country. The system owns and operates 28 acute-care hospitals, Banner Health Network, Banner – University Medicine, academic and employed physician groups, long-term care centers, outpatient surgery centers and an array of other services; including Banner Urgent Care, family clinics, home care and hospice services, pharmacies and a nursing registry. Banner Health is in six states: Arizona, California, Colorado, Nebraska, Nevada and Wyoming. For more information, visit www.BannerHealth.com.