Ryan Companies Breaks Ground Naming Former Ford Site Redevelopment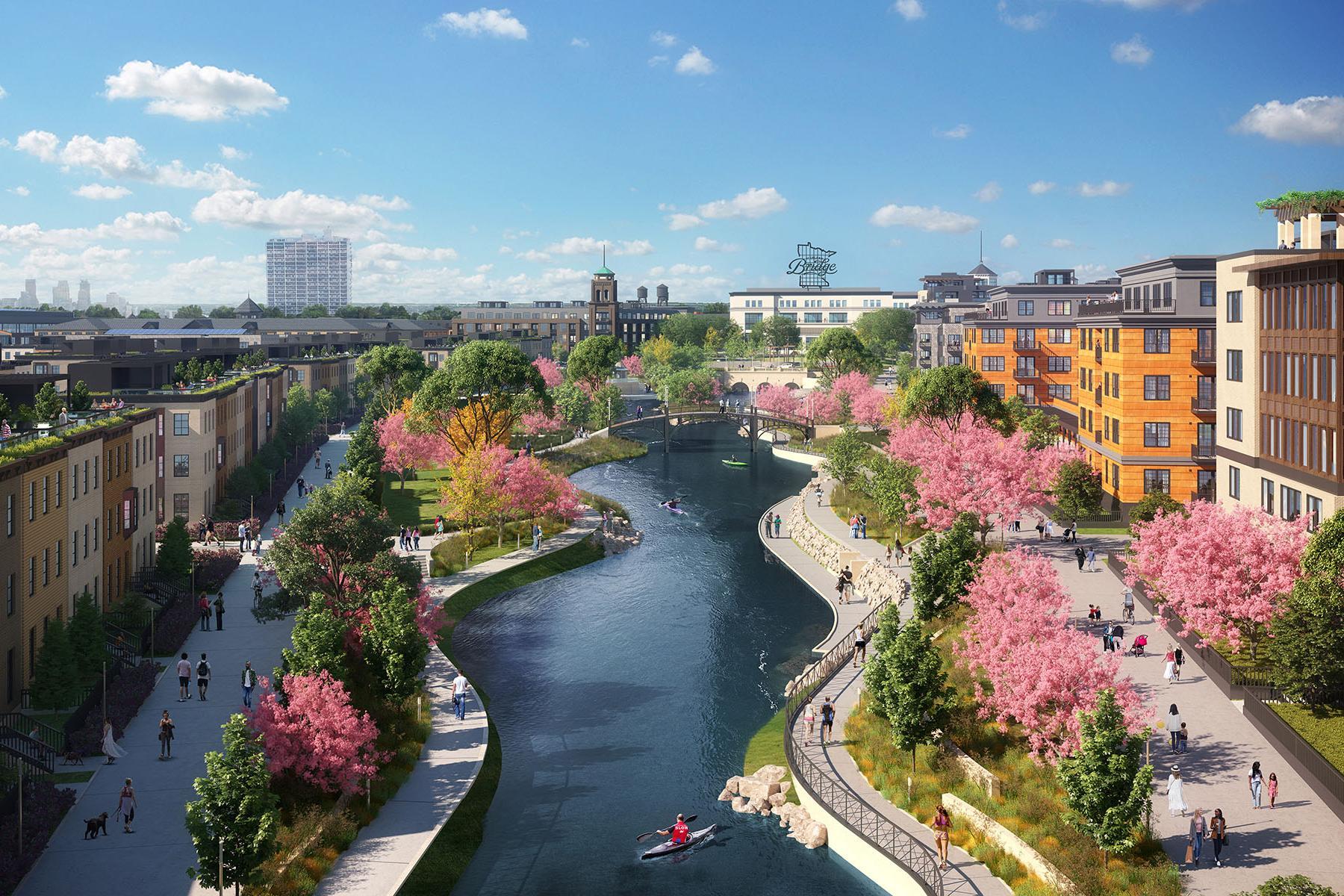 Saint Paul, MN
(
Jul 14, 2020
)
Today, Ryan Companies announced the new name of the 122-acre former Ford site: Highland Bridge. The announcement was made virtually with the release of a groundbreaking video that included appearances from Saint Paul Mayor Melvin Carter, the Saint Paul City Council, project partners and other key stakeholders. The company also announced two additional housing partners for the highly anticipated redevelopment.  Pulte Group will join the project as the lead developer of the rowhomes and Presbyterian Homes will be the owner and operator of the project's service-based seniors living components.  
The new name and brand for Highland Bridge meets hundreds of stakeholders' aspirations to create a community of connectivity. Highland Bridge will connect generations, nature and green space, a diverse set of housing options, and business and employment opportunities into a healthy and sustainable lifestyle. With a future-forward goal, Highland Bridge will be a vibrant community with strong roots built from an honored past and a sustainable future with new possibilities.
"In creating the new vision for the former Ford Site, we paid considerable attention to the core tenets of the master plan, significant input from the community as well as the Highland District Council, City leaders, and of course the legacy that Ford created.  We wanted to respect the rich history of the site and honor the heart and soul of Saint Paul," said Tony Barranco, Senior Vice President, Ryan Companies. "We've paid particular attention to what makes Highland Park special and our goal is to uphold those unique qualities, to expand upon them, and to create a place where people thrive for generations." said Mike Ryan, North Region President, Ryan Companies.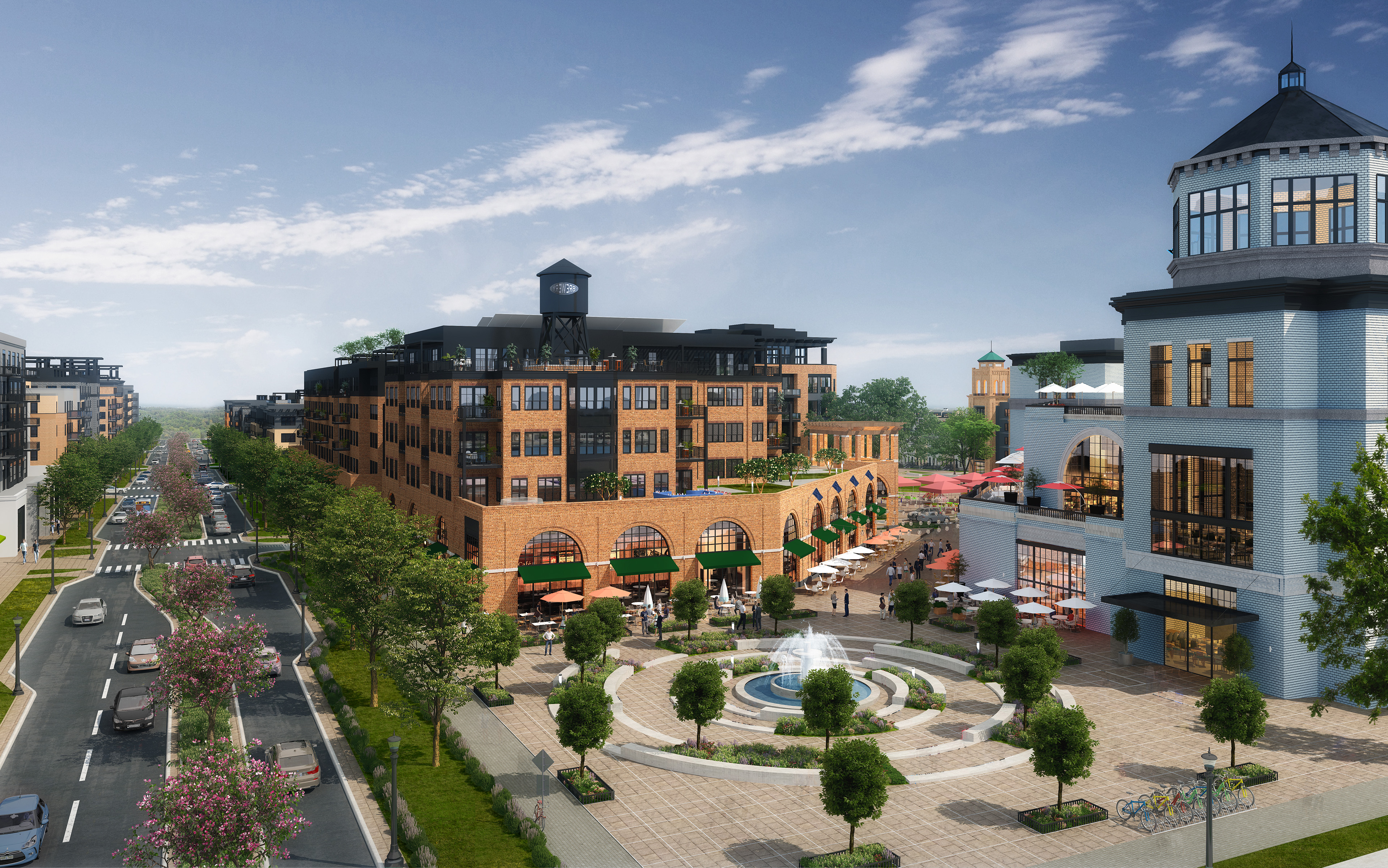 To support the brand vision for the distinct character and sense of place, Pulte Group has been selected as the builder for the delivery of the for-sale rowhomes at Highland Bridge. Pulte combines the strengths of a national building with a talented local team that set themselves apart in the attention to detail needed to match the ambitions of this important district in the master plan. Pulte's plans include the delivery of approximately 320 homes that range from 1,900 to 3,000 square feet. Prices on the rowhomes will start in the upper $300,000. With a construction start date of Winter 2020, the first units will be available for closing in Winter 2021.
"We are thrilled to partner with Ryan Companies and the City of Saint Paul to bring housing to Highland Park, an unmatched location with a rich history and exciting vision for its future development," said Pulte Group Minnesota Division President Jamie Tharp. "This rowhome community will feature a historic idea rethought with innovative and contemporary floor plans designed to complement city living with rooftop terraces, brick facades and open plans."
To create a community that is forever linked to the very heart of what makes Saint Paul special, a well-known senior living provider was chosen. The development of the Highland Bridge senior living component was awarded to Twin Cities-based Presbyterian Homes & Services (PHS), a nationally known not-for-profit operator and developer of senior living communities since 1955. "Our faith-based heritage provides a clear vision to extend our mission into areas of unmet need, such as at this forward-thinking development," said Jon Fletcher, Vice President of Senior Housing Partners, the project development arm of PHS. "In concert with the City of St. Paul, Ryan Companies and community stakeholders, we have an excellent team assembled to create a welcoming environment for all."
When completed, the senior living community will offer independent living, assisted living and memory care apartment options with an array of service offerings and amenities designed to give residents the freedom to build and enjoy new relationships while staying near family and friends. "We are pleased to be able to continue to serve Highland Park, and the greater Twin Cities, by delivering a senior living community that will allow residents to age in place and live well while being woven into the fabric of a uniquely walkable and highly programmed master planned, mixed-use community," said Fletcher. The new senior living community is anticipated to bring over a hundred full time jobs to the neighborhood. 
Pulte Group and Presbyterian Homes join Weidner Apartment Homes, who has been selected as the primary developer of the market-rate housing at Highland Bridge, while Project for Pride in Living, CommonBond Communities, and Habitat for Humanity will deliver the majority of the affordable housing within the project.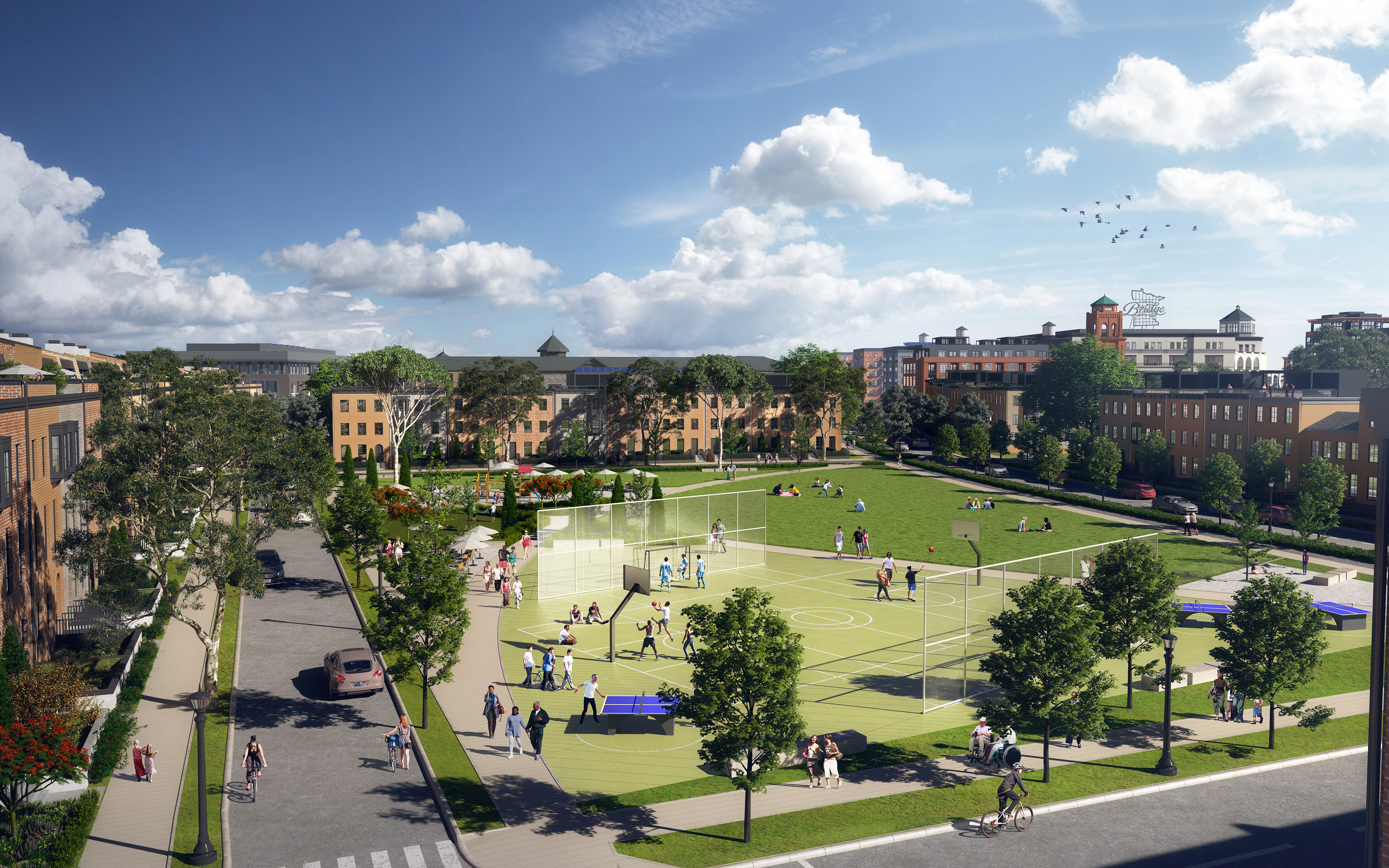 Xcel Energy has also announced its partnership with Ryan Companies to help achieve its goal of providing 100% renewable energy at the 122-acre site - an endeavor that would be the first in the region at this scale. Xcel Energy is proposing a subscription-based energy program at Highland Bridge. Residents and businesses will have the opportunity to subscribe to a program offering locally generated solar and hydro energy to power their homes and building. Highland Bridge will also include electric vehicle charging stations throughout the site.
"This is an exciting project for Xcel Energy, our customers, and this unique urban development," said Chris Clark, president, Xcel Energy-Minnesota. "We are already leading the clean energy transition with a goal to reduce carbon emissions 80% by 2030. Today we are taking another step to provide our customers with clean and affordable energy sources that reduce our carbon footprint."
As part of the kick-off of the new Highland Bridge community, Ryan Companies presented Mayor Melvin Carter with a $5,000 donation to the Saint Paul Bridge Fund, which is a temporary fund providing financial relief to qualifying families, as well as small businesses. The Saint Paul Bridge Fund is part of the Saint Paul Housing and Redevelopment Authority and supported by a growing number of donors.
In addition to the project's 3,800 housing units, Highland Bridge is planned to include 150,000 square feet of retail space, 265,000 square feet of office space and 50,000 square feet of civic or institutional space, over 55 acres of public and open space including four new City Parks, bike and walk friendly paths with over 10 bike and pedestrian paths covering five miles, a central water feature and the preservation of two little league fields which were donated to the Friends of Highland Ball in May of this year. Ryan Companies completed the purchase of the Ford Site in December 2019.
Residents can find additional details for the development at www.highlandbridge.com. The website will be frequently updated with details on construction schedules, partner news and general site updates.
About Ryan Companies US, Inc.
Founded in 1938, Ryan Companies offers comprehensive commercial real estate services as a national developer, architect, capital investment consultant, builder and real estate manager with a focus on bringing lasting value to its customers and the communities in which it works. Ryan market depth includes retail, industrial, healthcare and senior living. Ryan development and corporate build-to-suit work spans a wide range of product types including office, mixed-use, hospitality, multifamily housing and mission critical facilities. Ryan has nearly 1,500 employees in 15 offices and has completed projects in 39 states. For more information, visit ryancompanies.com.
About Pulte Homes Pulte Homes is a national brand of PulteGroup, Inc. (NYSE: PHM).  Pulte Homes builds consumer inspired homes and communities that provide the move-up buyer the best quality of life.  Only Pulte Homes offers the combination of innovative Life Tested Home Designs® with an unwavering commitment to quality and attention to detail.  For more information about Pulte Homes, visit www.pulte.com.
About Presbyterian Homes Presbyterian Homes & Services (PHS), based in St. Paul, Minnesota, is a non-profit, faith-based organization providing a broad array of high quality housing choices, care and service options for older adults. Nearly 7,000 employees serve 27,000 older adults through 49 PHS-affiliated senior living communities in Minnesota, Wisconsin and Iowa, and through Optage® home and community services. In 2019 PHS also became co-owner of Genevive, a progressive model of primary care, care navigation and value-based services for over 5,300 older adults in Minnesota. Established in 1955, PHS has earned the reputation as an innovative leader concerned with promoting independence, vitality and well-being for those they serve.
About Xcel Energy Xcel Energy (NASDAQ: XEL) provides the energy that powers millions of homes and businesses across eight Western and Midwestern states. Headquartered in Minneapolis, the company is an industry leader in responsibly reducing carbon emissions and producing and delivering clean energy solutions from a variety of renewable sources at competitive prices. For more information, visit xcelenergy.com or follow us on Twitter and Facebook.