Ryan Companies Collaborates with City of Edina and Neighborhood Groups to Re-vision Greater Southdale Area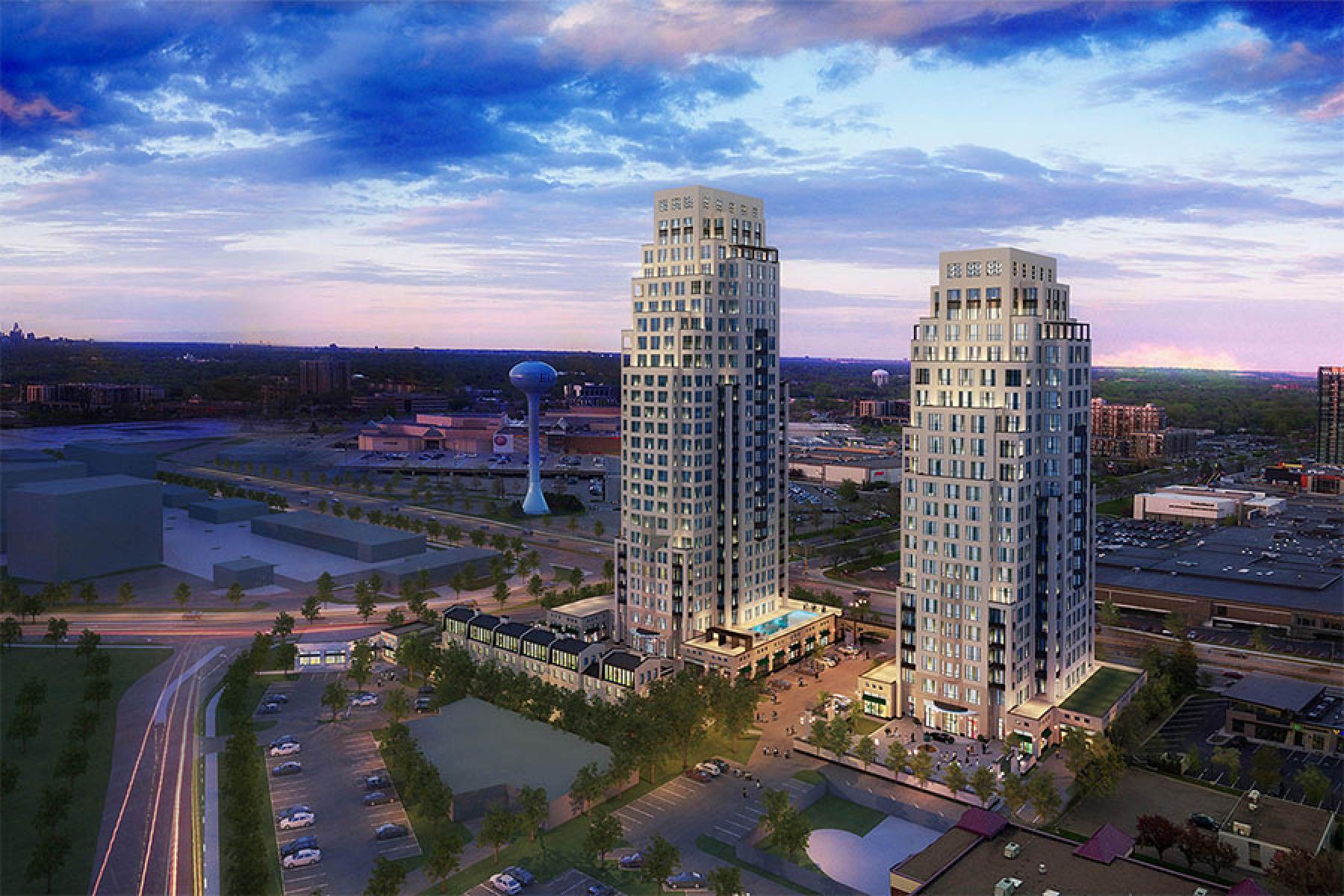 Minneapolis, MN
(
May 17, 2017
)
Luigi Bernardi, president of Edina-based Arcadia, LLC, and Ryan Companies US, Inc., a national development manager, architect and design builder based in Minneapolis, are pleased to announce their collaboration in a project that supports the re-visioning of the Greater Southdale Area in Edina, Minnesota. 
Initial work for re-visioning the Southdale district began in early 2015 as part of Edina's long-term planning policy. At that time, the City convened 16 Edina residents for the Greater Southdale Work Group. Comprised of neighbors and business and civic leaders, they were tasked with developing guiding principles for the district. 
The group began with an overall plan of integrating the district's existing assets – including health, retail, residential, senior living, corporate offices and gathering spaces – and anchoring them to more people-focused, pedestrian-friendly neighborhoods. In addition to this much-needed connectivity, plan details also included green spaces and pocket parks mixed with distinctive and thoughtfully designed homes, restaurants, retail and offices. From there, the group developed nine guiding principles that would provide standards for the area's future design and development.
With the principles in place, Mic Johnson, FAIA, design principal, Architecture Field Office, was retained by the City to lead the work group in translating the principles into a holistic, sustainable planning vision for the district. The process resulted in a new paradigm for Edina that builds on the Southdale area's existing assets and encourages walkable, connected, mixed-used and architecturally varied developments. The vision plan will be presented to the City Council and will provide guidelines for 2018 through 2028.
"There is a lot of neighborhood, business and city support to create a vibrant, forward-looking and accessible district," said Mic Johnson. "The Greater Southdale Work Group's nine principles – supported by the vision plan – provide Edina a framework for 2018 and beyond. It allows for a healthy mix of building heights, densities and uses, and creates a public realm that promotes a walkable, healthy and safe environment." Johnson anticipates that the nine guiding principles will be incorporated into the City's 2018 Comprehensive Plan Update.
In following the City's plan and the work group's nine principles, Bernardi and Ryan are proposing a mixed-use owner-occupied residential project for the corner of France Avenue and 69th Street near the heart of the Southdale district. Lifelong Edina resident Bernardi grew up in the Cornelia neighborhood; he recently completed the well-received senior living and care development, Aurora on France. Bernardi and Ryan have been meeting with and listening to Edina neighbors and groups to discuss the project called Estelle Edina.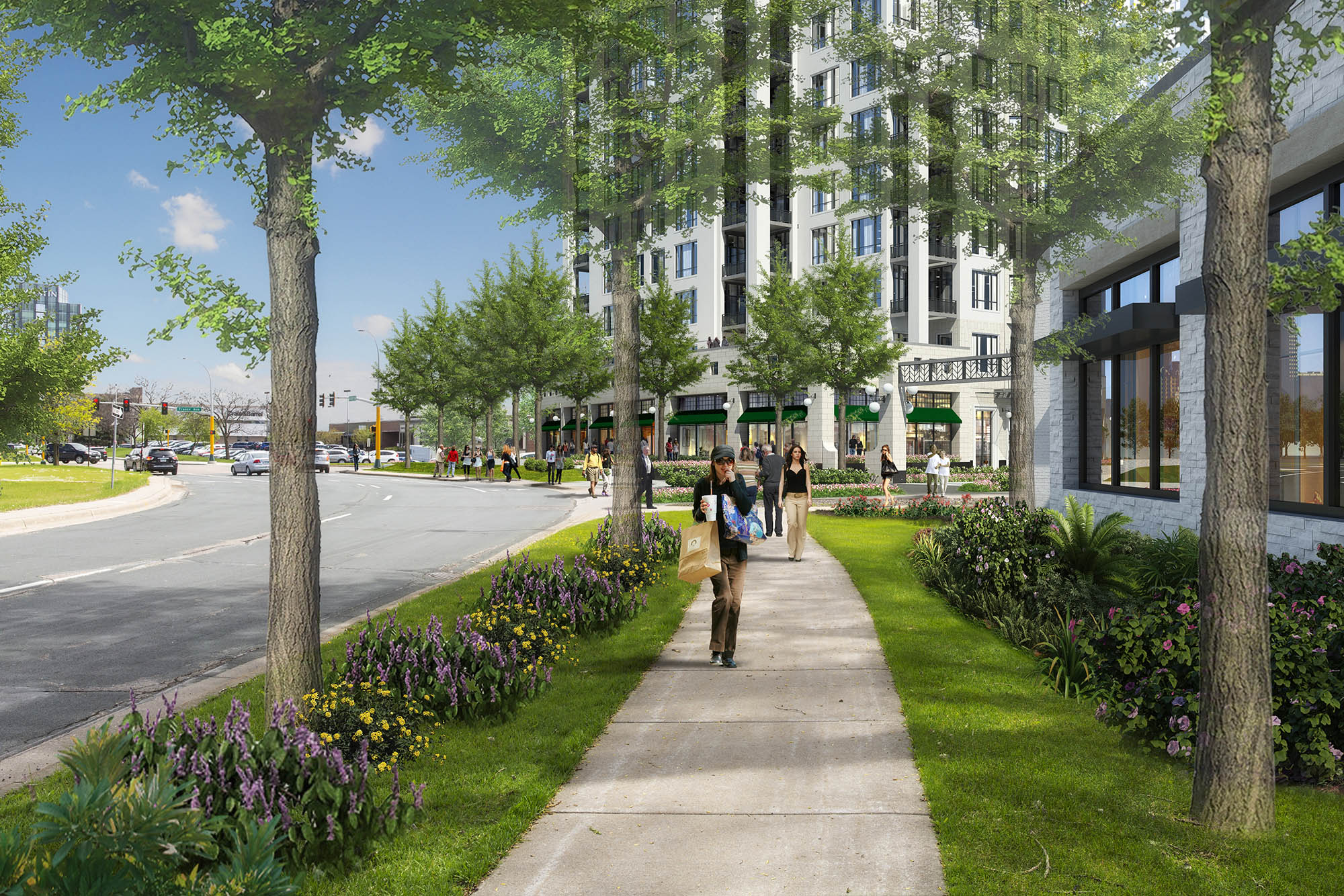 "I grew up just a few blocks down on France Avenue, and am excited about the vision that so many people have for this district," says Bernardi. "The City's plan, the work group's nine principles and vision, and the feedback and ideas from area neighbors have informed our design. Our goal is to give the corner of France and 69th a community feel - walkable, accessible and livable."
Anchored on France Avenue and across from Galleria, Estelle Edina will be home to luxury residences—the first of its kind in Edina in 10 years—six brownstones, and 12,000 square feet of neighborhood retail, including a signature restaurant at the corner of France and 69th. The existing Bremer Bank and BMO Harris Bank will open new spaces in the project.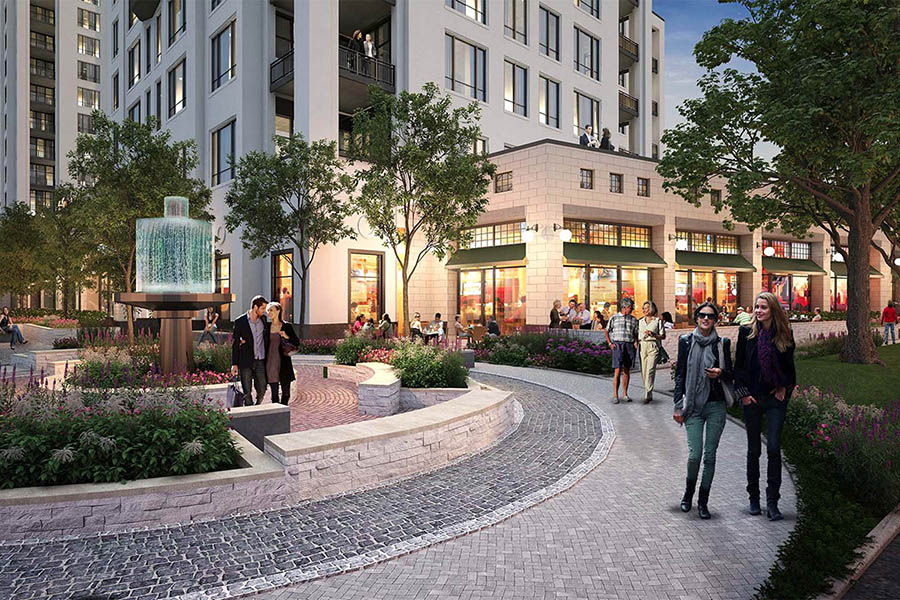 The project will establish a standard for enduring design, quality construction and extraordinary amenities. Estelle's slender, architect-designed, 24-story residence utilizes a narrow floor plan to keep its profile unobtrusive. Deco-inspired step-backs give the slim stone and glass building a sophisticated yet timeless demeanor that adds distinctiveness to Edina's skyline. 
Each home in Estelle will be a corner residence with only four homes per floor on lower levels, reducing to two per floor on upper levels, and one penthouse, for a total of 82 homes in the first building and 70 in the second, which is phase two. All the generously-sized homes will feature expansive windows, high ceilings, sumptuous finishes and heated, outdoor living-rooms. In addition, six brownstones are planned along a quiet interior motor court with plantings and trees. The front entry stairways lead up to the three-and-a-half story brownstones; each with generous decks that look out to a private backyard. Residents will enjoy underground parking, a pool and green roof.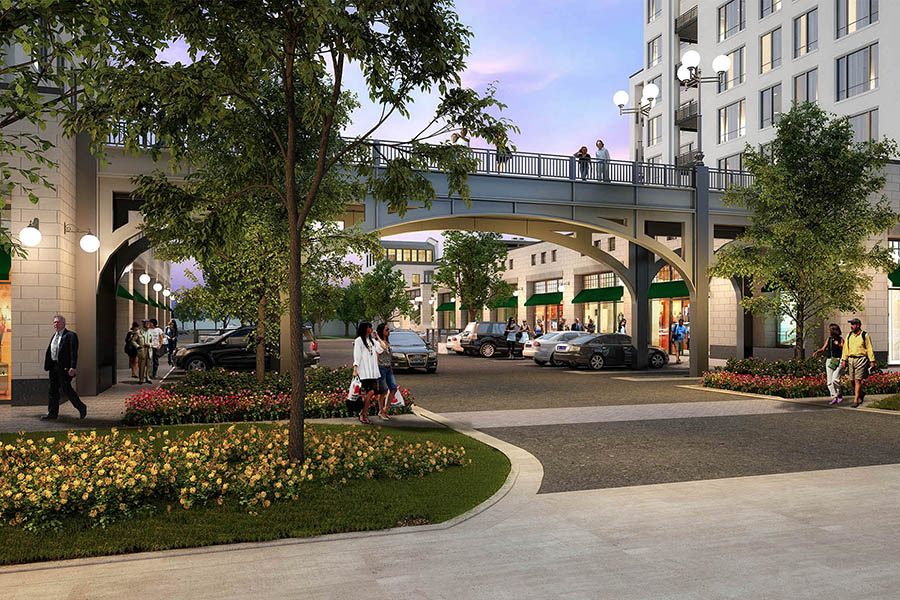 Estelle gives Edina residents who are seeking a new owner-occupied and maintenance-free option the ability to stay in Edina, while freeing up existing homes for families interested in joining the community. Additional project partners include John Kraemer & Sons and Lakes Sotheby's International Realty. 
The entire Bernardi/Ryan project also supports the City's plan of dividing the district's "superblocks" into smaller parcels such as walkable tree-lined interior streets, plazas, green space and generous setbacks from France and 69th. Rather than street-hugging sidewalks, the project introduces walkways at least 20 feet from the roadway with 10 feet of plantings next to buildings. For example, at the "hard" corner of France and 69th, the project design offers a welcoming, aesthetically pleasing solution set further back from the busy street that includes a public plaza, a fountain surrounded by seating, and generous plantings adjacent to a locally-owned, signature restaurant with patio seating. The restaurant would be one of four mixed-use opportunities in the first building.
"Thank you to the Greater Southdale Work Group, neighborhood residents and the City of Edina for their continued ideas and input as we plan this exciting, transformational mixed-used project," said Carl Runck, developer, Ryan Companies. "Our intent is to support the district's vision. We are passionate about creating best-in-class streetscapes and owner-occupied residences that the citizens of Edina will be proud of."
Ryan Companies will serve as Estelle Edina's development manager, architect and design builder.
About Luigi Bernardi
Luigi Bernardi, president of Edina-based Arcadia on France, LLC, has been developing and managing a commercial real estate portfolio of shopping centers, medical office buildings, apartments and a senior assisted facility since 1987. In the last eight years, he has developed the 212 Medical Building in Chaska, a 50,000-square-foot anchored LA Fitness center in West St. Paul, and most recently completed the Aurora on France Senior Assisted facility in Edina on France Avenue and 65th Street.