Ryan Companies Moves to New Office in Kansas City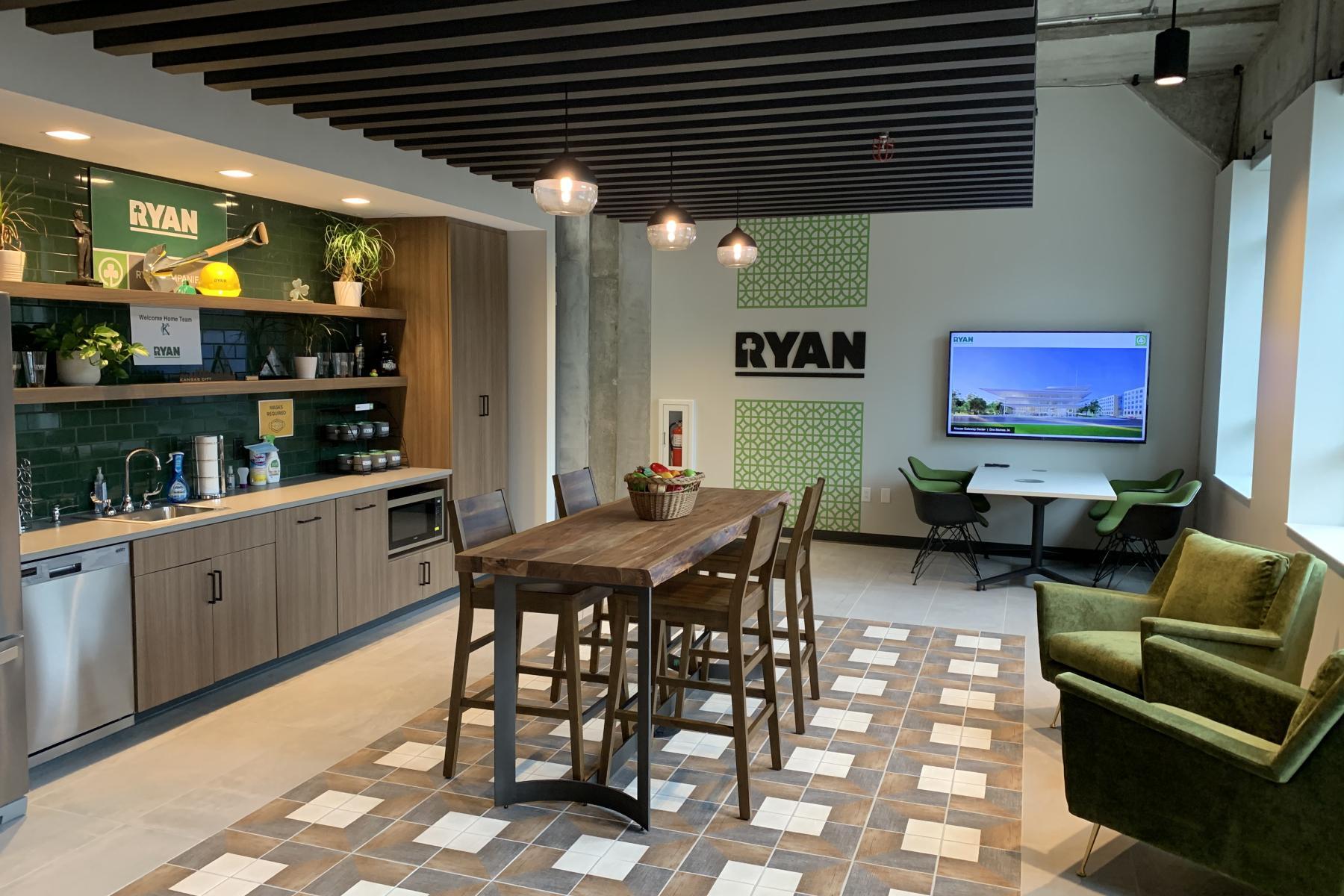 Kansas City, MO
(
Jul 15, 2020
)
Ryan Companies officially moved into its new Kansas City office last month, on June 15. The new office is in the Interstate Securities Building/Topsy Building at 215 E 18th St., in a second-floor suite. Ryan Companies also announced the relocation of Craig Thompson, Vice President of Construction, from its Des Moines offices to its office in Kansas City.
The 3,213 square foot office is designed to seat 16 employees, with room to expand up to 24. The building was built in 1950 and is listed on the National Register of Historic Places. When first built, the original architect was Edward W. Tanner, and builder was S. Patti Construction Company.
Ryan Companies has been doing work in the Kansas City market for 15 years, but it wasn't until 2018 that they established a physical presence in the city. Now, they are relocating into a new and larger office space, with plans to expand their footprint within the area. The decision to further invest in the Kansas City market was ultimately made because of their success that has come out of the last decade and a half and a great outlook for decades to come. Ryan Companies' noteworthy local projects include Commerce Tower, St. Luke's Community Hospital (Shawnee, KS) and multiple projects for Target and Amazon. The company will focus on real estate development while continuing to provide construction services.
"I want to help build something in Kansas City that will continue for years to come," said Thompson. "In Des Moines, we were able to grow the office by four times what it was when we began. With Kansas City being a bigger market, the sky is the limit for what we can do there."
Thompson, who just celebrated his 20-year anniversary with Ryan Companies, will help lead the growth of Ryan's rapidly expanding team and presence in Kansas City. While the company has been doing work in the Kansas City market for 15 years, it wasn't until 2018 that the company established a physical office presence in the area. This month they announced their move into a larger office space at 215 E. 18th Street.
Thompson's career at Ryan Companies' began in Cedar Rapids, IA in 2000. In 2004 he moved to Des Moines to help grow Ryan's market-share in central Iowa. During his tenure, Ryan has grown substantially in both numbers and volume. Craig takes great pride in his role of fostering this growth through the hiring of great team members and looks forward to influencing the expansion of Ryan's Kansas City operation.
With a background in civil engineering, site development and project management, and thirty years in the industry, Craig brings valuable expertise to his role as Vice President of Construction and Ryan's rapidly expanding Kansas City team. Craig will lead the construction operations group while focusing on employee development, team building and consistency in hiring and project execution.
"I'm excited to make the move and to build new relationships with customers and subcontractors. We have great relationships established in the area and I'm looking forward to continuing and expanding upon them," Thompson said, "We've already began recruiting local talent for our team, and I'm ready to hit the ground running."