Ryan Companies Promotes Four to Vice President Roles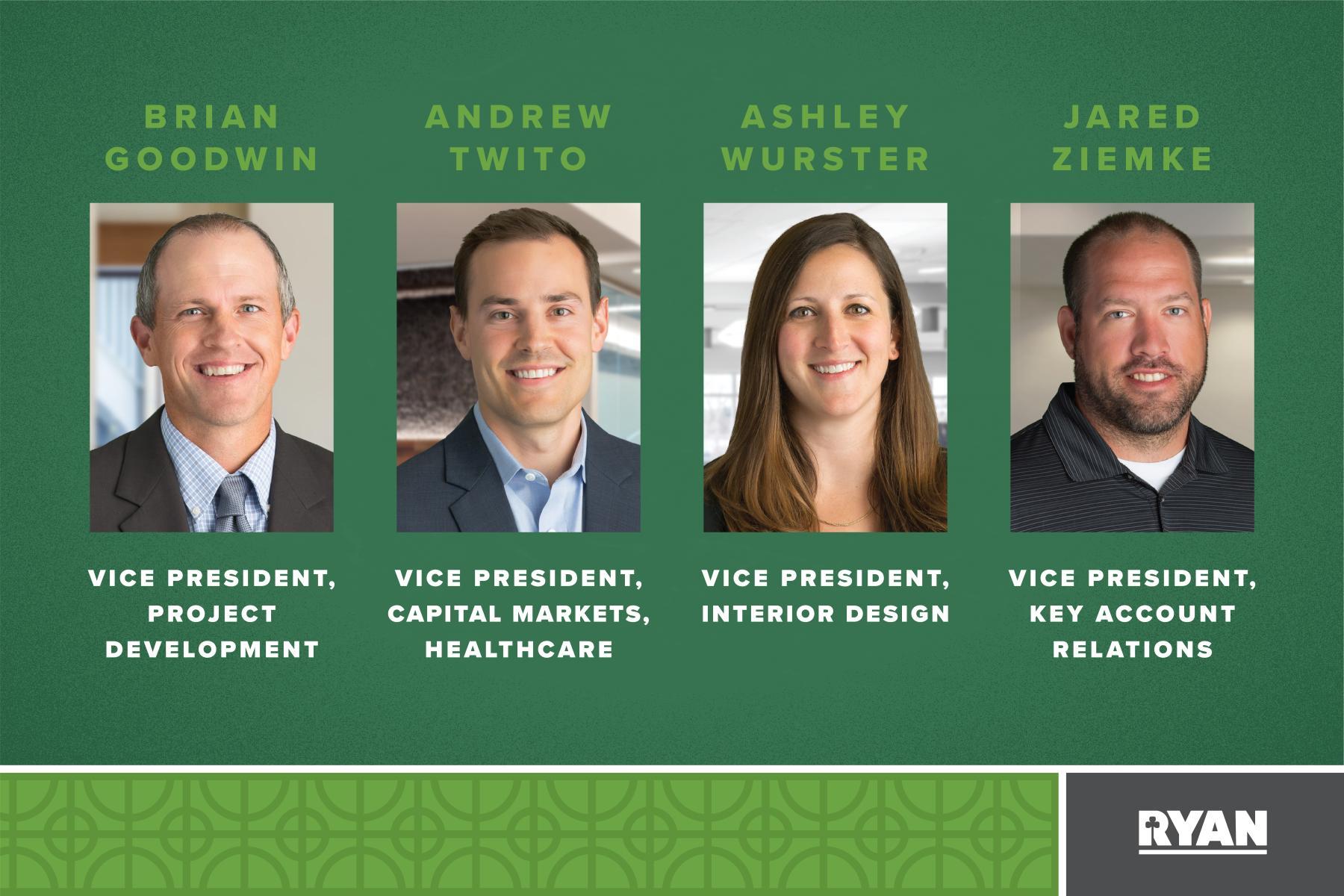 MINNEAPOLIS, Minn.
(
Apr 27, 2021
)
Ryan Companies US, Inc.; a national developer, builder, designer and property manager offering full-service commercial real estate solutions; is excited to announce four vice president promotions at its Minneapolis headquarters. Spanning multiple sectors and services, Brian Goodwin, Andrew Twito, Ashley Wurster and Jared Ziemke have assumed new titles and responsibilities.
In Ryan's senior living sector, Brian Goodwin will now serve as vice president of project development. Goodwin will use his 25 years of industry experience to oversee the company's senior living preconstruction team and associated preconstruction activities while managing relationships with customers.
Andrew Twito is now vice president of capital markets, healthcare. Standing as the lead contact for capital relationships, Twito is responsible for capitalizing Ryan-owned and developed healthcare projects throughout the country. Through his leadership since joining the company in 2014, he has helped raise Ryan's healthcare fund by over $46 million in equity, facilitating acquisition of over $125 million in healthcare assets.
Ryan also announced Ashley Wurster as vice president of interior design. As part of Ryan's Architecture + Engineering team, she will be responsible for direct oversight of the national Interior Design team and projects. Collaborating with Ryan senior leaders, Wurster will set team strategy and vision, establish goals, coordinate implementation plans, and develop and maintain relationships with development, construction, and third-party customers.
Jared Ziemke, who has been with Ryan for over 15 years, will serve as vice president, key account relations. In his role, Ziemke oversees the constructability, and budget and scheduling goals of the company's national industrial customers throughout design and construction processes. He is also involved in estimating and design management, subcontractor negotiations and field team coordination, as well as everyday operations and challenges that occur throughout the course of a project.
Goodwin received his bachelor's degree from the University of Wisconsin-Stout, and both Twito and Wurster from the University of Wisconsin-Madison. Ziemke is an alumnus of Minnesota State University, Mankato.