Ryan Companies Submits Initial Design Application For New JEA Headquarters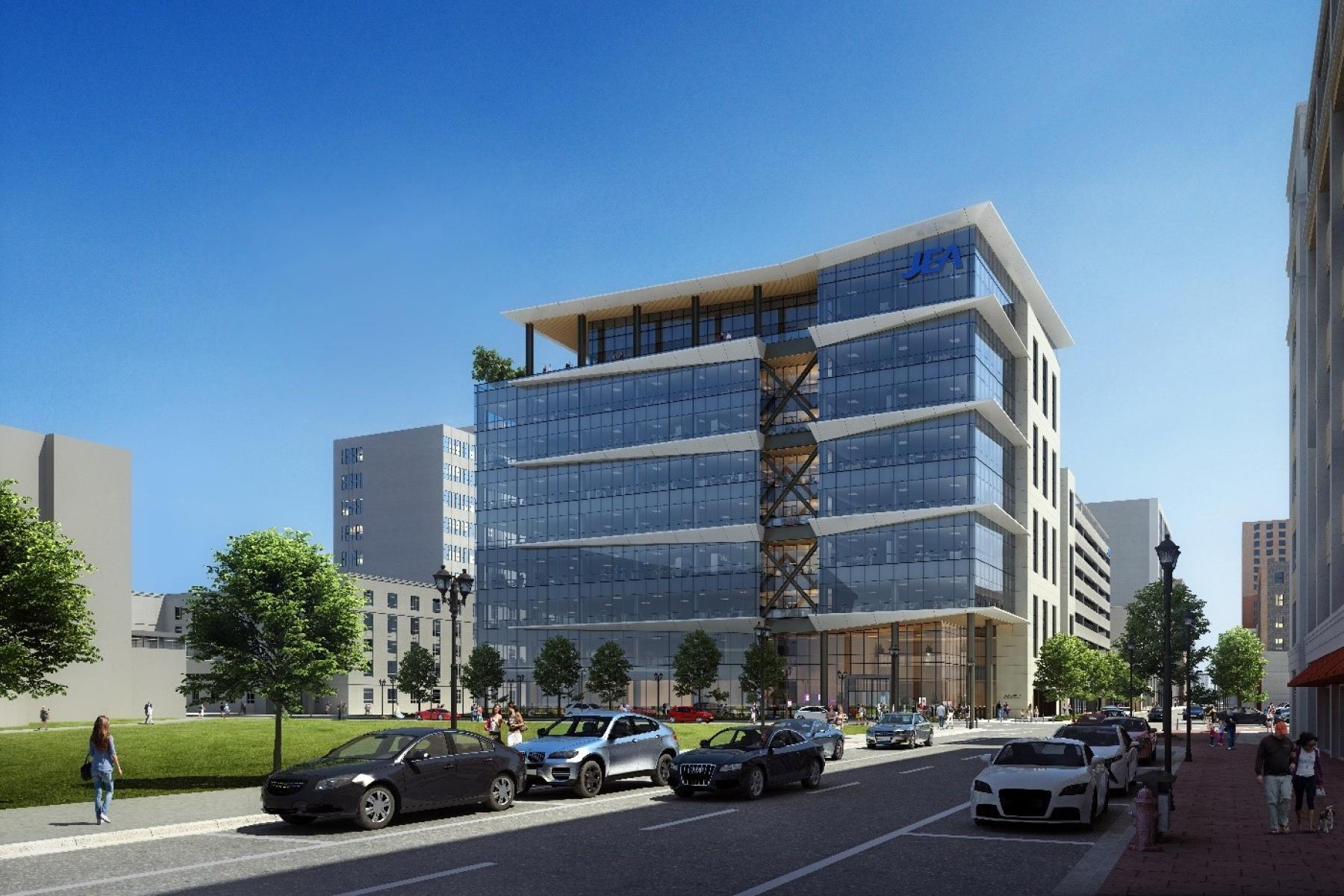 Jacksonville, FL
(
Aug 20, 2019
)
Today, Ryan Companies US, Inc. submitted its conceptual design approval application for the new JEA Headquarters to the Jacksonville Downtown Development Review Board (DDRB). In accordance with the City's development code the design application outlines the plans being proposed for the public utility's new headquarters and parking garage located at 300 block of W. Adams Street. Included in the application are details regarding the site plan, building elevations, site and building specifications, and land use. 
In the application Ryan Companies is proposing a nine story, 190,000 rentable square foot office project with an accompanying nine level parking garage that is comprised of 850 parking spaces. The design team drew precedent from Jacksonville and the surrounding areas and focused heavily on the experience of the employees and customers in how they engage with the building in all aspects.  From the skyline view to the customer experience the architects considered all angles. Natural light, open flexible floorplates and access to outdoor spaces are part of the design elements included in the building. Designed with multiple outdoor and work spaces affording views of the courthouse lawn, the St. Johns River, and the historic Hemming Park, these and more elements added to architect's focus on the City of Jacksonville.
"Presenting this application to the DDRB this week signifies a very important step in the process towards building the new JEA headquarters," said Doug Dieck, President, Ryan Companies Southeast Region. "It means a great deal to JEA, but also to the city of Jacksonville. Redeveloping this vacant parcel will serve to revitalize and enhance the existing skyline of Downtown Jacksonville and become an attractive backdrop to the adjacent existing courthouse lawn." 
Ryan Companies expects the DDRB to review its application at the September meeting. For the full design package and ongoing details about the project visit the website at NewJEAHQ.com. 
JEA's goal for the new headquarters is to provide the best service by becoming the center of its customers' energy and water experience. It will be a catalyst for JEA's continued growth and provide the foundation for industry-disrupting innovation efforts. It will also enable JEA to attract and retain an engaged workforce. Ryan is committed to ensuring that Jacksonville's Small and Emerging Businesses (JSEB), as well as women, minority, and/or disadvantage-certified businesses (W/M/DBE) play a meaningful role in the JEA Headquarters project. 
The project is expected to begin construction in the first quarter of 2020.