Ryan's North Region Wins Three NAIOP Minnesota Awards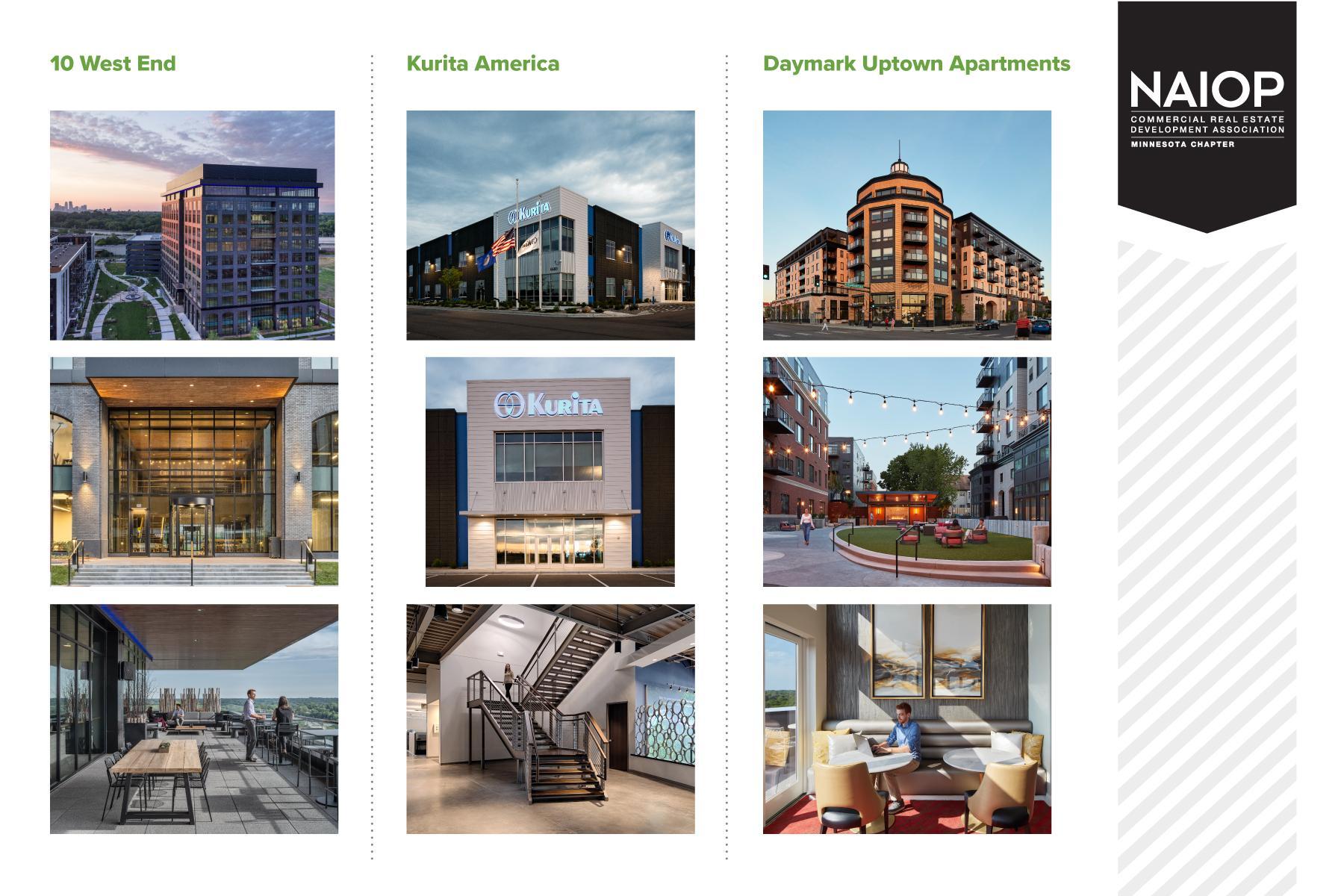 Minneapolis, Minn.
(
Sep 30, 2021
)
NAIOP Minnesota recently hosted its 38th Annual Awards of Excellence. This event is one of the longest-running awards programs for buildings in the state. It recognizes NAIOP members' developments across the state. A panel of judges tour the nominated projects and rate them based on several factors including site development, architectural integrity, interior design, integration into the community, market feasibility, unique challenges and LEED certification. Ryan is proud to be honored for three of four projects submitted for an Award of Excellence.
As the area's first Class A, multitenant office in more than 20 years, 10 West End is Ryan's latest project with The Excelsior Group. The 11-story office building and adjacent parking ramp offers easy connectivity to downtown Minneapolis, the western suburbs and metropolitan bike trail system. Within four months of opening, 10 West End was 50% occupied. The building was also recently LEED Silver certified. Amenities include stunning downtown Minneapolis views, large fitness area, bike storage, meeting rooms, mother's room and common deck patio.
Owner: Ryan Companies and The Excelsior Group
Contractor: Ryan Companies
Architect, Civil Engineer and Interior Designer:  Ryan Architecture + Engineering
Landscape Designer: Margolis Company
Electrical Engineer: Gephart Electric
Mechanical Engineer: Master Mechanical
Structural Engineer: ERA
 A host of challenges were presented with the Daymark Uptown Apartments development. From neighborhood resistance to a labor shortage and a global pandemic to preserving an iconic insurance company, there were numerous factors to consider in making the vision of this project a reality. This meant support from the nearby residents, as well as providing accessible amenities were essential. Despite being 335,000-square feet, the building's design doesn't dominate the neighborhood. It's still home to the iconic insurance company while offering ground floor office and retail space. And a pedestrian walkway was converted into a pocket park, which includes games, furniture, fireplace, and an ice-skating rink.
Owner: Weidner Apartment Homes
Contractor: Ryan Companies
Architect, Civil Engineer, Interior Designer and Landscape Designer: Ryan Architecture + Engineering
Landscape Designer: Aune Fernandez Landscape
Electrical and Mechanical Engineer: Steen
Structural Engineer: BKBM
The new 156,000-square-foot industrial headquarters for Kurita America consolidated and replaced three of its prior locations. The building includes a 32-foot high warehouse production area with two interior 15-ton cranes, lab rooms and a two-story office space with observation deck. This new headquarters space for the company struck a balance between the form and function.  
Owner: Ryan Companies
Contractor: Ryan Companies
Architect, Civil Engineer, and Landscape Designer: Ryan Architecture + Engineering
Interior Designer: Fluid Interiors
Electrical Engineer: NEI Electric
Mechanical Engineer: NAC
Structural Engineer: AST