Senior Living Community In Rancho Bernardo Opens Its Doors To Residents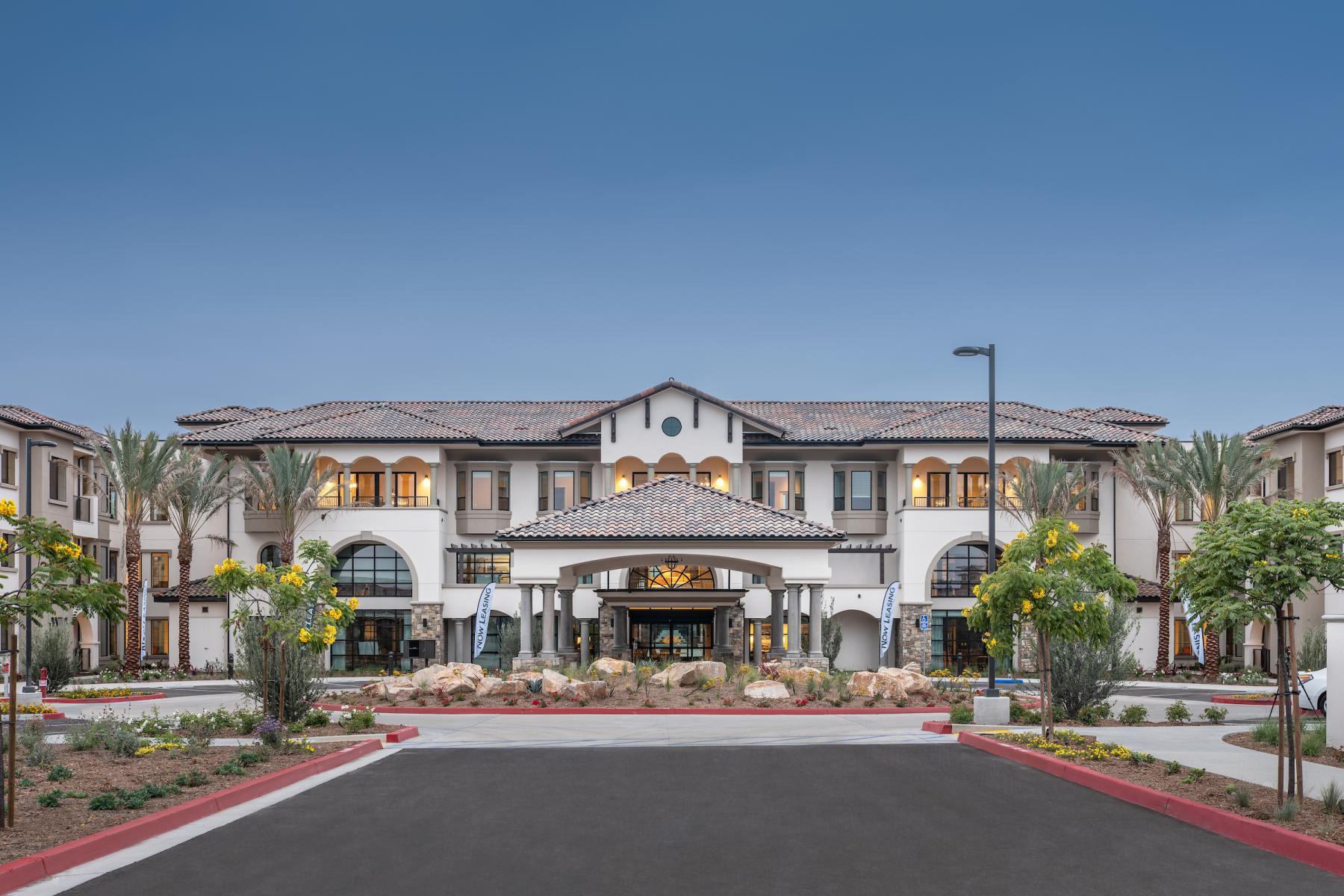 San Diego, CA
(
Jul 15, 2020
)
Residents have started to move into AmeriCare Health & Retirement's newest senior living community, Silvergate Rancho Bernardo, a 90% preleased, 11-acre resort-style campus built by Ryan Companies.
The community consists of 20 cottages, 108 apartments, six penthouse units and 48 memory care units, along with a clubhouse dedicated to amenities. Silvergate Rancho Bernardo is AmeriCare's third development of its kind and is considered the company's flagship community.   
The first floor of the clubhouse includes a media center, lounge, banquet room, theater and mail room, and a health center, spa, yoga studio, fitness center, art studio, card room and game lounge are all available on the second floor. Other amenities on the property include an underground parking garage, restaurants, private dining options, bar, pool and pool house, croquet court, bocce ball area and putting green. Residents also have membership privileges at the Bernardo Heights Community Center.
"From the very beginning, we envisioned this project would represent the latest evolution in retirement living, with a beautiful resort style design that seniors would love calling home," said Matthew Petree, director of property development for AmeriCare Health & Retirement, Inc. "Now that the project is complete, I firmly believe we have realized that vision and created a truly spectacular community."
The apartments range from 400 square feet to 1,200 square feet, while the cottages run between 1,400 square feet to 1,600 square feet. Premier interior finishes were designed by Warner Design Associates.
Ryan Companies worked along a tight schedule and with an environmentally conscious design. Silvergate is one of the largest private commercial gray water systems in San Diego.
"Our team was hyper-focused on bringing AmeriCare's vision to life by creating a luxury resort style campus that focused on sustainability, lasting quality and timeless design—all which will be embraced by the Rancho Bernardo community for generations" said Hans Muecke, senior vice president of operations, Ryan Companies. "It has been very rewarding for our team to build this beautiful senior living campus where residents and employees can really thrive."
Ryan Companies has built 46 senior living communities throughout the country, and Silvergate Rancho Bernardo is the fourth senior living project completed in Ryan's western division.
About Ryan Companies US, Inc.
Founded in 1938, Ryan Companies offers comprehensive commercial real estate services as a national developer, architect, capital investment consultant, builder and real estate manager with a focus on bringing lasting value to its customers and the communities in which it works. Ryan market depth includes retail, industrial, healthcare and senior living. Ryan development and corporate build-to-suit work spans a wide range of product types including office, mixed-use, hospitality, multifamily housing and mission critical facilities. Ryan has nearly 1,300 employees in 16 offices and has completed projects in 39 states. For more information, visit ryancompanies.com.

About AmeriCare Health & Retirement, Inc.
AmeriCare Health & Retirement, Inc. is a privately held healthcare management company that owns, operates and invests in retirement communities and medical office buildings. The Company was formed in 1984 and currently owns all of its real estate assets. AmeriCare focuses on the acquisition, development and ownership of healthcare real estate in the Southern California geographic area, believing strongly that local ownership enhances management's ability to operate its properties profitably and responsively to tenant and resident needs. The Company employs a conservative, long term approach to real estate investments and has developed an experienced executive management team with extensive healthcare operating, marketing and financing expertise