Simplifying the Complex: 3 Successful Strategies Used to Develop Kindeva Drug Delivery's Headquarters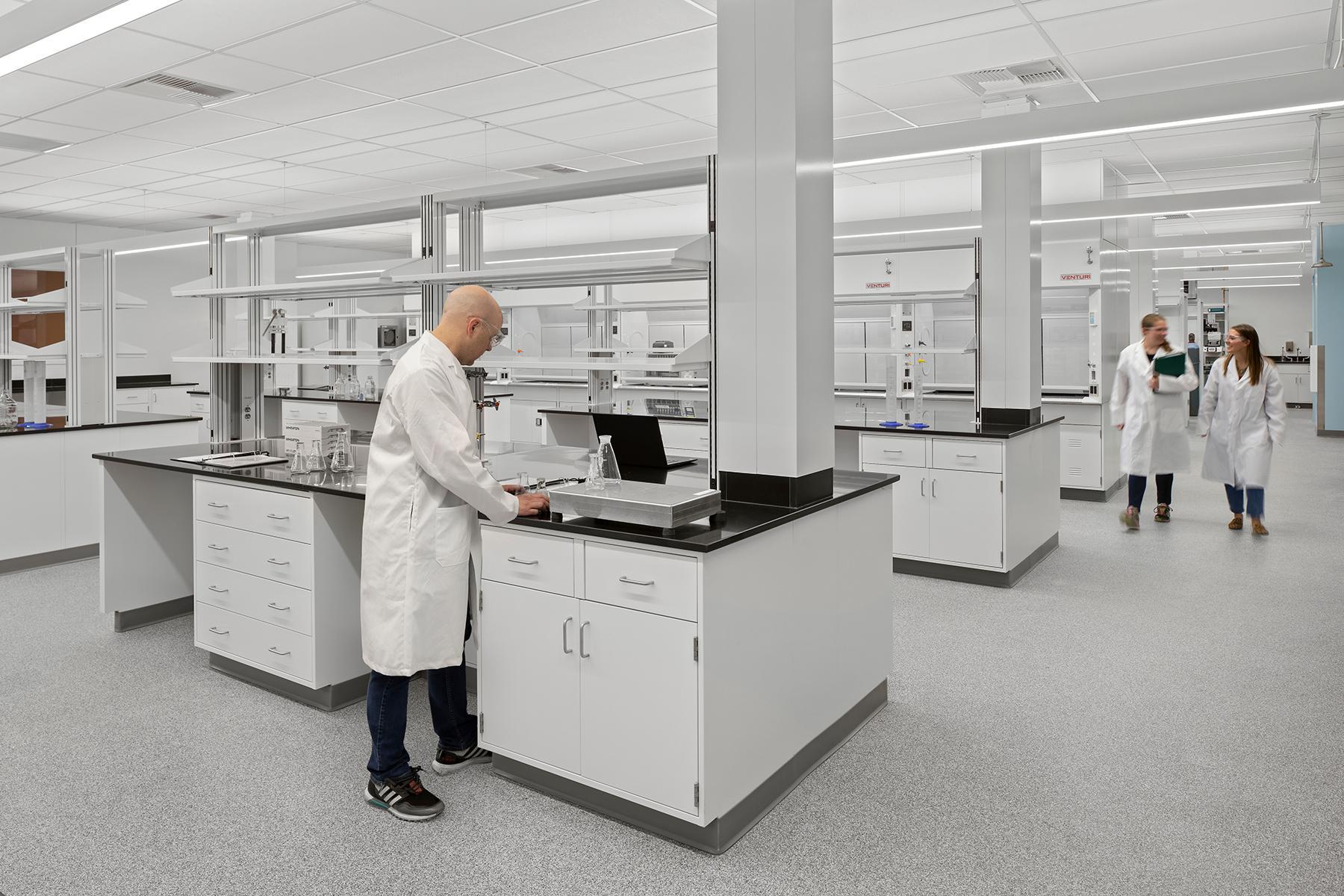 Whether it's developing innovative pharmaceuticals, conducting genomics research or manufacturing necessary medical devices, life sciences companies improve our quality of life by moving the needle forward in treatment.
But to make such life-changing advancements, life sciences users need a key resource: A space to do the work. 
Within the innovative world of pharmaceuticals, biotech, medical devices and more, the facilities that support these companies are equally complex. Lab users require intentionally designed spaces that are constructed to precise specifications to provide a secure cleanroom environment. Because these spaces are specific to each user, a new build-to-suit project ensures the space meets their exact needs.   
Taking place during the COVID-19 pandemic, constructing the new headquarters for Kindeva Drug Delivery—a leading global supplier of development-driven pharmaceutical delivery solutions— presented our build-to-suit team with unique opportunities that required significant strategy and thinking outside of the box. 
Not only did our team successfully complete Kindeva's impressive headquarters—it became an award-winning project example in the commercial real estate industry. REjournals named Kindeva the Flex Building Project of 2022, while NAIOP Minnesota, the Commercial Real Estate Development Association, gave the project an Award of Excellence – Industrial Build-to-Suit, 2022.  
We spoke with members of our build-to-suit development team that were involved with the project—Casey Hankinson, Executive Vice President, National Build-to-Suit and Dan Mueller, Vice President of Real Estate Development—to learn three considerations our team took that helped successfully complete the project and meet Kindeva's needs. 
1. Recognize the opportunities that a site location can provide the lab user.
While it is true that life sciences spaces are often found in more established ecosystems such as San Diego and Boston, we anticipate an upcoming trend of life sciences users moving towards emerging ecosystems connected to talent and research. Looking to secure sites in secondary markets helps cast a wider net and opens the pool of viable site options that are still attractive, resourceful communities. These areas have access to highly sought-after talent, while offering more desirable land available for development often due to less density than the neighboring, larger cities. Such growing ecoystems are often supportive and willing to welcome new developments, as life sciences spaces bring valuable opportunities to provide high wage jobs and a positive economic impact to the area. 
In the case of Kindeva—a former business unit of 3M sold to a private equity company— they wanted to exit the 3M campus in Saint Paul, MN, and gain visibility while establishing a new brand identity. They knew they needed their own unique build-to-suit facility that could meet their specifications to manufacture medical equipment. Our team acquired a site in Woodbury—a suburb just a few miles down the road from 3M's Saint Paul headquarters—and knew it was a viable option to meet Kindeva's needs. This suburb had the ideal piece of land available, while remaining close to the larger city of Saint Paul and 3M's main campus. The project offered visibility to the attractive surrounding talent pool, while also representing a major win for the City of Woodbury, which focused on diversifying the community's employment and tax base.  
2. Creatively cater to lab user's current needs—and accommodate for future needs.
In comparison to traditional build-to-suit office builds, a unique and common life sciences requirement is cleanrooms. Cleanrooms are closed spaces that require precise temperatures, humidity and the preservation of air quality to ensure quality control of specific, delicate or technical products. The execution of creating and preserving cleanrooms—then adapting those systems within a more typical industrial building shell—is challenging and complex. To help provide easier access to the HVAC system and other tools to maintain air quality and protect cleanrooms, our construction team built a structural mezzanine over Kindeva's lab space. This mezzanine provided an easily accessible area where users could service equipment above the lab while simultaneously offering flexibility within the lab space for the user to modify or supplement equipment as programs and process change. 
3. Harness the power of strong relationships.
One of the key reasons that Kindeva is a success story is because of our strong relationships with outside entities throughout the process, including brokers, city officials, investors and specialty subcontractors. Once we secured the deal, we wanted to identify a willing buyer that would serve as the long-term owner of Kindeva's headquarters. But the process wasn't easy. Given the impact of the COVID-19 pandemic on the financial environment, the fact that Kindeva was now a new entity separate from 3M, and the high price per foot and intensive technical requirements of the building created unique hurdles because of the elevated perception of risk attached to this type of project. Once again, our strong relationships—based on our established reputation and industry expertise— helped us connect with the right partner who was willing to work with us and serve as the owner.  
Partnering with subcontractors also played a pivotal role in ensuring the most effective and efficient decisions were made throughout the process. Utilizing the power of subcontractor expertise is especially valuable in life sciences projects, which require specific knowledge to fulfill HVAC system requirements and meet safety and quality control standards. Throughout the Kindeva project, communication between our team and subcontractors was constant to meet deadlines and move forward in a proactive way.  
While our Architecture + Engineering (A+E) team designed the core and shell of the Kindeva headquarters, we also partnered closely with the project's interior designer to coordinate the requirements of the space and align the interior design with the shell. Our A+E team also collaborated to define the stringent laboratory requirements with state-of-the-art controls pertaining to such factors as air quality, dust particles, humidity levels and temperatures.  
As a result of these considerations, Kindeva now has a handsome 137,897-SF, two-story headquarters—with capacity for downstream expansion. This life sciences build-to-suit project serves Kindeva's corporate leadership and critical support functions, while promoting collaboration among more than 200 scientists, engaging in research, development and clean manufacturing. 
Life sciences builds are complex projects that can make life-saving impact. By building a space that provides the right environment for lab users to accomplish their goals, the results are significant: making a positive economic impact, creating the mechanisms to deliver life-saving medication and improving the quality of human life. With creativity, a coordinated approach and solid partnerships, life sciences facilities can successfully serve as the setting where advancements are made to change—and save—lives.
CONNECT WITH US
Contact Casey for your build-to-suit needs