Team Welcomes University of Arizona Students to DoubleTree Construction Site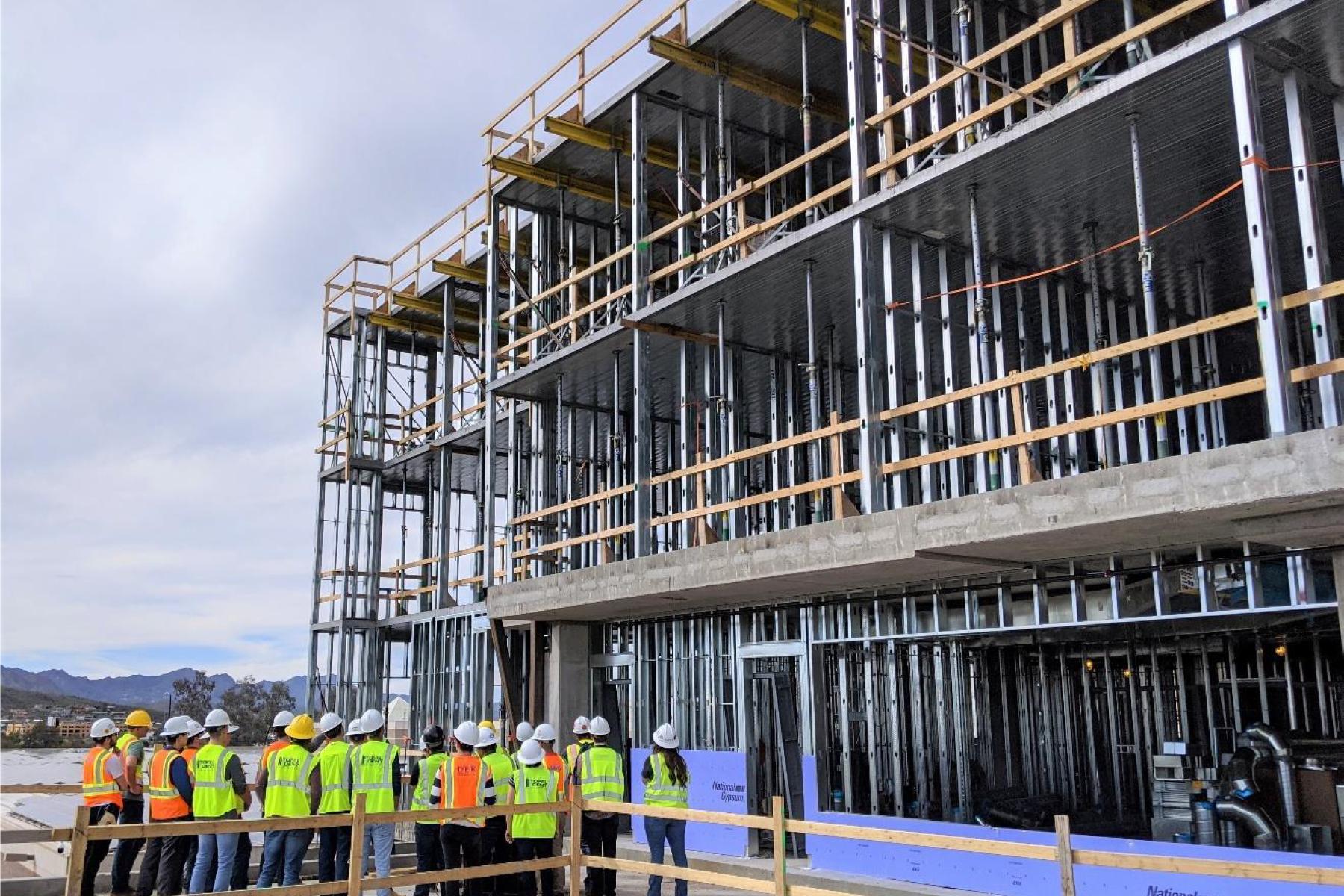 Tucson, AZ
(
Feb 16, 2020
)
Last week, our team at the Tucson DoubleTree by Hilton welcomed engineering students from the University of Arizona Construction Engineering Management program to the construction site. Students learned about what goes into building a six-story hotel, including technology and teamwork. Thank you to our team who took time out of their day to share their knowledge with the group of future construction professionals - a great example of Ryan core values in action! Project Manager Kristen Reinke and Project Engineer Alan Gomez received this letter from the class professor that reminds us how important it is to get students involved outside of the classroom and to partner with great schools like the University of Arizona.  
Dear Kristen and Alan,
Our engineering students in CE381-Construction Engineering Management had a great experience visiting the DoubleTree Hotel construction site at the Tucson Convention Center on Friday. Thank you for coordinating this opportunity and leading our class through the intricacies of building a six story hotel.
You were able to explain the GMPs used on the project and how fast-tracking is impacting the project. Students recently learned about RFIs in class, and it was good for them to hear how fast tracking is impacting the number of RFIs on your project and the importance of tracking those RFIs to completion. During the walk through, students were able to see the implementation of Epicor MSR with load-bearing metal stud walls, and metal decks that add to the reinforcing of the slab. Ryan is the first to bring this system to Tucson. Students also learned how important it is to coordinate with trade partners as they saw mechanical, electrical, and plumbing work going into the building. You also showed students the posttension slab constructed on site for this project. Students were impressed by all you do to keep the project moving forward. It was also great for them to see their UA classmate Drew Jenkins working as an intern on your team.
Thank you for sharing your time and expertise with us to make Construction Engineering Management (CEM) at UA relevant and motivating. We look forward to having the Ryan Companies on campus later this month for a TAKE 5 lunch. We value your support for our construction engineering management students and program.
Sincerely,

Dean Papajohn, P.E., PhD
Associate Professor of Practice
Civil & Architectural Engineering and Mechanics