Three Ryan Projects Among Finance & Commerce's Top Projects of 2020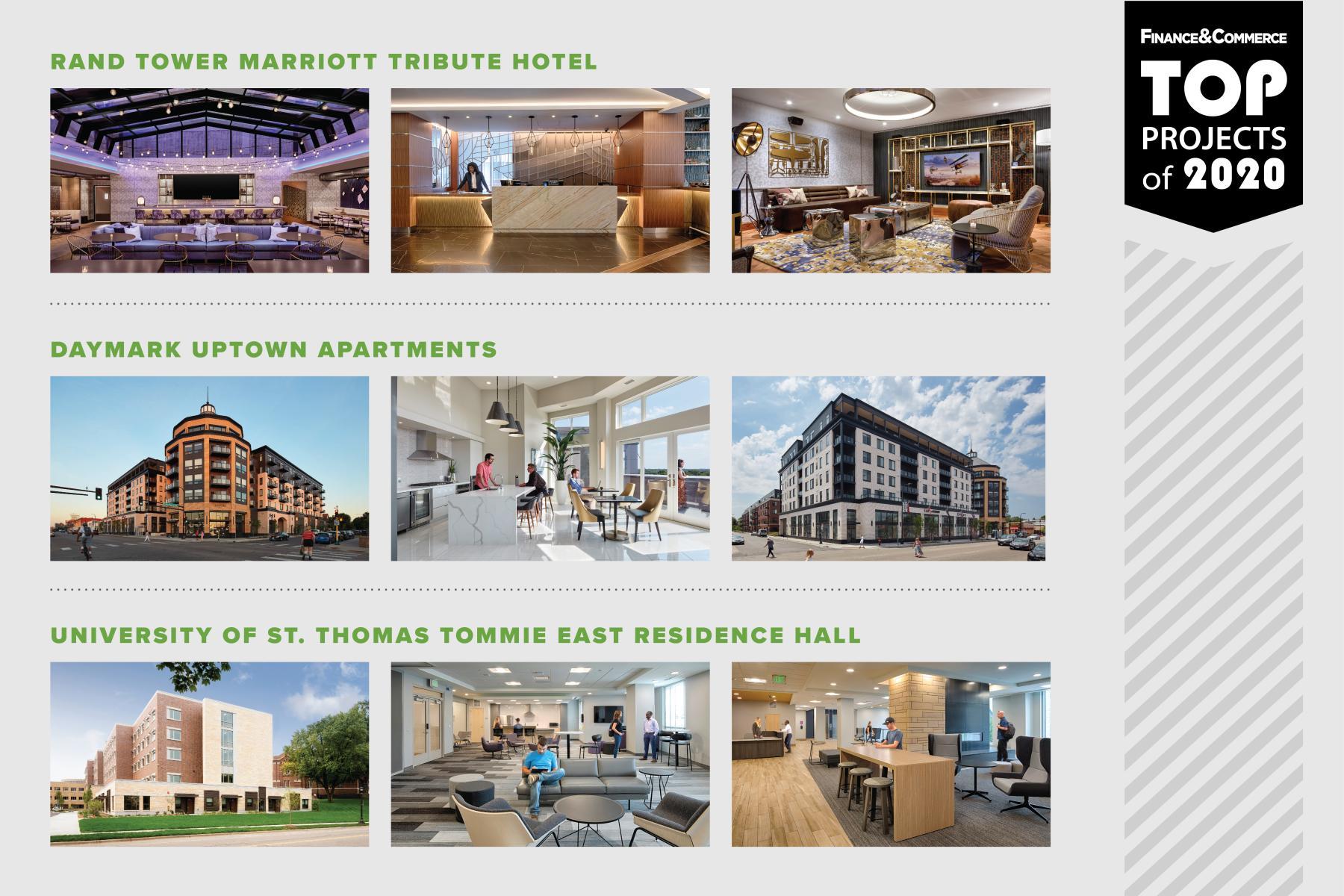 Minneapolis, Minn.
(
Jul 27, 2021
)
Finance and Commerce celebrated the Top Projects of 2020 in Minnesota. A panel of judges selected 50 honorees for the distinction based on the degree of difficulty, creativity in design, innovative construction techniques, cooperation among contractors and management, and sustainability efforts. Despite the uncertain and challenging year for all companies, a bevy of construction projects were completed. Ryan is pleased to be included in this honorable list three times for our work on a variety of buildings.
Daymark Uptown Apartments
 A host of challenges were presented with the Daymark Uptown Apartments development. From neighborhood resistance to a labor shortage and a global pandemic to preserving an iconic insurance company, there were numerous factors to consider in making the vision of this project a reality. This meant support from the nearby residents and providing accessible amenities were essential. Despite being 335,000 square feet, the building's design doesn't dominate the neighborhood. It's still home to the iconic insurance company while offering ground floor office and retail space. And a pedestrian walkway was converted into a pocket park, which includes games, furniture, fireplace, and an ice-skating rink.
Owner: Weidner Apartment Homes
Contractor: Ryan Companies
Architect: Ryan Companies
Engineer: Ryan Architecture + Engineering (civil), BKBM (structural)
The Rand Tower Tribute Hotel
An art deco icon, Rand Tower was set to become a luxury hotel for Mariott's Tribute brand. Built more than 90 years ago and on the National Register of Historic Places, Ryan's construction team had a unique opportunity to take part in this notable renovation. The Rand Tower is positioned in the heart of downtown Minneapolis and is known for its location, historic staircase, small floor plans, and abundance of windows. The 184,014-square-foot remodel included adding a bar and restaurant, which features a retractable roof made of 60,000 pounds of glass, lobby renovation and a variety of restoration work to keep the building's historic elements. The renovations may have transformed the building into a new use, but through design and careful work, team members were able to preserve what many love about the building.
Owner: Maven Real Estate Partners
Contractor: Ryan Companies
Architect: ESG Architecture & Design
Engineer: Meyer Borgman Johnson
Design & Development: The Gettys Group
University of St. Thomas – Tommie East Residence Hall
The new 139,300-square-foot hall positioned on the east side of the University of St. Thomas campus was designed for second year students with the idea of shared spaces in mind. Creating a way to connect and developing a sense of community, the residence hall design positions students in clusters and pods along with other features such as a game and bike room. The residence hall was also one of the few in the United States to achieve a LEED Platinum certification.
Owner: University of St. Thomas
Contractor: Ryan Companies
Architect: ESG Architecture & Design
Engineer: Kimley-Horn