We Build Stories of Stewardship: The 2019 Ryan Foundation Annual Report Has Been Released!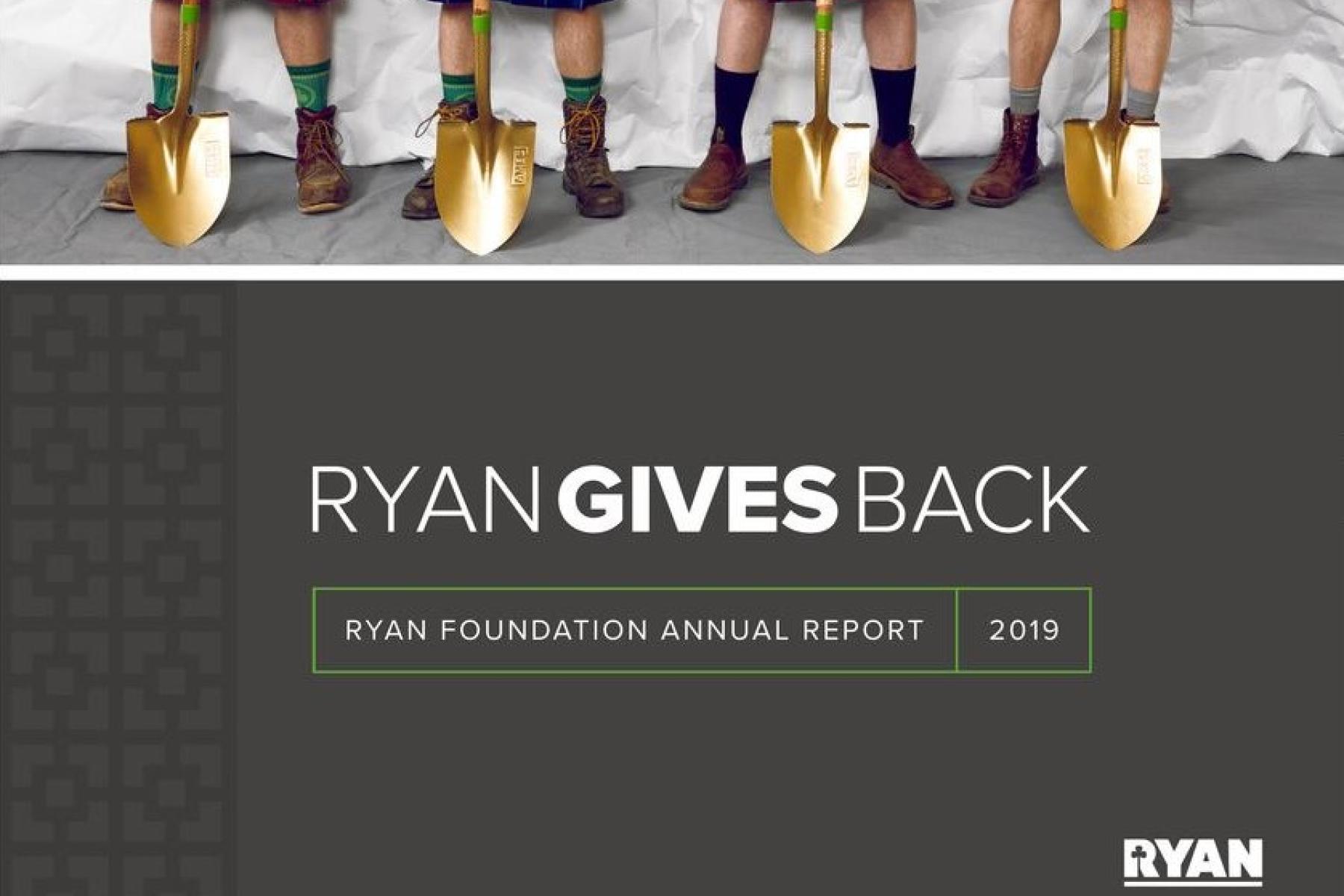 The 2019 Ryan Foundation Annual Report has been released and the results are inspiring. With a long tradition of commitment to the communities where we work, play and live, Ryan raised a total of $858,130 in 2019 through employee donations, matching funds and direct contributions.
Stewardship truly defines the Ryan culture. The Ryan commitment is to invest 5% of our pre-tax earnings back into our communities annually, made up of volunteer hours, cash donations and sponsorships. Ryan has made it a priority for every employee to work in our communities, encouraging them to use up to 20 hours of work time each year to volunteer. Ryan also matches 100% of employee charitable contributions to any qualifying non-profit, up to $500 per charity per year.
A highpoint each year is our RyanGivesBack campaign season, a giving campaign in each region that lasts anywhere from a few days to a week or more. Employees participate in volunteering and office-wide events to raise money for 385 charitable organizations, including United Way, JDRF, Second Harvest Heartland, and Banner Health, to name a few. This year, the regions collectively raised $489,433 during the RyanGivesBack campaign alone.
RyanGivesBack is not a one-week matter; it extends throughout the year with continued efforts across our regions. From building houses for Habitat For Humanity and Rebuilding Together, to volunteering with local United Way chapters, to education programs, the Ryan Foundation continues to do a fantastic job engaging our teams with communities. Commercial real estate always leaves an imprint, and we've made the choice to make it a positive imprint, for our customers, team members and the larger society.
Perhaps one of the biggest honors given at Ryan is the Jim Ryan Award, given to someone who best exemplifies the stewardship qualities of our late CEO, Jim Ryan. The 2019 recipient was Joelle Bolster, Senior Field Assistant, out of the Minneapolis office. Joelle was presented with $10,000 to direct to the charity of her choice: Susan G. Komen Minnesota and The American Heart Association.
Cheers to a remarkable, record-setting 2019! We can't wait to continue our giving initiative in 2020 and beyond. Thank you to our employees, friends, families, partners and everyone else that helped us build last year's story of stewardship.
View the full 2019 Ryan Foundation Annual Report by visiting our About Page.