5 Innovative Ways to Use Construction Technology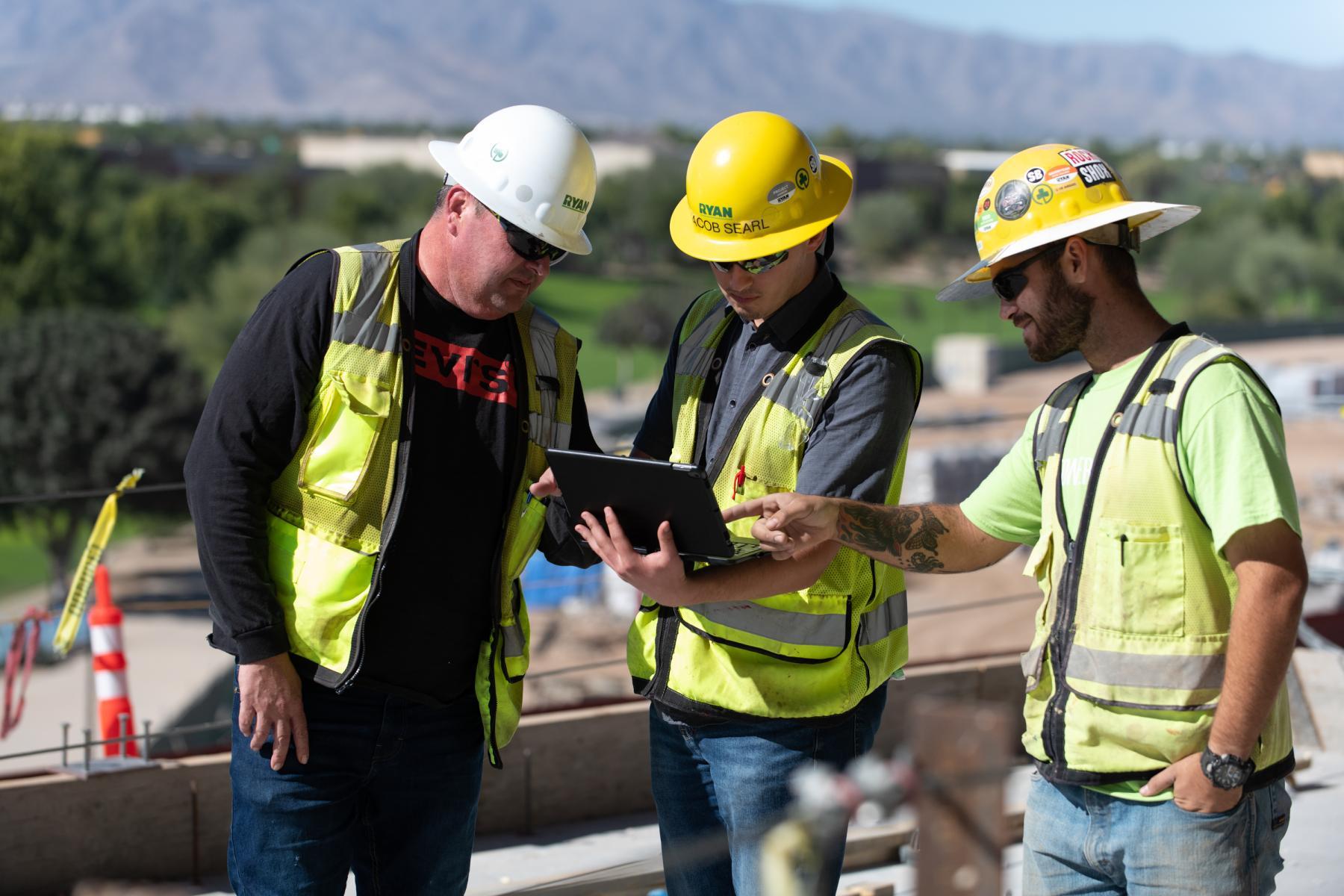 Construction technology is more than software for scheduling or architectural design programs. In this rapidly changing industry, it's key to helping companies evolve and adapt, improve processes, maximize resources and better meet the needs of clients. Thanks to our collective insight at Ryan —the integration of our development, A+E, construction, real estate management and capital markets teams—we have a unique perspective of technology and innovation and how it impacts teams, clients and projects across all services. In fact, we recently won a 2022 BuiltWorlds Digital Leader Award for our "technology adoption, utilization and implementation accomplishments in project management, preconstruction and field solution project delivery."
From dedicating an entire department to innovation to regularly evaluating emerging technology, we recommend being intentional and proactive in your approach. Here are five ways to make the best use of construction technology to position yourself for the future:
Gather and analyze data.
Data is gold, but what really matters most is what you do with it. Having a dedicated team to organize and analyze data ensures that you can uncover trends, changes, needs and hidden pockets of information. This applies to internal data (such as project health, employee information, diversity and inclusion, and overall company policy) as well as external data (market data involving everything from sites and zoning to environmental risks and traffic.) Producing easy-to-use dashboards featuring a variety of data allows our teams to work more efficiently and effectively, relying on substantial information rather than a gut feeling to make decisions.
Make data available across teams and services.
While it's common to make data available to high-level decision makers, we advocate for taking it a step further, getting it into the hands of everyone from designers to project managers. Having clear, accessible data enables teams to spot and understand potential issues and challenges more quickly and make the necessary adjustments. Because of our collective insight, we understand the importance of performance and risk transparency across all services. Everyone benefits from having detailed information at their fingertips.
Use computational design to create new workflows, tools and processes.
Blending computer programming with design, computational design is about creating or customizing software to automate processes, create new tools or improve workflow. Because we have so many disciplines using a variety of tools and workflows, it's essential to find ways to unify, simplify and streamline. As we seek design solutions for a project, for example, computation design enables us to quickly generate multiple design iterations, comparing each for cost and speed, but also pinpointing the best comprehensive solution. What used to take weeks, can now be done in days, saving clients time and money. Unique computer programming and template creation is essential to position yourself at the forefront of real estate development and design.
Test specific emerging technology.
With how quickly the construction industry is changing – combined with the growing labor and talent shortages – new approaches and solutions need to be tested and applied. But you also can't chase every new technology that's introduced. Having a dedicated emerging technology team enables you to establish a scientific method for evaluating and testing potential solutions that could benefit your company. It's a combination of listening to teammates on project sites, asking questions and uncovering areas of frustration or need, and staying on top of cutting-edge technology, looking to the future, and testing and evaluating the products that could meet those needs. We're always asking how new technology – such as autonomous robots – could streamline workflow efficiency, enhance communication channels or deliver superior capabilities to our project teams.
Create a culture of innovation.
Finally, the benefits of creating a culture of technology and innovation across your company are far-reaching. By inspiring teams in the office and on project sites to be forward-thinking, ask questions and evaluate processes, you can foster ongoing communication about potential technology solutions and process improvements. As sustainability and environmental awareness becomes more prevalent in our company, for example, our teams across all services are discussing and considering new and potential technology solutions.
Learn more about Ryan's 2022 BuiltWorlds Digital Leader Award.