777 Tower at Novus Innovation Corridor Sells to Ascentris and Cypress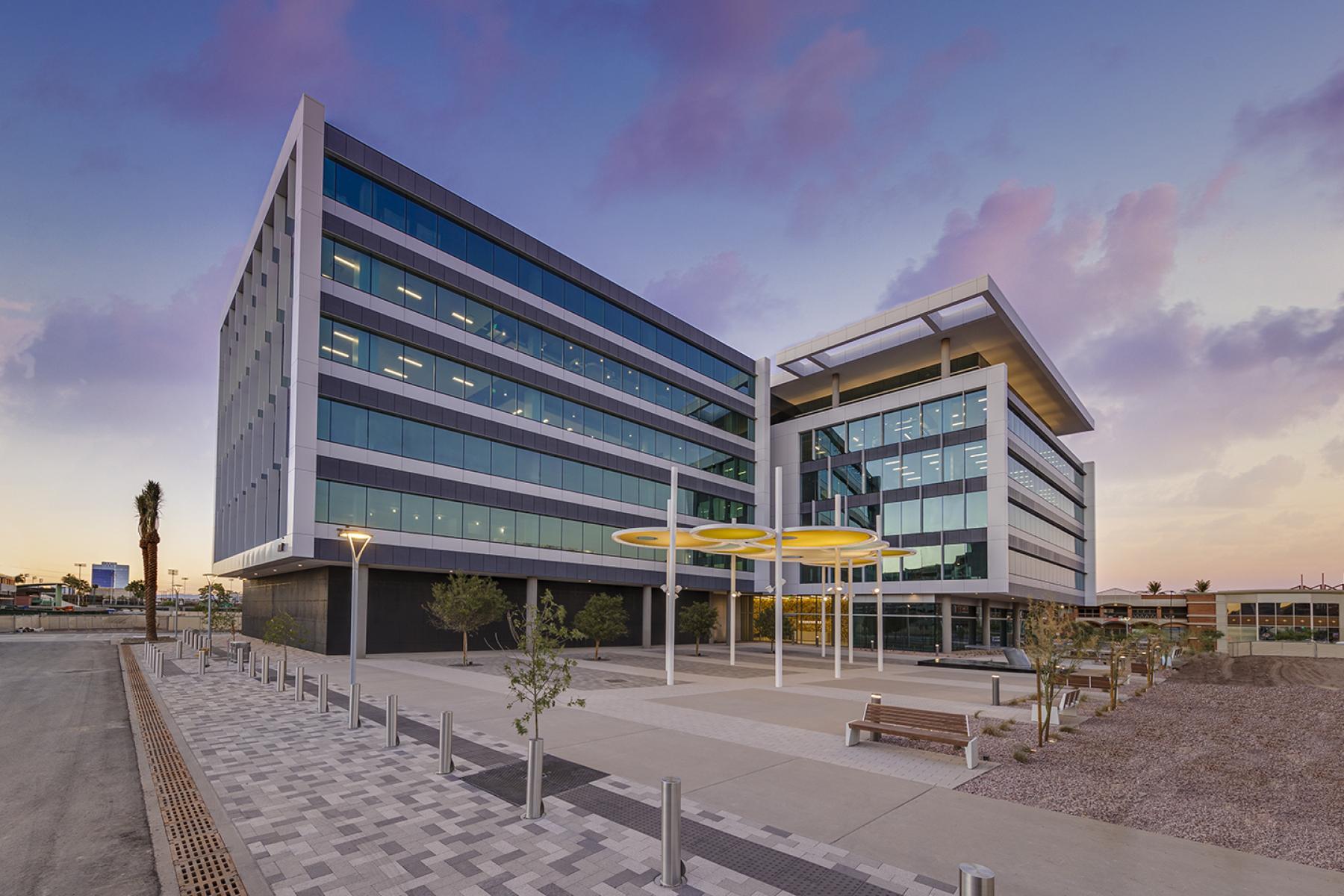 TEMPE, Ariz.
(
Dec 29, 2020
)
Developer and builder, Ryan Companies, along with joint venture partner University Realty LLC, announced today the sale of 777 Tower at Novus Innovation Corridor to a joint venture between Ascentris, a national real estate private equity firm based in Denver, and Cypress Office Properties. The official sale closed on December 24th.
777 Tower, completed in July 2020, features 160,000 square feet of state-of-the-art office space and 8,000 square feet of retail space, presenting office tenants with several unique prospects not offered in other geographic locations. The property is currently 83 percent leased to ASU and Infosys, a global digital services and consulting firm projected to add 1,000 jobs in Arizona by 2023.
"We approach our projects with the end-users in mind. It's about the value it brings to the people who use it and the surrounding community," said John Strittmatter, Southwest chairman at Ryan. "Ascentris and Cypress will no doubt take 777 Tower to the next level."
The building is a part of Novus Innovation Corridor – a mixed-use development located adjacent to Arizona State University's Tempe campus that will ultimately include more than 10 million square feet of mixed-use projects within a live-work-play, master-planned neighborhood framework that includes pedestrian thoroughfares, street-level retail and outdoor gathering spaces.
The building's proximity to Arizona State University's Tempe campus and inclusion within the Novus Innovation Corridor allows businesses to foster academic-corporate partnerships through access to the University's world-class faculty, student talent, and research and development programs. ASU is the no. 1 university for innovation in the country according to US News and World Report, through internships, research, job training programs and other partnerships.
"777 Tower at Novus complements Ascentris' current investment strategy of targeting high-quality, well-located office buildings within specific growth corridors across the United States," said Jeffrey Stonger, managing director of Ascentris. "We are excited to establish a long-term partnership with Arizona State University and together capitalize on its industry-leading public-private development of the Novus Innovation Corridor."
Ascentris acquired 777 Tower at Novus Innovation Corridor in partnership with San Diego-based Cypress Office Properties, LLC. The partnership intends to implement new marketing initiatives and lease the remaining 28,000 square foot full top-floor vacancy.
For more information about leasing office space at 777 Tower, contact John Bonnell and Ryan Timpani at JLL by calling 480-282-6300. For more information about leasing retail space, please contact Teale Bloom at Phoenix Commercial Advisors by calling 602-288-3476.
---
About Ascentris
Ascentris is a real estate private equity firm based in Denver, Colorado. With over $2.1 billion in assets under management, Ascentris manages a series of fully discretionary institutional vehicles targeting both core and value-add investments across the major property types and geographic regions within the United States.  Since 2003, Ascentris' management team has relied on an investment philosophy and organizational structure that results in its investors getting to opportunities ahead of the market while receiving an unmatched level of service, transparency and accountability. Ascentris is a privately held and management-owned SEC registered investment adviser that maintains an unwavering commitment to put its investors' needs first.  Additional information is available at www.ascentris.com.
About Cypress Office Properties, LLC
Cypress Office Properties, LLC is a San Diego-based real estate investment and operating company that specializes in acquisitions of value-add, redevelopment, and core plus office properties in key markets within the Southwest United States. The company's primary geographic focus is in Southern California, Phoenix, and Denver, where there is tremendous upside potential.  Since its founding in 2009, Cypress has become a qualified and proven investor within these markets – well positioned to identify, purchase and operate office properties that meet its strategic investment criteria. Today, the Cypress portfolio consists of sixteen office projects totaling 3.3 million square feet. For more information, please visit www.CypressOffice.com.
About Ryan Companies US, Inc.
Founded in 1938, Ryan Companies offers comprehensive commercial real estate services as a national developer, architect, capital investment consultant, builder and real estate manager with a focus on bringing lasting value to its customers and the communities in which it works. Ryan market depth includes retail, industrial, healthcare and senior living. Ryan development and corporate build-to-suit work spans a wide range of product types including office, mixed-use, hospitality, multifamily housing and mission critical facilities. Ryan has nearly 1,500 employees in 15 offices and has completed projects in 39 states. For more information, visit ryancompanies.com.
About University Realty LLC.
University Realty is a subsidiary of ASU Enterprise Partners, an independent nonprofit organization dedicated to generating resources for the benefit of Arizona State University. For more information, visit www.asuenterprisepartners.org
About Novus Innovation Corridor
Novus Innovation Corridor is a 355-acre, multi-phased development, which at completion will encompass over 10 million square feet of urban mixed-use developments, including State Farm's 2.1-million-square-foot Marina Heights regional office. Strategically integrated with the ASU campus on Tempe Town Lake, the Novus Innovation Corridor is a partnership between master developer Catellus Development Corporation and Arizona State University, ranked as the nation's "Most Innovative University" by U.S. News and World Report.
Catellus will oversee development of approximately 8 million square feet of additional new development in Tempe. Novus will include a variety of sustainable urban neighborhoods that feature office, retails, hospitality and residential activities, creating the potential to bring 34,000 new jobs and 5,000 new residents to the thriving Tempe community.
For more information on the Novus Innovation corridor and development opportunities, visit NovusASU.com, call (480) 566-9900 or email NovusASU@catellus.com.