Breaking Stereotypes, Building the Future: Construction Jobs for Women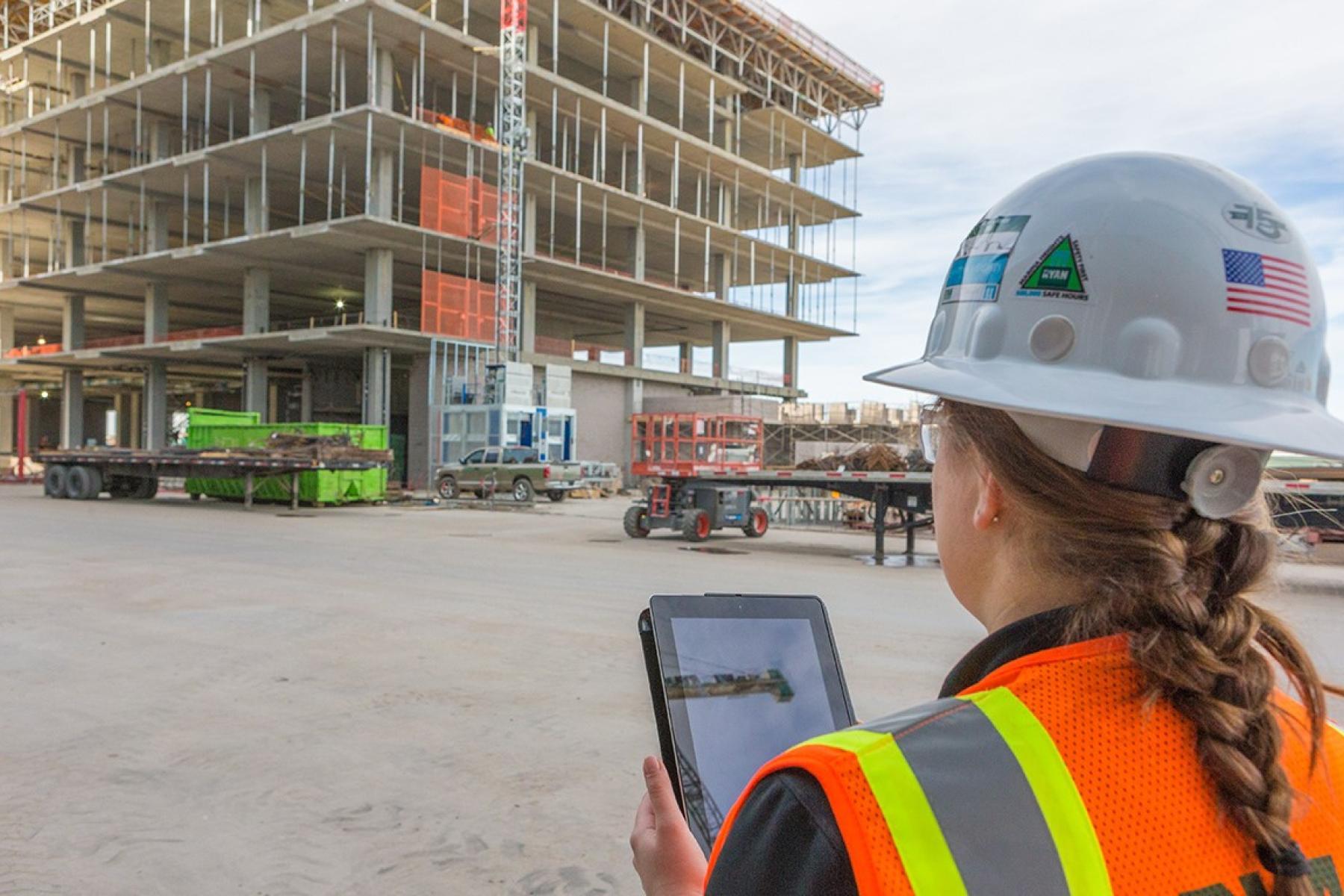 When you think of construction industry jobs, the first thing that probably comes to mind is the construction workers that make up the construction trades: plumbers, electricians, carpenters, or even a construction laborer. Depending on your experience, you might think of the various careers that support those working in the construction field, like a construction manager or a civil engineer.
But when you think of those workers, what do they look like?
Odds are, the worker you imagine is probably not a woman. And that perception needs to change about construction workers (or really, for all genders in different professions.)
Construction companies are changing. The construction industry and related fields are evolving and widening its path to welcome the growing number of women who choose to follow this career path towards a successful future. Construction jobs are no longer a "man's job." The research and statistics prove it. According to Construction Dive, in the last decade, the growing number of women in construction continues to increase, steadily reaching numbers higher than they've ever been in history. The National Association of Women in Construction stats that women make up nearly 11% of our country's construction workers.
So if you're a woman considering one of the many careers in the construction industry, read on to learn why we as an organization believe now is the best time to pursue a path in construction, the different positions in construction, and the resources for taking the first step towards a career in construction work.
Benefits of

Construction Jobs

for

Women
1. The pay gap is smaller than other industries.
A common misconception about women working in construction trades is that there's a big pay gap, meaning they won't make as much as men working in the same role.
Out of all industries, construction is leading the charge in closing the pay gap between genders; on average, women in the U.S. earn 82.9 percent of what men make, according to the National Association of Women in Construction. In construction jobs, women earn on average, 95.5% of what men make.
At Ryan, we make it a priority to provide fair and equal compensation packages to all employees. Learn more about what we have to offer here.
While we acknowledge that there is still a lot of work that needs to be done to close the gap between genders for good, the construction industry is showing promising opportunity for women.
2. There's a lot of demand for construction workers right now.
The construction industry as a whole is growing and there's a lot of demand for construction and trade workers. According to the Associated Builders and Contractors, the construction industry will need to hire over half a million construction workers this year to keep up with the demand for labor in our country.
So when you pursue a career in the construction trades or in the construction field, you can feel good about joining a workforce that will provide continued opportunity for the rest of your working life.
3. There are various positions to meet your skillset.
Another common misconception about doing construction work is that it's only physical labor or that you need to have a lot of physical strength to do the jobs well—and that's completely false. There are plenty of construction roles and responsibilities that rely on mental tenacity to problem solve versus physical strength or backgrounds doing physical labor. Just take positions that involve management or coordination of construction projects, like a construction manager, for instance. If organization is a top skill for you, the management side of construction can offer a lot of career opportunities.
These types of positions are critical to ensuring a job site has successes throughout the construction phase and provides proof that construction is a solid career choice for all genders who have an interest in pursuing this path—regardless of a person's physical strength.
4. There are plenty of opportunities for you to get education or experience.
In the construction industry, education requirements and necessary qualifications will depend on the trade or position. There are some jobs in the construction field that don't require a higher education, usually just a GED and relevant experience. Many employees get their start in an apprenticeship program, which combines job training with school instruction to prepare a person for the skilled trades. This allows the trade person to receive hands-on job training, real-life experience and technical instruction.
But for some positions, like a construction manager for instance, you will need to study construction management, which will provide you with an education, but also a chance to get hands-on experience that will directly translate to the workforce.
Whether you're looking for a role in the skilled trades or a job site management position, be sure to check out resources like National Association of Women in Construction. They have tons of partnerships with not only unions or construction companies, but also provide scholarships for trade school programs in each state.
5. Skilled trades or jobs in the construction field pay well.
With numerous roles that provide opportunities for development and growth, demand for new construction projects across the country, and a need for women's skills, abilities and diversity, construction is a lucrative field. Women in construction role can earn salaries that are even higher than their peers who have a college education, especially if they are leading projects and handling project management responsibilities.
Additionally, the construction industry has plenty of room for growth (which often leads to a wage increase) due to the variety of roles and management positions. Along with high wage amounts, construction employees often receive great benefits, allowing them to effectively build a life where they can support themselves and their families and experience a welcomed increase in their personal happiness and feeling of purpose at the workplace and at home.
Best Construction Jobs for

Women
Construction offers a number of professions that can align with women's skillsets, backgrounds, interests and abilities. Each role offers its own opportunities for employees to grow within the construction industry, increasing their development (and often, their salaries). Here are common construction jobs that provide women with the chance to make an impact within a team and on a job site:
Project Manager. Leads and oversees the planning and delivery of construction projects, helping to develop timelines and ensure successes at each important phase of the project. Organization is key, as well as maintaining good partnership with various teams on the job site to help the project cross the finish line.
Project Engineer. Responsible for providing guidance and coordinating the engineers on the job site. They also review design and bidding documents, evaluate contractor bids and oversee project progress, systems and scheduling. They often spend half of time in the office, half in the construction field, offering support and

assistance

, and leadership in both arenas.
Project Coordinator. Works on construction projects while overseeing the day-to-day project responsibilities,

project management

and workflow, being able to

problem-solve

and support project processes and tasks while identifying resources to help complete each task effectively.
Field Engineer. Plans, designs and manages the building infrastructure, helping to

problem-solve

and offer

assistance

almost exclusively in the field.
Civil Engineer. Plan and oversee project drawings and designs to ensure effective and efficient construction and maintenance of projects.
Superintendent. Supervises all project team members, including sub-contractors, to oversee the project and handle the project schedule. Runs day-to-day operations and ensures construction workers are following OSHA safety protocol.
Preconstruction manager. Leads planning efforts prior to breaking ground on a building. Often does research to estimate costs, as well as participates in reviewing designs, engineering, contract management, scheduling, etc.
Heavy equipment operator. Uses machinery and other heavy equipment

tools

to help accomplish tasks to see the project through the finish line. Moves supplies, earth, heavy materials, etc. to prepare construction site.
Carpenter. Builds, repairs and installs frameworks, foundations, floor beams, walls, roofing systems and more to the building.
Virtual construction manager. Utilizes technology and

tools

to navigate virtual

project management

and create 3D designs and models for buildings.
Interested in any of these roles? Join the Ryan team. 
What Next?
For women interested in pursuing a career path in construction, there are numerous tools, resources and programs to help you take the first step in exploring these professions.
Here's a few ideas for how to connect and learn more:
Talk to

women

in the construction industry. Google is at your fingertips, giving you a solid resource and great

first step

, providing helpful

assistance

to connect you with

women

who have

backgrounds

in the construction industry. Search LinkedIn for women who have

construction jobs

. Look up construction companies (like Ryan Companies!) in your area and contact the Human Resources department. They can connect you with

women

-focused Employee Resource Group contacts or point you in the right direction to learn information and get support about the construction industry.
Enroll in an

apprenticeship program

. To get hands-on experience and learn about the construction career

path

you want to pursue, consider an

apprenticeship program that focuses

on career

development

in construction

. You can learn what the role involves and sharpen your skills, as well as meet

women

in the industry and expand your network. Not only does an

apprenticeship program

help

women

in construction begin building a strong foundation of

abilities

in the area they want to pursue, it also often costs less than college – training under an apprentice within an

apprenticeship program

is often covered by employers or train unions.
Reach out to an industry organization or similar program. There are several organizations for

women

in the building trades who are mission-driven to help support and connect women specifically in trades organizations and those who hold

construction jobs

and

related fields

. These organizations are committed to career

development

for women in construction, providing you with a great

first step

to establish connection and community within the career, including:
Construction jobs offer women an opportunity to build a successful career while also opening doors for the next generation, inspiring a growing number of women to choose a more male-dominated career path. As more women join the construction industry and related fields, society can continue to grow in diversity, welcoming all genders and growing in equality. Each person can pursue the career path that aligns with their passions, abilities and interests. Boundaries break so glass ceilings can shatter.