Building a Better Future: Sustainable Construction Materials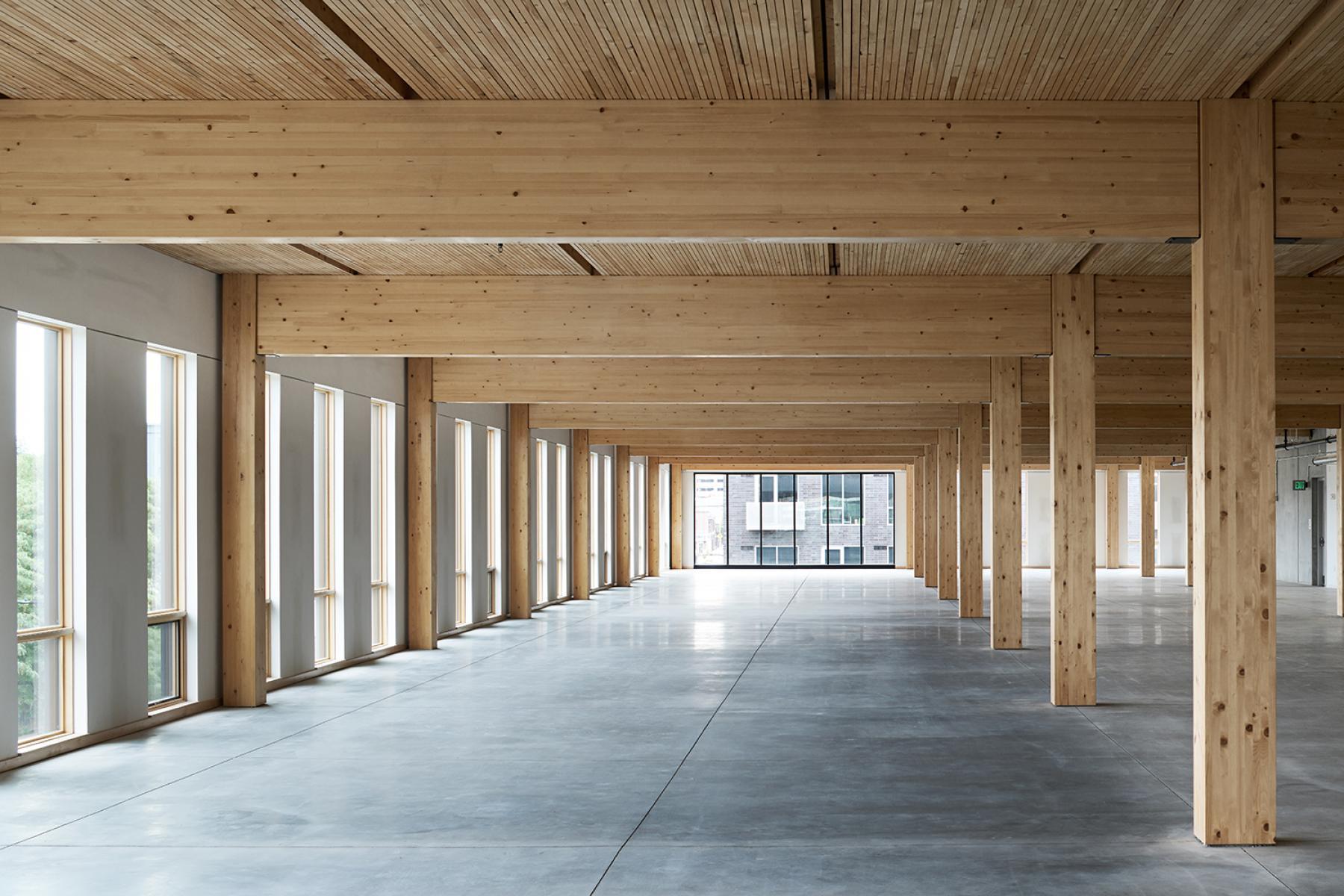 Concrete. Bricks. Steel.  
These are common materials that have traditionally served as the building blocks of new spaces and places. But the construction industry has adapted over the years, and that includes the materials we use for today's builds.
More than twelve percent of global greenhouse gas emissions come from building materials and construction. But awareness and action within our industry can make a difference. We are passionate about building sustainable spaces, and a great way to do this is by using more sustainable construction materials and innovative construction methods that have a smaller environmental impact.
But what exactly are sustainable construction materials, and why use them in the first place?
Read below to find out more about three sustainable construction materials, including the what, where and how we have incorporated these materials into our projects:
1. Lower Carbon Concrete
As one of the most commonly used materials on the planet, concrete is reliable, strong, and affordable… but studies have found it also significantly contributes to global greenhouse gas emissions. To serve as a sustainable substitute, an innovation to this tried-and-true material has made its way into the mainstream industry: lower carbon concrete. This material offers one of the many ways we can reduce the contribution that construction makes on climate change while also providing a way to meet embodied carbon reduction goals. By making a proactive effort to utilize lower carbon concrete, we can efficiently reduce embodied carbon—or the emissions during the construction of a building—and our carbon footprint.
Eleven is one of the projects where we harnessed the sustainability power of lower carbon concrete. As the tallest residential tower in the Upper Midwest, Eleven redefines luxury (and the Minneapolis skyline) while utilizing sustainable construction solutions to reduce its environmental impact. Rather than traditional concrete, the tower's foundation utilizes a sustainable construction material called ECOPact Prime. This concrete provides a 50 to 70 percent reduction in CO2 emissions compared to traditional concrete. According to Aggregate Industries, manufacturer and supplier of sustainable building construction materials, ECOPact Prime is an engineered low carbon concrete utilizing higher blends of cements using ground granulated blast-furnace slag. The sustainable construction material will still place, pump and finish like traditional concrete – without the negative environmental impact while meeting embodied carbon reduction goals.
2. Timber
Instead of using concrete or steal, mass timber (including laminated timber) is a sustainable substitute and effective construction material. How do you make mass timber? Simply put, you stick pieces of soft wood (think pine, spruce, birch, ash, etc.) together to create large pieces. Wood has the advantage of being a renewable resource. When sourced from forestry operations that are certified sustainable, it's a great option for reducing embodied carbon, improving construction schedules and integrating biophilia into the aesthetic of the space. 
For the 111 East Grand mixed-use project in Des Moines' historic East Village, for example, Ryan proposed to the team and the city that dowel-laminated timber (DLT, a type of mass timber) should be used for the build. Thanks to the sustainability benefit of DLT, we got the green light (no pun intended). The project is now Iowa's first modern mass timber building, the first DLT office building in North America, and the largest DLT project on the continent at the time of construction, helping shine a light on the positive impact of such a sustainable building material.
3. Adaptive Reuse
The redevelopment of a property offers the opportunity to reuse existing site features, such as piers, parking decks, etc. and the benefits are impactful. By repurposing former materials and giving them new life on a new project, you cut costs, lower embodied carbon, reduce waste and conserve landfill space.
Our design-build team was able to incorporate the reuse of existing building components, prioritizing sustainability and lowering our environmental impact. During our work on the CHS Field (home of the Saints, Minnesota's minor league baseball team located in Saint Paul), our team reused 230 foundation piers, more than 5,000 feet of concrete wall and 168,000-SF of slab. We also successfully repurposed existing building components when constructing the 222 Hennepin mixed-use building in downtown Minneapolis. This 580,000-SF space spans a full city block, and we reused four levels of parking on the project, saving significant amounts of embodied carbon. Our choice to repurpose the parking ramp prevented 20 million pounds of concrete and 1 million pounds of steel rebar from ending up in a landfill. The project was also named LEED Silver, a certification bestowed by the U.S. Green Building Council to certify and highlight new buildings that implement measurable, positive steps toward protecting and improving human and environmental health.
Sustainable materials are a critical element of our overall Thriving Sustainably strategy. At Ryan, we will continue to increase the use of more sustainable construction materials. We are also leveraging our national procurement power to incentivize material and equipment manufacturers to bring more sustainable options to market faster. Using Thriving Sustainability as a compass as we move forward, we plan on focusing on sustainable real estate projects that protect and restore the planet, helping communities and business thrive together.
CONNECT WITH US
Contact Britta Ryan, Sustainability Project Manager to discuss sustainable construction materials and how we incorporate them in our projects.