Eric Nordeen Promoted to Great Lakes Region President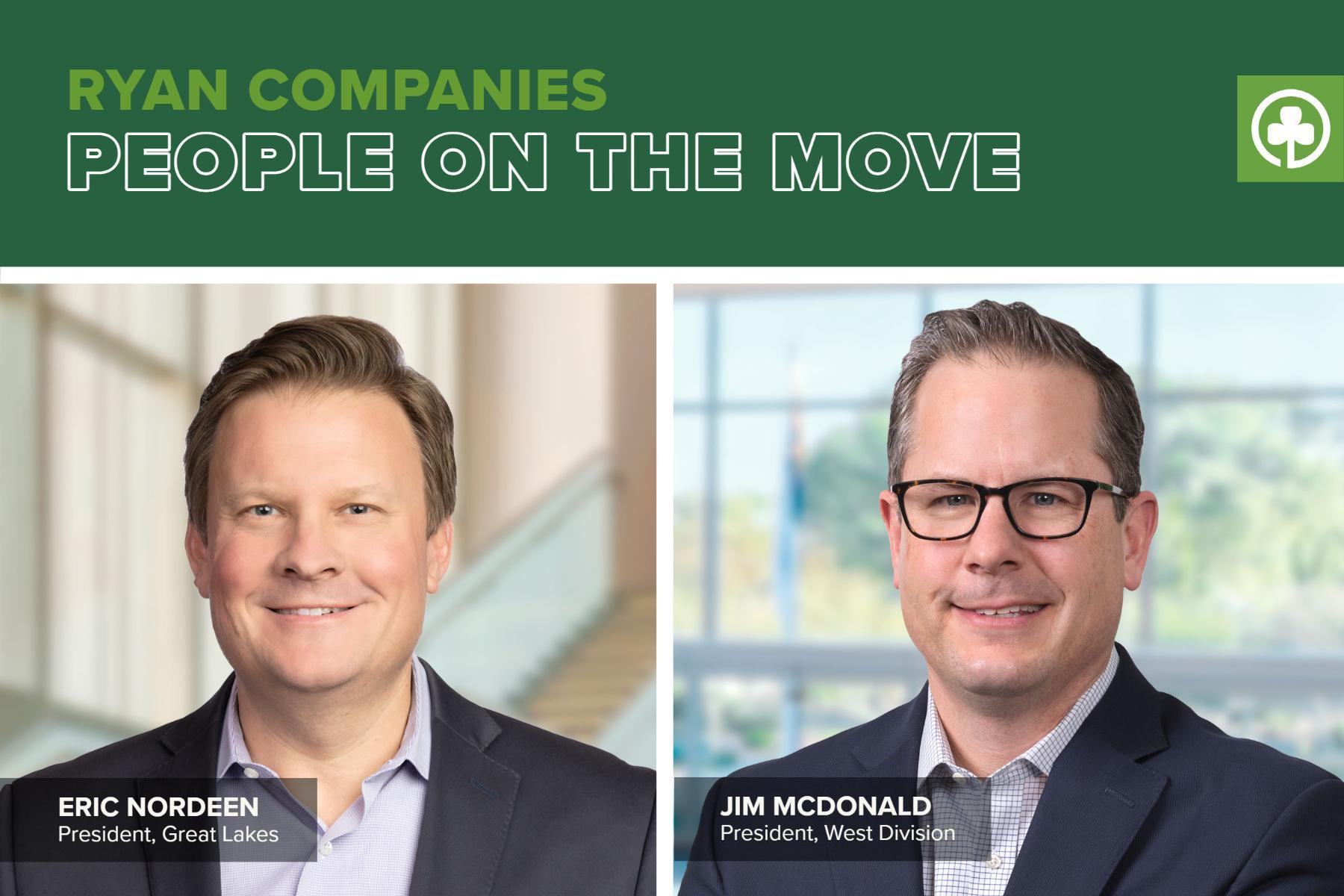 In case you haven't heard, Eric Nordeen has been promoted to president of our Great Lakes region, replacing Jim McDonald who is transitioning to divisional president overseeing our West, Northwest, and Great Lakes regions. In his role as regional president, Eric will oversee all real estate development and construction in the six-state area that comprises our Great Lakes region. With our offices in Chicago, Westmont and Milwaukee, our Great Lakes region currently has more than 1.5 million square feet of active projects touching several of our key sectors including healthcare, industrial, multifamily, and senior living.
"In Eric's short time at Ryan, he has made a huge impact with his strong leadership skills and the relationships he's established. The Great Lakes region has experienced solid growth over the last several years and I'm thrilled to continue working with Eric as he moves the region forward," said Jim McDonald, our new division president. "With Eric's collaborative approach and passion for excellence, he is the perfect leader to build upon the team's strengths and continue meeting our clients' needs in the Great Lakes."
Eric joined our team as vice president of real estate development in September 2021 with more than 20 years of experience in real estate development and capital markets. His focus has been building business across all of our sectors in the state of Wisconsin. Prior to Ryan, Eric was principal of Ascendant Holdings, a company he cofounded in early 2010.
In his new divisional president role, Jim McDonald will oversee our West, Northwest and Great Lakes regions. Jim joined the company more than 23 years ago – migrating from construction to development – and has played an integral role in high-profile regional projects across all sectors. During his time as leader of the Great Lakes region, Jim successfully led the effort to diversify the regional team, business and geographic footprint. Offices were established in Milwaukee, Westmont, Ill. and Chicago, and the Great Lakes teams are currently developing and building projects throughout the region. In 2022, Crain's Chicago Business recognized Ryan as the No. 5 best place to work in the large company category. Jim will work closely with the West and Northwest regions to identify growth opportunities and sustain a competitive edge in those markets.
"The continued success of the Great Lakes region wouldn't have been possible without Jim's strong leadership. He has achieved success at every stage in his career and as he assumes a new senior leadership management role, I'm confident that his commitment and guidance will accelerate the growth of the West and Northwest regions for Ryan," said Brian Murray, our chief executive officer.