How to Navigate 3 Common Challenges When Opening a Cardiac Outpatient Center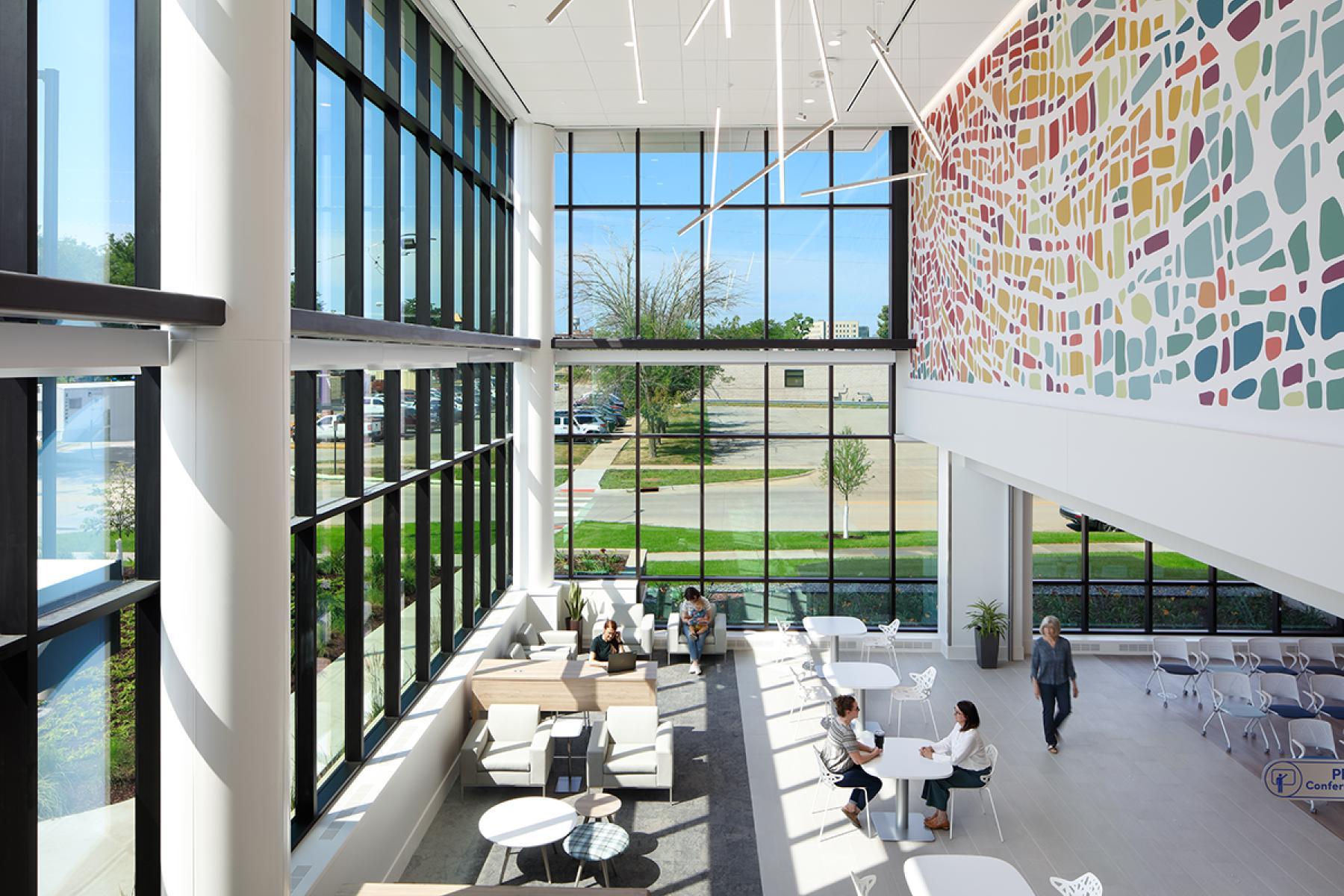 As the fast-changing landscape of healthcare sees a rise in specialty care centers, an increased focus on cardiac outpatient centers reflects a shift in the delivery of heart-related care.
Higher-quality outcomes and lower costs are two key reasons for the growth of cardiac outpatient centers. Yet despite these benefits, uncertainties can still surround the deciding factors on whether opening a cardiac outpatient center is the most strategic choice for your health system.
Constructing a new cardiac outpatient center—a choice becoming more popular by hospital systems across the country—is not made without its own set of hurdles to jump. To address common uncertainties surrounding the opening of cardiac outpatient centers, we spoke with three leaders on our healthcare team—Mike McMahan, executive vice president and former healthcare operations executive; Alena Johnson, vice president of architecture; and Gabe Fernandez, director of management, to get their thoughts on three key challenges that might be crossing your mind when considering the opening of a cardiac outpatient center—and solutions that can help.
Challenge 1:

"How do we navigate the complex regulatory compliance requirements to successfully receive accreditation?"
Solution: To successfully meet the necessary regulatory compliance requirements for your cardiac specialty center—and thus receive proper accreditation and proper reimbursement—it is critical to consider what those requirements for your center will entail. Your first step? Determine the specific type of accreditation you are pursuing and its standards. This becomes your road map and helps you outline the "must haves" of your building design.
By defining what your cardiac outpatient care center needs from a design perspective at the beginning of the process, you can feel more confident that you are meeting those necessary requirements to receive accreditation. Here are examples of questions you can ask before pursuing the process, which can also help you validate the investment:
Does the market support the need for this type of facility?

Can we re

cruit the right facility staff, providers and nurses in that location?

What is the type of occupancy? (i.e., will it be hospital-based/facility fee-based, an Office-Based Lab (OBL) or a free-standing surgery center?)

Is there going to be enough patient v

olume to justify the facility?
Being proactive and considering these questions and factors before diving into design can ensure confidence that you have all the crucial elements required for accreditation. Start with the end in mind.
Challenge 2:

"How can we ensure the design and construction process is efficient and effective?"
Solution: Selecting a trusted team to collaborate with you on the development, design and construction process is an integral decision that will pay off in the long run, often helping reduce time, money and stress. Our healthcare team recommends partnering with a multi-disciplinary team of experts who ask the right questions. Their expertise in the healthcare space will allow them a broader view and specific vision of trends and points of comparison of what others have done—and what they shouldn't have done, too—to offer you a design that is strategic and cohesive.
You don't know what you don't know, but the right team will. Their questions will ensure a thorough process with successful delivery. If you are developing a cardiac outpatient center, you want to work with a team who can design to those accreditation standards from a facility and operations perspective: the sprinkler system(s), the fire doors, the fire alarm system, the HVAC system(s), the building's mechanical components, etc. to ensure the building infrastructure is held to the right standard. That way, when the Joint Commission, for example, comes to do a survey, you are holding to their standards of compliance and your accreditation isn't compromised.
It is also important to work with a reliable and strategic real estate company that understands and considers the flows of healthcare: the flow of patients, family, staff, providers, equipment, supplies and medication information. Having a team that thinks holistically about operations, planning, design and construction—and understands these imperative flows and how they align with the patient care experience—can assure your cardiac outpatient clinic is designed to not only enhance these flows but also to deliver quality care and a positive patient experience.
Challenge 3:

"How can we properly staff this center to best serve patients?"
Solution: Securing the proper staffing to deliver high-quality care to cardiac patients is a necessity. The good news is this could be an easier feat for you to accomplish within a cardiac care center.
In comparison to designing an all-inclusive hospital facility, a benefit to building a stand-alone cardiac outpatient center is the opportunity to include design components that are enticing to future employees. With an outpatient center specific to cardiac care, it is easier for employees to enter and exit because the building is often smaller than the multi-level, wider footprint of a hospital and the cardiac units they are accustomed to working in.
According to our healthcare team, these specialty centers also offer an easier, less complicated environment for people to work in, often providing an abundance of natural light, easy parking and overall accessibility. For example, at Mercy Cedar Rapids Jewel & Jim Plumb Heart Center—a state-of-the-art cardiovascular specialty center—the building specifically incorporated cutting-edge and environmental design elements, including stained glass and a convenient skybridge for visual appeal and seamless navigation. In addition, the center features collaborative staff workstations with large floor-to-ceiling windows overlooking the campus.
Opening a cardiac outpatient center poses questions and challenges—but navigating those challenges with the right tools and resources can aid your decision-making process. And you don't have to handle the process alone. By partnering with a trusted and multi-disciplinary real estate team and understanding the design needs and accreditation requirements of a cardiac outpatient center, you can ensure the right considerations are made from every perspective: operations, planning, design, construction and finances. Intentional collaboration can help reduce uncertainties and deliver the best cardiac care options to improve patients' lives for years to come.
Ready to talk more about your specialty center plans?
CONTACT MIKE TO LEARN MORE