The Importance of Water Stewardship in Commercial Real Estate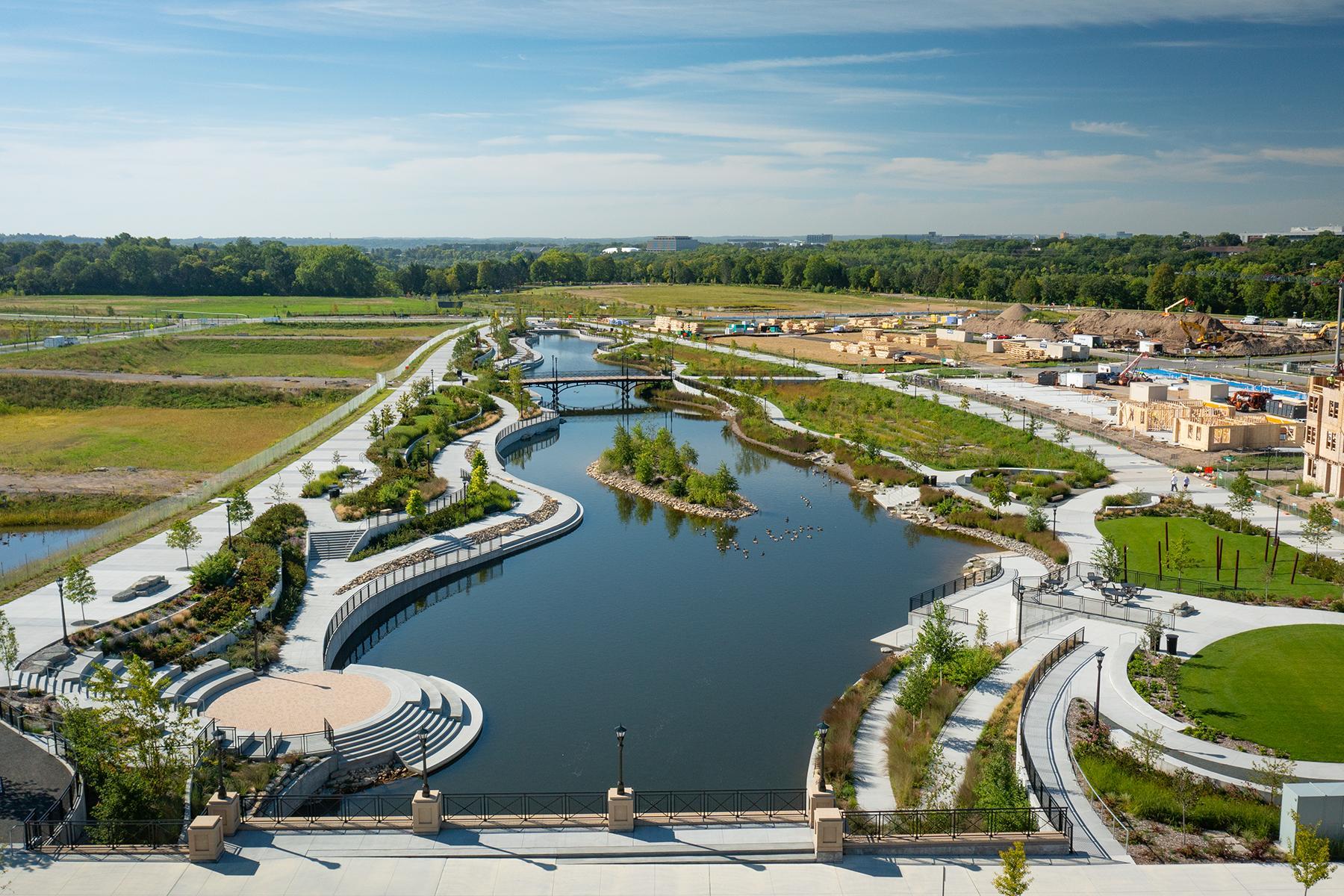 By: Joe Rozza, chief sustainability officer
The commercial real estate industry is increasingly embracing the imperative to decarbonize. With nearly 40 percent of global greenhouse gas (GHG) emissions attributed to buildings; it is a critically important focus. However, a more balanced approach to sustainability that elevates water stewardship to the same priority level as decarbonization is warranted.
What is Water Stewardship?
The Alliance for Water Stewardship defines water stewardship as "the use of water that is socially and culturally equitable, environmentally sustainable and economically beneficial through a stakeholder-inclusive process that includes both site and catchment-based actions." At the most basic level, water stewardship is the sustainable management of how water is being used and how it impacts surrounding water resources. This includes the full water cycle from source watersheds, water and wastewater infrastructure, water use efficiency, wastewater treatment, stormwater management and local, social water equity and cultural considerations. Effective water stewardship strategies need to address each of these key aspects.
Why is Water Stewardship Important?
In many parts of the United States, water stress levels are high and are expected to increase due to a combination of economic development, population growth and climate change. Nearly half of the nation's top 20 real estate markets are expected to experience an increase in water stress levels by 2030. 
As a result, many industries are taking notice and increasing their focus on this important issue. Morgan Stanley, citing The Water Resources 2030 Group's projected 40 percent gap in water supply and demand by 2030, is bringing new urgency to water security and highlighting negative economic implications. In the commercial real estate industry, understanding water usage during every phase of a project and evaluating stewardship strategies is crucial, especially in areas where water scarcity is high.
Not having a water stewardship strategy in place—especially for projects in high water stress areas—can have negative implications, including:
Less Water Supply Reliability – Water supply reductions or constraints due to climate change, droughts, demand outpacing supply and water supply infrastructure limitations. 
Increase in Operating Costs – Water, wastewater and stormwater cost increases to address aging infrastructure, improve watersheds and to incentive water conservation. According to a 2019 analysis from CBS news in the U.S.'s 50 largest metropolitan regions, water and sewer bills are rising faster than inflation and have increased for eight consecutive years.
Policy Conflicts – Changing local water resource management policy and water rights can increase projects costs and/or shift local economic priorities away from industries and developments perceived to be water intensive.
Negative Brand Reputation Risk – Local communities and stakeholders that believe a new development and its water use will adversely affect the local environment or represents an inequitable allocation of a limited resource. In our globally connected world, local conflicts over water can scale to international attention very quickly.
In most cases, these risks are mitigatable and with the right strategies development in high water stress locations can have a positive effect on the sustainability of local water resources. Engagement with local utilities and other community stakeholders is critical to not only confirm the actual water stress levels and perceived concerns regarding the long-term sustainability of local water resources, but also to ensure mitigation strategies are locally relevant and meaningful to local stakeholders. 
Water Stress on the Top 20 Real Estate Markets in the U.S.
To provide an example of the criticality of water stewardship, see the below results for water stress analyses of 20 commercial real estate markets in the Unites States with significant growth expectations. These were performed using the WRI Aqueduct platform.  The level of water stress is a useful indicator of a variety of business risks and the proper way to interpret this information is with a location screening tool that flags markets where additional questions should be asked and answered as part of the real estate site selection process. 
As mentioned previously, the results reveal that current water stress levels in seven of the top 20 markets are rated as high or extremely high and that by 2030, nine out of 20 markets will experience an increase in water stress.

In conclusion, water stress is an indicator that should prompt project teams to engage locally to determine if the local government, utilities and community have adequately adapted to current stress levels and if they have developed sufficient plans to address possible increases in water stress. A structured approach to site-level water stewardship that includes a risk assessment, mitigation planning and engagement with local stakeholders is the best way to inform project level development and design decisions. And in some situations—in addition to site and building mitigation actions—reducing water risks can include community impact projects implemented offsite to address local and social risks.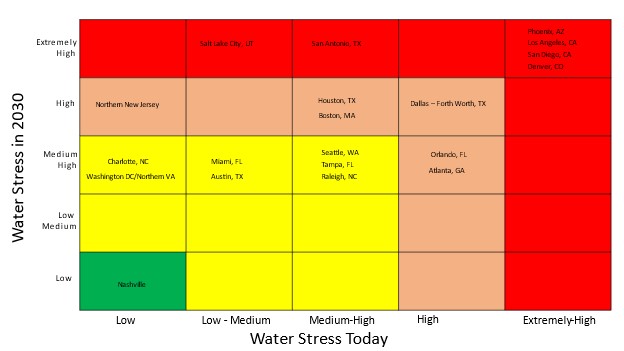 CONNECT WITH US
Contact Joe to discuss your sustainability goals