International Women in Engineering Day: What It's Like Being a Female in Civil Engineering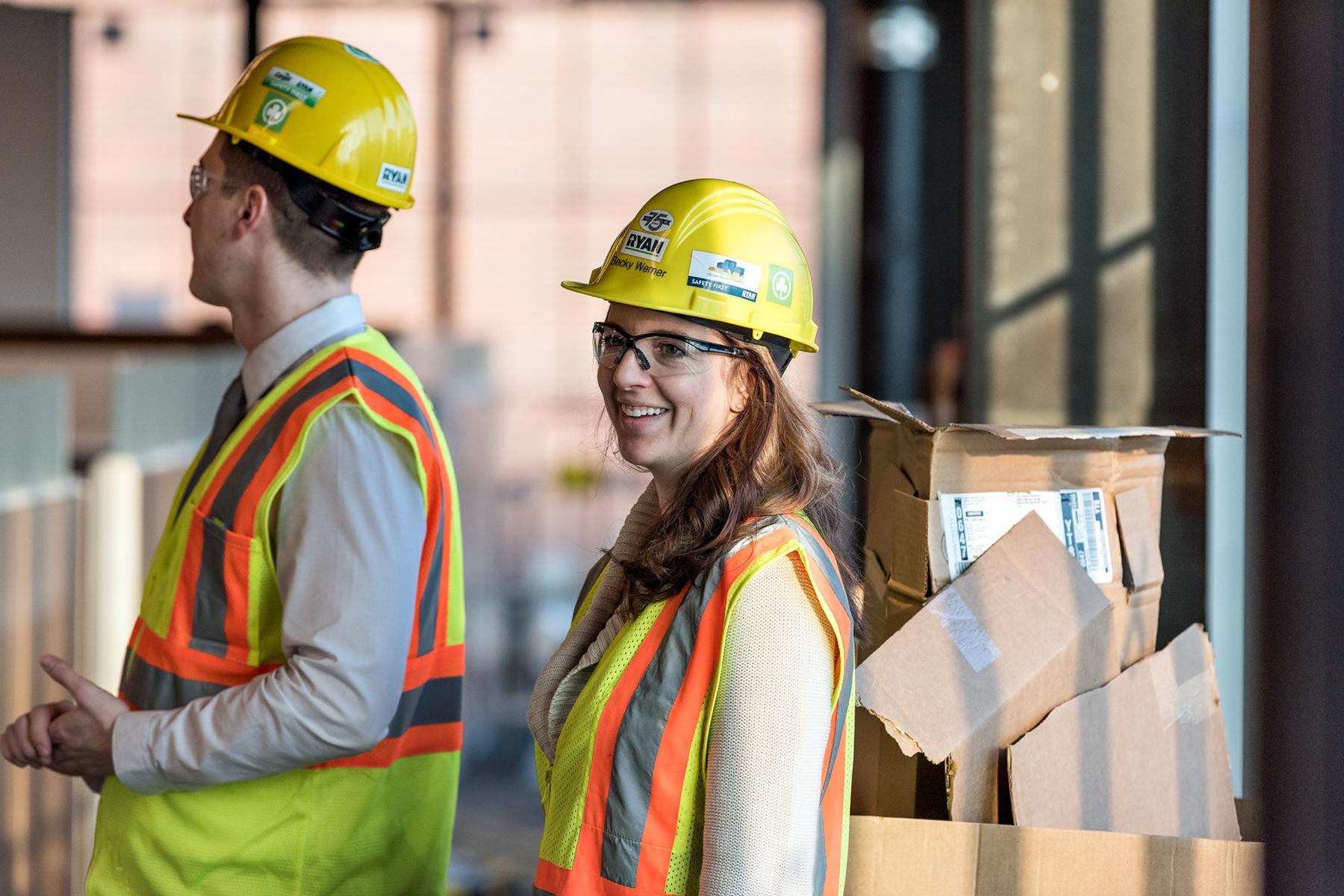 The construction industry has been male dominated for some time now, and the field of engineering isn't much different. According to a study from the New England Institute of Technology, women comprise just 7% of architects and engineers within the construction industry.
So to celebrate International Women in Engineering Day, we're shining a spotlight on two brilliant women on our civil engineering team that are in the process of becoming licensed engineers: Jamie Smith and MaKinnah Collins!
Read on to learn more about their inspiration, experiences and advice for future women engineers:
Q: What inspired you to pursue a career in the civil engineering industry?
MaKinnah: I have always loved my math and science classes and growing up I was fortunate to have an engineering program at my high school that exposed me to engineering design and drafting.  Building on my experiences, at Calvin University, I was able to explore electrical, mechanical, chemical, and civil engineering classes. I chose civil engineering because I loved the real-world impact on buildings, roads, and infrastructure.
Jamie: Civil engineering and science was something that would be discussed regularly around the dinner table and at home. I grew up in a household of civil engineers and nurses. My father and grandfather are both civil engineers, and my mother and grandmother are both nurses. Science and math were subjects in school that interested me. My father even helped me develop my 6th grade science fair project of testing a variety of mixtures of concrete from the consistent height of our garage ceiling to determine the strongest.
When heading out to South Dakota School of Mines and Technology, I was not exactly sure what kind of engineering I wanted to go into. I wrote down civil engineering to start with because I knew the most about it. Once I had been exposed to more major specific material and realized the versatility of the industry, I knew I had made the right decision.
Q: What does a "typical" day in your job look like?
MaKinnah: At Ryan our team is specifically involved in land development civil engineering. We deal with everything from front end pursuits and due diligence, to full construction documentation and administration work of site designs. I love the variety of work I have day to day. It can include, engineering design, drafting, code research, obtaining city entitlements, and working with other design, construction, and development teams!
Jamie: A typical day in my job involves checking my emails to identify what is all on my plate for the week, conducting site research for any constraint analyses, drafting project plans within Autodesk Civil 3D, attending different project meetings, and collaborating with other team members. Some days I may be calculating stormwater runoff and pipe sizes, making colored/rendered site plans for marketing packages, helping Virtual Design and Construction (VDC) with 3D modeling site utilities, and running vehicle turning movements.
Q: What are the advantages of being a woman in engineering?
MaKinnah: Personally, I think I am more sensitive to hearing everyone's opinion in the room which can help bring new perspectives and ideas to projects.
Q: What challenges do women face within engineering professions?
Jamie: It is no secret that women are outnumbered within the engineering profession. According to the Society of Women Engineers (SWE), in 2018 only 13% of the engineering workforce were women.
I was lucky to grow up within environments that let me thrive within the world of STEM. I know a majority of women and girls are discouraged from going into a field of math or science because it is too hard or that it is not for girls. Before even having a chance to explore what opportunities are out there, gender stereotypes regarding skills and roles are pushed upon them.
Within the profession of engineering women face many challenges with navigating how to present one's self, work to family balance, and proving their value.
MaKinnah: I would say a challenge women face is feeling like a minority within the engineering profession. However, at Ryan I feel very included and supported by my fellow teammates!
Q: What advice would you give to a young woman entering the engineering industry?
MaKinnah: Don't be afraid to pursue engineering! School can be tough at times, but engineering is a rewarding career. If you like site design, life long-learning, and making an impact in the world around you, consider land development civil engineering!
Jamie: I would highly suggest trying to find a woman within the field of engineering to job shadow and talk to. This helped me out in high school when I was debating between engineering and architecture. After you have made your choice, just go for it. Do what interests you and feels rewarding to you. It is not all sunshine and rainbows. Engineering school is difficult. Find support systems on campus such as Women in Science & Engineering (WiSE) and Society of Women Engineers (SWE). Utilize study groups, professors' office hours, and campus tutors.
Q: What's your favorite part about your job?
Jamie: The best part about my job is probably the versatility of the work. One thing I was afraid of when pursuing engineering was that I would end up sitting behind a desk and doing the same thing every single day. At Ryan, we are looking at so many different sites for so many different types of buildings; every day is different. One day I could be working on a pursuit for a medical office building in Minnesota, and the next day working on a senior living facility in Florida. Each site also comes with its own set of challenges, such as wetlands, floodplain, soil conditions, topography, and local code requirements. Then you are trying to balance the site conditions with the size of the building and other client needs. It is like one giant puzzle, and I love puzzles.
MaKinnah: I love being a part of a company that values collaboration and teamwork. I enjoy being a part of a bigger team, learning from others, and building on past projects together. Since we have development, construction, architecture, landscape architecture, and civil engineering in house, we often all work together early on to determine the best fit for our land development projects. 
And lastly, I am proud of the projects I have helped design. It is very rewarding to see the sites you put so much time and effort into, turn over and be in use by our clients!
Interested in joining our civil engineering team? Apply to open positions here.
About our civil engineering team:
The Ryan A+E Civil Engineering team offers a wide range of services while working closely as an integrated team with development, legal, environmental, architecture, landscape architecture, construction, property management and subcontractors to meet the client's goals and to maximize the site value on every project. Ryan's Civil Engineering team is on the cutting edge of technology and can help minimize construction costs through the use of BIM and civil 3D. This enables them to produce products such as site selection studies, cut and fill analysis and utility clash detection simulations. With experience of working across the country, our team strives for creative and cost-effective solutions when working with many different approval agencies. Learn more here.