New Office Development Activates Third Phase of Arizona State University's Novus Innovation Corridor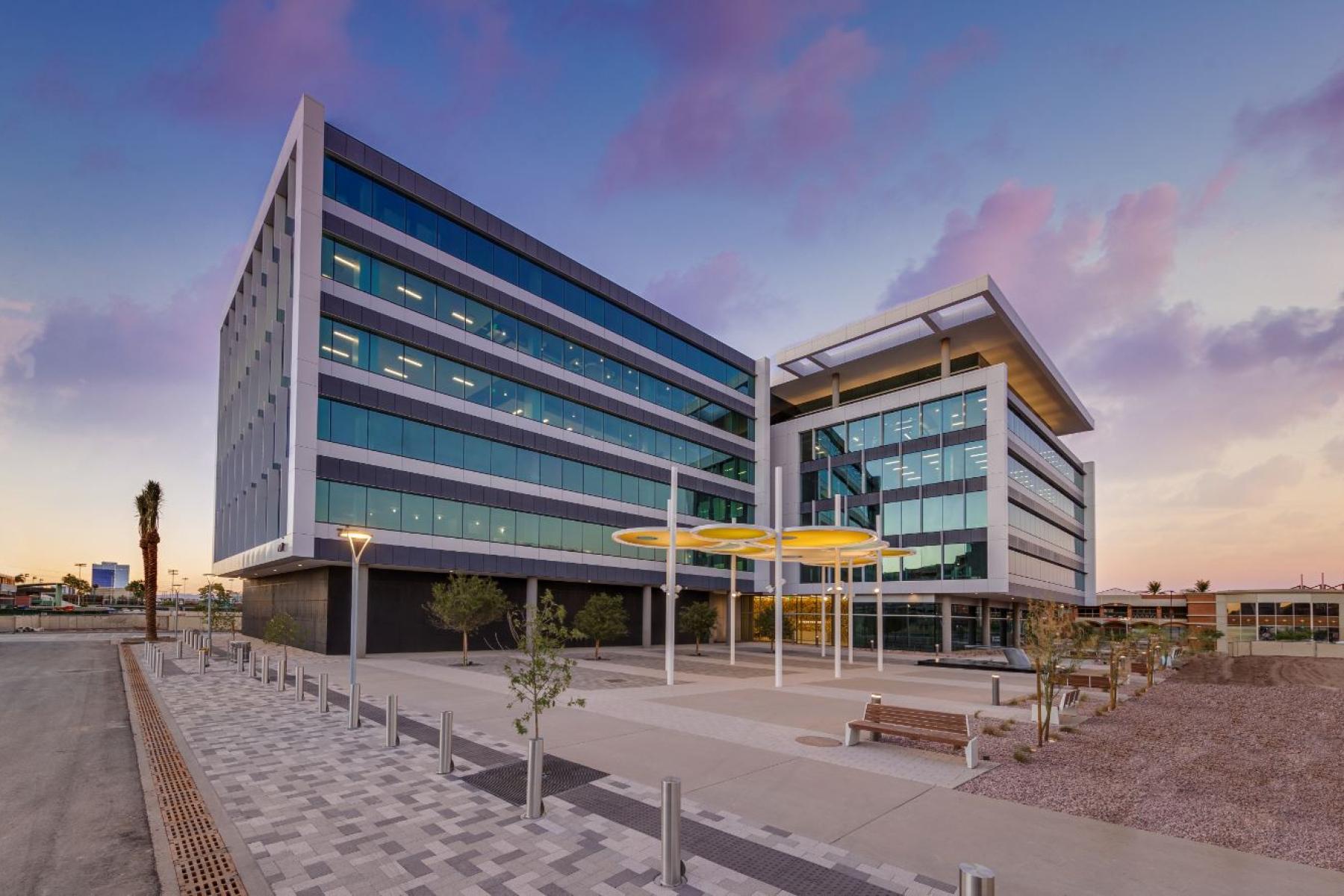 Tempe, Arizona
(
Jul 13, 2020
)
Developer and builder, Ryan Companies along with joint venture partner University Realty LLC, announce the completion of the 84% preleased, six-story, multi-tenant office building, 777 Tower at Novus Innovation Corridor.
777 Tower at Novus Innovation Corridor, built by Ryan Companies, is located at the northwest corner of University Drive and Rural Road—adjacent to Arizona State University's Tempe Campus. At completion, Novus Innovation Corridor will encompass more than 10 million square feet of mixed-use opportunities including the 2.1 million-square-foot Marina Heights campus co-developed by Ryan and Sunbelt Holdings and built by Ryan. Catellus Development Corporation is the master developer of the 355-acre, multi-phased project.
"Our team thoroughly enjoyed bringing 777 Tower to life knowing it will further activate the area and provide an innovative space for people to work," said John Strittmatter, chairman, southwest region, Ryan Companies. "It has been an honor to co-develop and build within the Novus Innovation Corridor over the past several years, contributing to the 25,000 jobs that will be created upon completion of the entire development."
The 160,000 square foot building features an open floor plan with penthouse office space, 8,000 square feet of ground floor retail and a public urban plaza. Architect of Record, DAVIS, created a unique design that will pursue LEED Silver Certification, to incorporate the Novus commitment to sustainable design and construction.
"Not only will this building be a creative and technologically sophisticated space, but it will also enhance the experiences of tenants, retailers, visitors, ASU employees and students alike," said Don Couvillion, senior vice president, commercial development, University Realty LLC.
777 Tower is currently 84% leased. Floors one through three will be the new home to ASU's Herberger Gallery, University City Exchange, University Real Estate Development, Master of Design, Master of Innovation and Venture Development and the Innovation Studio. Infosys, a global leader in next-generation digital services and consulting, is occupying the fourth and fifth floors at Novus.
The sixth floor is currently available, features 27,585 square feet of rentable space which can accommodate up to nine private offices, 14 conference rooms, 143 workstations and has a private balcony. For leasing information, please contact John Bonnell, Dave Seeger, Brett Abramson or Mark Gustin at JLL, 480-282-6300.
The Novus Innovation Corridor is unique to the ASU mission; its proximity to classrooms and labs creates opportunities for students and researchers to collaborate with industry leaders and boost the local economy. For more information on the Novus Innovation Corridor and development opportunities visit www.novusasu.com, call 480-566-9900 or email novusasu@catellus.com.
About Ryan Companies US, Inc.
Founded in 1938, Ryan Companies offers comprehensive commercial real estate services as a national developer, architect, capital investment consultant, builder and real estate manager with a focus on bringing lasting value to its customers and the communities in which it works. Ryan market depth includes retail, industrial, healthcare and senior living. Ryan development and corporate build-to-suit work spans a wide range of product types including office, mixed-use, hospitality, multifamily housing and mission critical facilities. Ryan has nearly 1,500 employees in 15 offices and has completed projects in 39 states. For more information, visit ryancompanies.com.
About University Realty LLC.
University Realty is a subsidiary of ASU Enterprise Partners, an independent nonprofit organization dedicated to generating resources for the benefit of Arizona State University. For more information, visit www.asuenterprisepartners.org
About Novus Innovation Corridor
Novus is a 355-acre, multi-phased development, which at completion will encompass more than 10 million square feet of urban mixed-use opportunities, including State Farm's 2.1-million-square-foot Marina Heights regional office. Strategically integrated with the ASU campus on Tempe Town Lake, the Novus Innovation Corridor is a partnership with the nation's "Most Innovative University". ASU enables companies who locate within Novus to achieve synergies through all the resources a major research university offers, including access to world-class research and a highly educated and skilled workforce.
Through a public-private partnership, ASU and master developer Catellus will oversee development of approximately 8 million square feet of additional new development including apartments, offices, retail businesses and hotels within the Novus Innovation Corridor. At completion, Novus will integrate private, sustainable mixed-use development with new and renovated, best-in-class collegiate athletic venues. For information, visit www.NovusASU.com.
About Arizona State University
Arizona State University has developed a new model for the American research university, creating an institution committed to excellence, access and impact. ASU measures itself by those it includes, not by those it excludes. ASU pursues research that contributes to the public good and assumes major responsibility for the economic, social and cultural vitality of the surrounding communities.
This "New American University" is a single, unified institution comprising five differentiated campuses, the ASU Research Park, SkySong – The ASU Scottsdale Innovation Center, Chandler Innovation Center and the Mayo Clinic Partnership. Its research is inspired by real-world application, blurring the boundaries that traditionally separate academic disciplines. ASU champions intellectual and cultural diversity, and welcomes students from all 50 states and more than 120 nations.
About Catellus Development Corporation
Catellus is a master developer focused on creating some of the most innovative and sustainable mixed-use developments in the nation. Catellus has 35 years of experience transforming former brownfields, military land and airports into developments that include retail, commercial, residential and other public uses. Catellus delivers on all aspects of a project, including site planning, entitlements, public financing and sustainable design. Notable Catellus projects include Alameda Landing in Alameda, California; Los Angeles Air Force Base in El Segundo, California; Mueller Airport in Austin, Texas; and Pacific Commons in Fremont, California. Catellus is uniquely positioned to take even the most demanding development sites from vision into reality.