New Tempe Garden Activates Community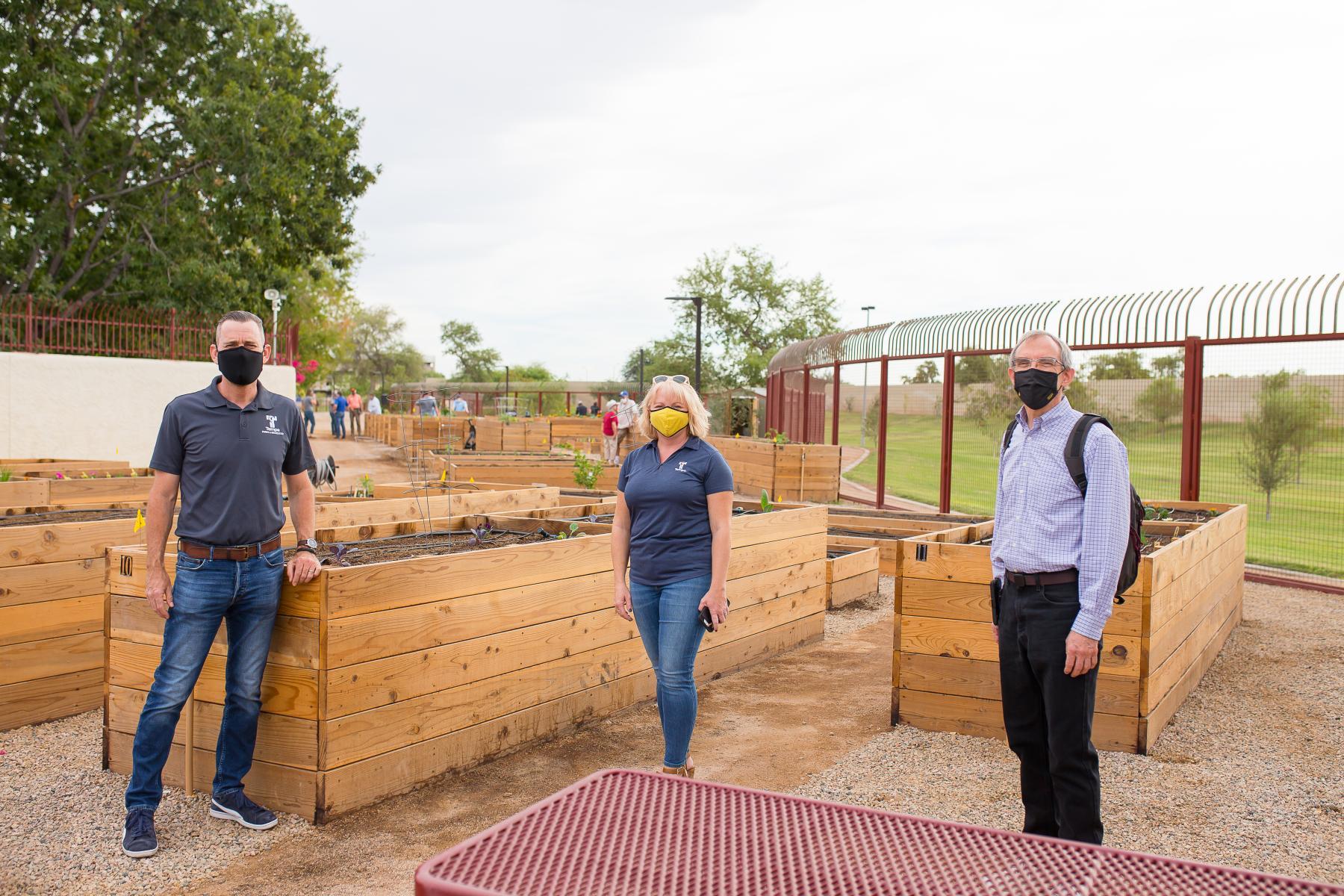 Tempe, AZ
(
Oct 26, 2020
)
Friendship Village Tempe, City of Tempe and Ryan Companies announce the completion of the Friendship Evergreen Community Garden at Ehrhardt Park. The new, one-acre community garden will provide the opportunity for Friendship Village residents and the surrounding neighborhood to grow food or plants in a communal setting. 
Friendship Village Tempe signed a three-year lease with the City for 30,000 square feet within Ehrhardt park to build the garden. Friendship Village funded most of the project and also received donations.
"We are thankful to those that have donated on our community garden website, to Ryan Companies for contributing the lighting and to the Friendship Village Tempe Resident Foundation for providing the redwood lumber for the garden plots" said Cole Marvin, executive director, Friendship Village Tempe. "We are so excited to offer an outdoor, fun community activity that can bring people together in a healthy and safe way."
The garden was brought to life by Friendship Village Tempe's leadership team and garden steering committee, neighborhood representatives, the City of Tempe and Ryan Companies. Ryan was involved from conception to completion, designing and building the new park attraction.
"Giving back to the community and supporting connection is what Ryan is all about," said Beau Dromiack, southwest director of architecture, Ryan A+E, Inc. "This was a natural fit for our design-build team, and the project evolved into a passion for everyone that worked on it."
The ground level plots are 4 feet by 10 feet and 18 inches high. The raised plots are 30 inches high and measure 4 feet by 8 feet or 4 feet by 10 feet. Each plot has a manual master-controlled irrigation system with the option of using a manual control valve instead.
The garden area also includes lockable sheds for personal storage and a composting station consisting of eight bins which can take in shredded newspaper, small branches, tree chippings, coffee grounds, kitchen organic waste and grass clippings.
"The City of Tempe has a vested interest in the health of its park systems and residents," said Tempe Mayor Corey Woods. "We are elated that the garden is open – it is a great source of physical activity, recreation and civic pride for all that participate."
Friendship Village has also employed a part time coordinator who will be responsible for supporting the gardeners and ongoing maintenance. For more information regarding the garden, please visit friendshipevergreen.com.
About Ryan Companies US, Inc.
Founded in 1938, Ryan Companies offers comprehensive commercial real estate services as a national developer, architect, capital investment consultant, builder and real estate manager with a focus on bringing lasting value to its customers and the communities in which it works. Ryan's market depth includes retail, industrial, healthcare and senior living. Ryan's development and corporate build-to-suit work spans a wide range of product types including office, mixed-use, hospitality, multifamily housing and mission critical facilities. Ryan has nearly 1,300 employees in 15 offices and has completed projects in 39 states. For more information, visit ryancompanies.com.

About Friendship Village Tempe 
Since 1980, Friendship Village Tempe has set the standard in senior living and provided its residents with a fulfilling retirement lifestyle. The community offers one- and two-bedroom independent living apartments and Garden Homes. As a Life Care community, Friendship Village Tempe also provides a full continuum of care, including on-site assisted living, skilled nursing, and memory care residences and services. Friendship Village is managed by Life Care Services™, a leading provider in Life Care retirement living. For more information about Friendship Village, call (480) 831-5000 or visit www.FriendshipVillageAZ.com.