Prominent Downtown Minneapolis Corner to Get Facelift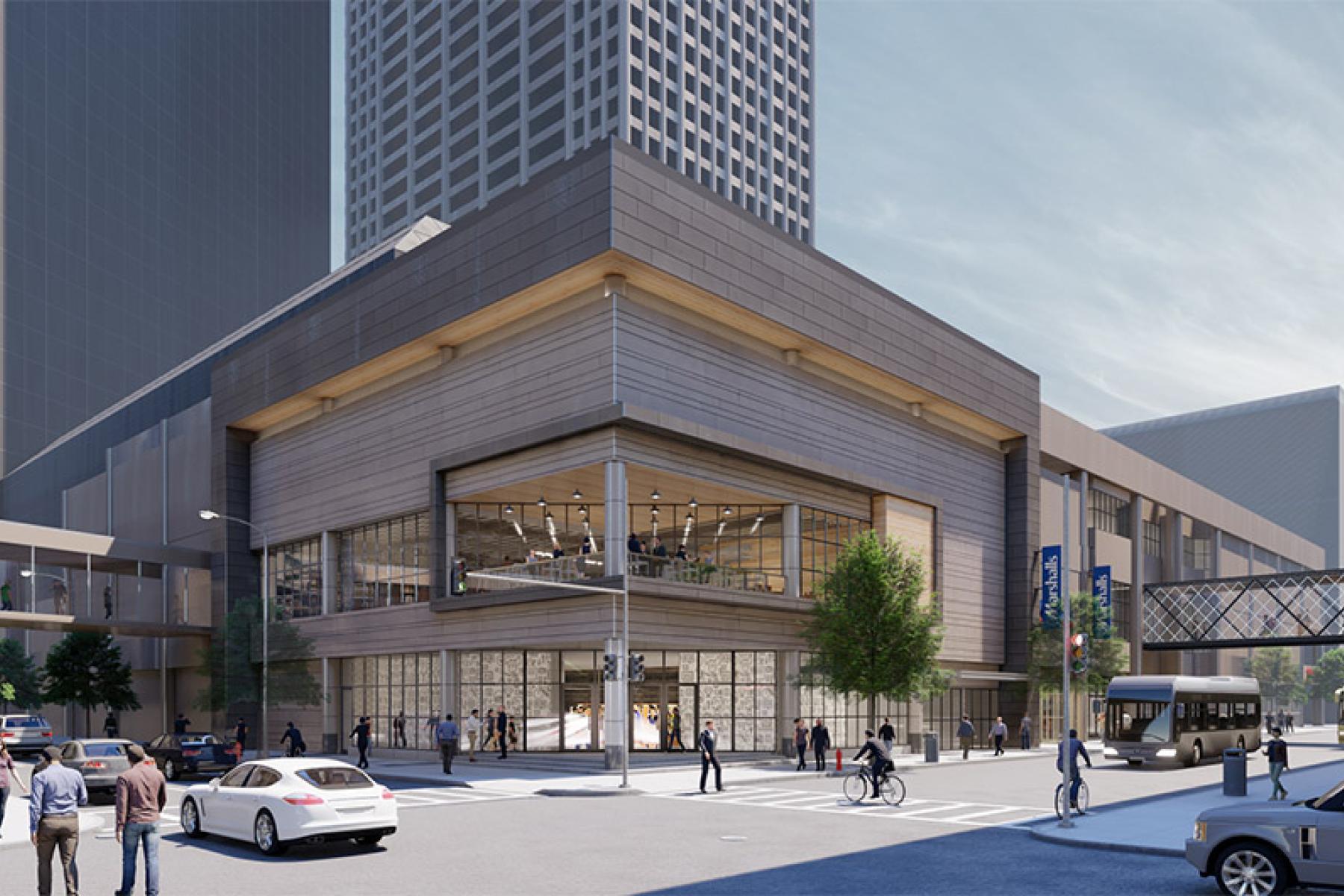 Minneapolis, MN
(
Aug 01, 2019
)
One of the most prominent corners in Downtown Minneapolis is getting a facelift. Beginning today, the iconic location of 7th and Nicollet will go under wraps while receiving a monumental façade improvement. Ryan Companies Real Estate Management team (REM) is leading the $3M effort to improve this landmark corner of one of the largest and most prominent mixed-use projects in Downtown Minneapolis. 
"When we took over this project last year, we along with new ownership envisioned a repositioning of the property that would align it with what the property once was, a vibrant active city center featuring a variety of solid retailers and experiences for those who lived, worked and shopped in downtown Minneapolis," said Jim Durda, General Manager of City Center for Ryan Companies. "We believe this renovation will invigorate the next chapter for City Center."
Ryan Companies REM team determined a year ago when taking over the management assignment for City Center that the property was due for a fresh new look. Included in the renovations is the replacement of precast concrete panels with updated and attractive structural materials, additional lighting and extensive glass. New signage will be incorporated in the interior and exterior of the project and a rare second-floor covered patio space will be created overlooking 7th and Nicollet. 
Scaffolding will be erected with little to no disruption of traffic or business during the renovations. RJM is doing the construction and Ryan Construction is handling construction management. Sussner has undertaken the brand repositioning of the property which will include a new updated City Center logo and colorful graphics throughout the asset. Since the announcement of the new renovations, Kris Schisel and Tony Strauss, retail leasing agents of Colliers for City Center, have seen a positive response to the planned renovations and expect to announce several new tenants this summer. The refresh has also created a buzz in the industry for space available in the top elevator bank of the City's 4th largest office tower. Momentum is building there with tenant announcements forthcoming. 
City Center, which is comprised of nearly two city blocks in the center of Minneapolis, includes the 51-story skyscraper, 33 South Sixth Street, a three level, 381,630 SF retail mall, a 687-stall attached parking garage and the Minneapolis Marriott. Anchor retail tenants include Marshalls, Saks Off 5th, Brooks Brothers, Allen Edmunds, Pacifier, Cardigan Doughnuts, FOGO de Chao, Fhima's, Leeann Chin, Naf Naf Grill, Los Ocampo and others.  
Ryan has been developing, designing, building and managing projects in downtown Minneapolis since the 1980s. City Center's improvements are just one of many in a long-line of projects that have impacted the CBD. Among those projects is the three-block Nicollet Mall project which included; Target Headquarters, 50 South Tenth Street; US Bankcorp Center, The International Centre, 222 Hennepin, and most recently the $588M, five-block redevelopment in Downtown East. In June Ryan Companies REM team received the BOMA TOBY® award for their work on repositioning and renovating the AT&T Tower which Ryan Companies originally built in 1992 and now manages. Ryan has also successfully repositioned, 121 South 8th street, formerly known as TCF Tower, Capella Tower and 3rd and 3rd a historic property located on the east side of the CBD.
Ryan Companies REM provides management and building services across the US and currently has 14.6M SF under management.