Ryan Companies Breaks Ground on JEA Headquarters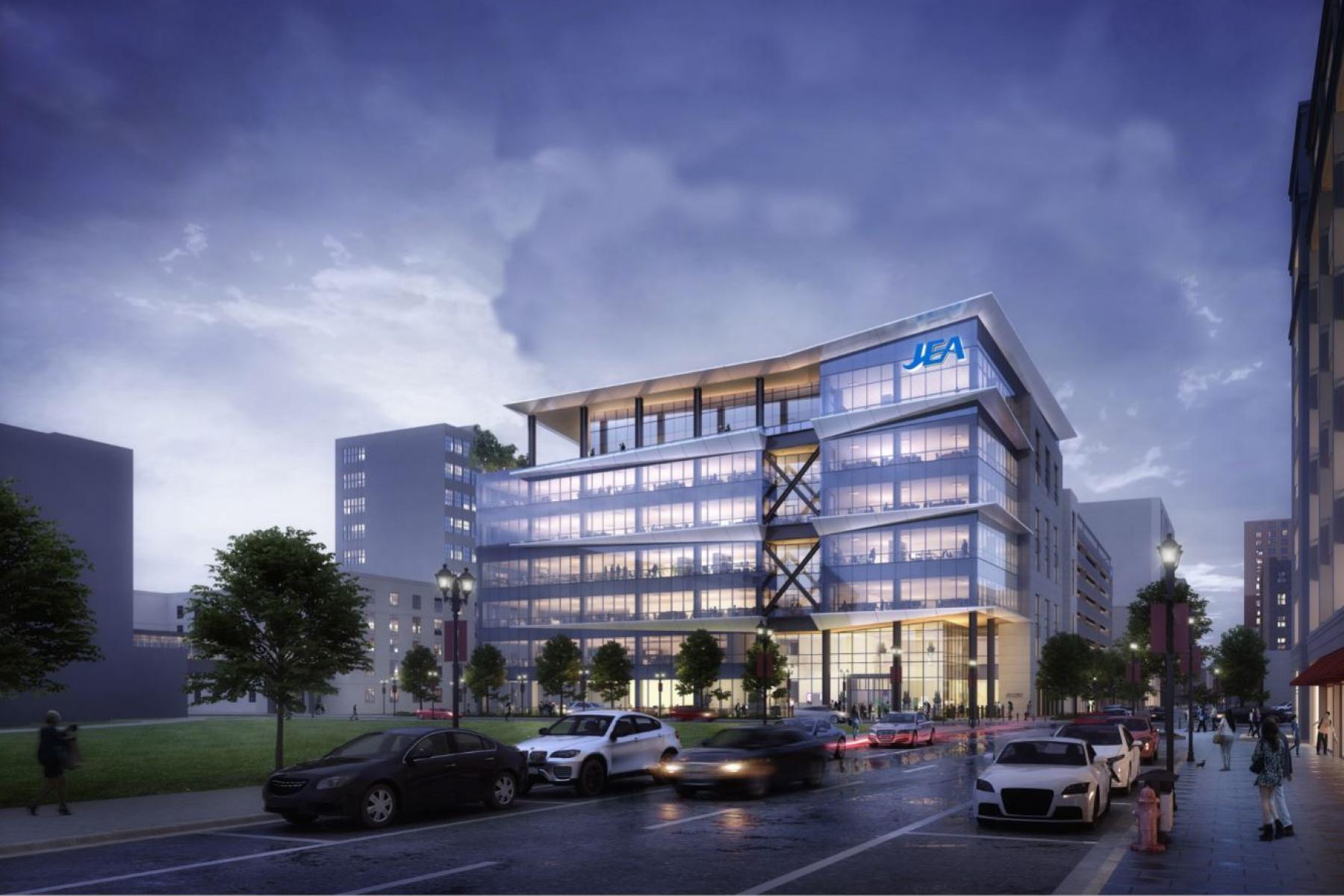 Jacksonville, FL
(
Oct 22, 2020
)
Ryan Companies US Inc., a national developer, builder, designer and property manager offering full-service commercial real estate solutions, announced today the groundbreaking of Downtown Jacksonville's first ground-up office development in nearly a decade. Prominently known as the new headquarters for the JEA the seven-story, 153,000-square-foot build-to-suit project is transforming an underutilized city block into a modern office environment in the civic core of downtown Jacksonville's central business district. Ryan, alongside local leaders and officials, JEA, leasing and owner's rep team CBRE and other project team members, celebrated the milestone with a virtual groundbreaking.
Located immediately north of the St. Johns River along the Adams Street corridor, the tower will consist of 153,000 square feet of modern Class A office space. Incorporating design features that celebrate Jacksonville's river and bridges, the project provides tenants a spacious and flexible office environment that enables social distancing while fostering a sense of authentic community. The building was purposefully designed to reflect the characteristics and industrial history of the surrounding area, offering an amenity-rich experience, including rooftop terraces with views stretching to each corner of the city, open-air balconies on each floor, robust social shared spaces, as well as access to Jacksonville's major roadways and public transportation.
"The official groundbreaking of the new JEA headquarters signals not only the start of construction but the latest chapter of Downtown Jacksonville's revitalization," said Doug Dieck, President, Ryan Companies Southeast Region. "Ryan and its partners were drawn to this specific site because of the opportunity to deliver a vertically dense, Class A office tower in the heart of downtown that will breathe new life into an underdeveloped land parcel while serving as a catalyst for future economic development. Our combined experience across a broad spectrum of commercial real estate disciplines and comprehensive perspective on ownership provided an ideal fit for this transformative project, and we're pleased to help JEA and the City of Jacksonville fulfill its vision of creating a strong and vibrant downtown area that is positioned for future growth and success."                                                                      
"Starting construction on our new, downtown headquarters building represents a significant milestone in JEA's history," said Paul McElroy, JEA interim CEO and managing director. "This groundbreaking event reinforces our commitment to participate in the growth and development of downtown as a vibrant and lively marketplace. Ryan Companies, a visionary and industry development leader, brings comprehensive successful experience to our project. We are pleased to have them on our team as we celebrate this landmark milestone for JEA, our employees and our community. We are looking forward to sharing the progress of the project in the months ahead."
At completion, the new JEA headquarters will be one of Florida's most energy-efficient office towers with cost-effective strategies to minimize the building's energy usage while maximizing tenants' comfort. Ryan strategically included design elements in the exterior of the building to minimize solar heat to cut energy costs alongside a fully-programmable lighting system to reduce the building energy footprint. The design team at Ryan also included pandemic responsive operations to reduce microbes' transmission throughout the building, including UV lighting technology to purify and destroy airborne contaminants and a Dedicated Outdoor Air Systems (DOAS) to minimize the amount of return air in the building.
To view the JEA headquarters virtual groundbreaking and more information on the project, visit newjeahq.com.
About Ryan Companies
Founded in 1938, Ryan Companies offers comprehensive commercial real estate services as a national developer, architect, capital investment consultant, builder and real estate manager with a focus on bringing lasting value to its customers and the communities in which it works. Ryan market depth includes retail, industrial, healthcare and senior living. Ryan development and corporate build-to-suit work spans a wide range of product types including office, mixed-use, hospitality, multifamily housing and mission critical facilities. Ryan has nearly 1,500 employees in 15 offices and has completed projects in 39 states. For more information, visit ryancompanies.com.
About JEA
JEA is a not-for profit, community-owned utility serving an estimated 478,000 electric, 357,000 water, 279,000 sewer customers and 15,000 reclaimed water customers in portions of four northeast Florida counties.  Its' sole purpose is to ensure the electric, water and wastewater demands of its customers are met, both today and for generations to come.  JEA's goal is to provide reliable services at the best value to its customers while ensuring the areas' precious natural resources are protected.