Ryan Tops Off Clarendale Six Corners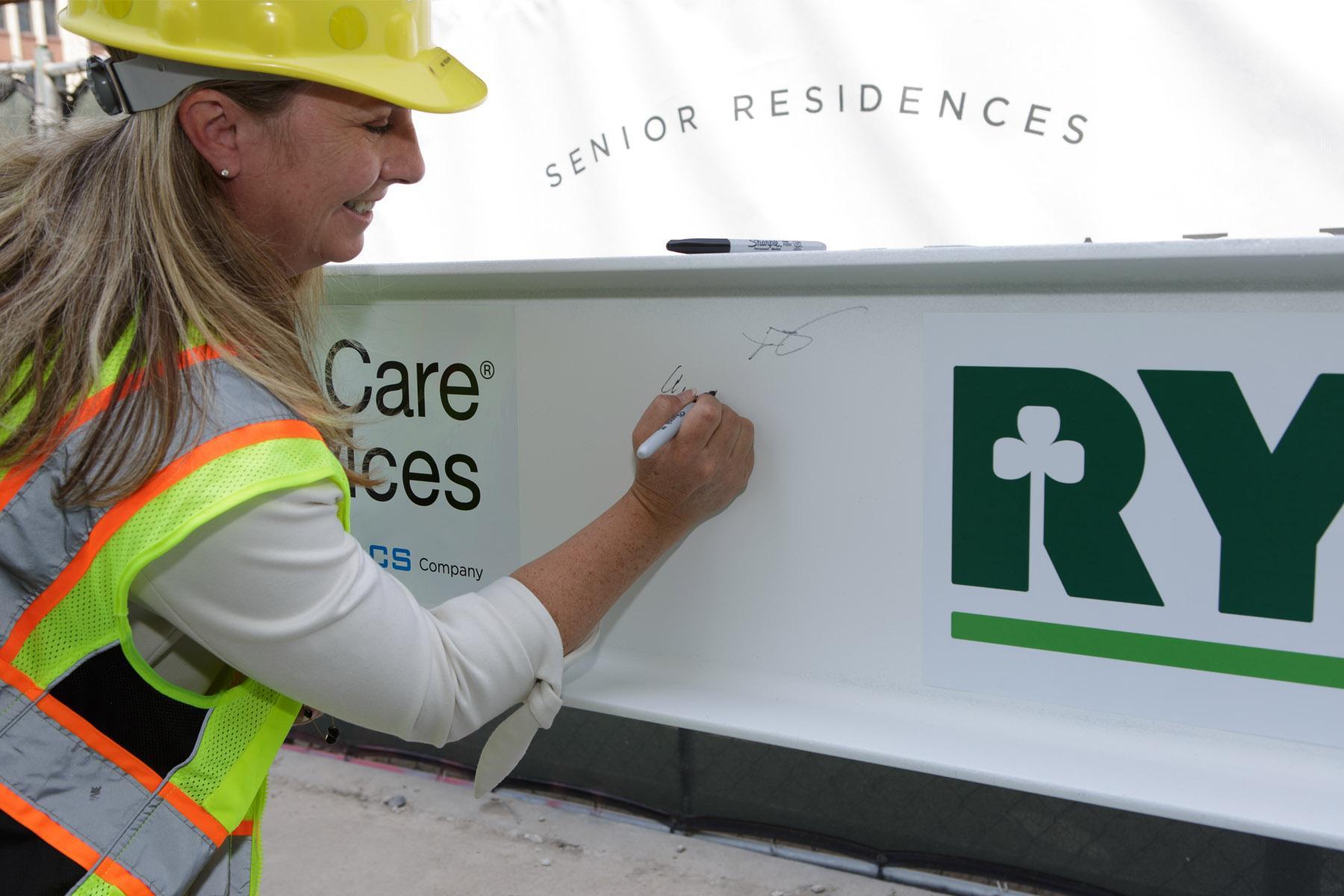 Chicago, Ill.
(
Aug 10, 2021
)
The Clarendale Six Corners project is making tremendous headway as the final beam was signed and raised into place to mark the official top off. Ryan Companies, local subcontractors, partners and Alderman James Gardiner signed the final beam Thursday, Aug. 5 to commemorate the construction milestone in Chicago's Northwest side.
"Ryan is committed to helping revitalize this community and this project will be the catalyst for resurgence of this neighborhood," said Brandon Raymond, director of real estate development, Ryan Companies.
The 10-story, $117 million retail and senior living community broke ground January 2021 and is expected to be completed fall 2022. To date, this mixed-use project has been constructed with more than 1,000 truckloads of stone, more than 16,500 cubic yards of concrete, 950 tons of rebar, 318,000 pounds of post tension cable and taken 22,000 hours of work, and has created hundreds of jobs in the community.
Ryan is the project's developer, architect of record, builder and capital markets partner. Upon completion, Ryan, LCS and Harrison Street will own Clarendale Six Corners with LCS handling day-to-day operations and Ryan providing asset management services.
"Clarendale Six Corners is an exciting addition to the Clarendale portfolio, and we are thrilled to partner with Ryan Companies to bring more high-quality living options to seniors in the Chicago area," said GeLynna Shaw, senior vice president and managing director – rental division, LCS. "This community will offer exceptional hospitality, exquisite dining and amenities, and superb city views in a convenient and vibrant location that seniors and their family members are sure to enjoy."
Clarendale Six Corners will include 258 residential apartments made up of independent living, assisted living and memory care residences, including 11 affordable independent living residences. Located on the prominent corner of Milwaukee Avenue and Irving Park Road, there will be a variety of dynamic public spaces around the site and an outdoor sky terrace on the fourth floor, as well as 18,000 square feet of street-level retail space.
Ryan has built 50 senior living communities throughout the country and of that portfolio, developed 26. Clarendale Six Corners will be the tenth Clarendale senior living property in Ryan's portfolio. LCS currently manages more than 140 communities across the nation. Together, Ryan and LCS have partnered to develop 11 communities in various locations across the US.