Simplifying Sustainability for JEA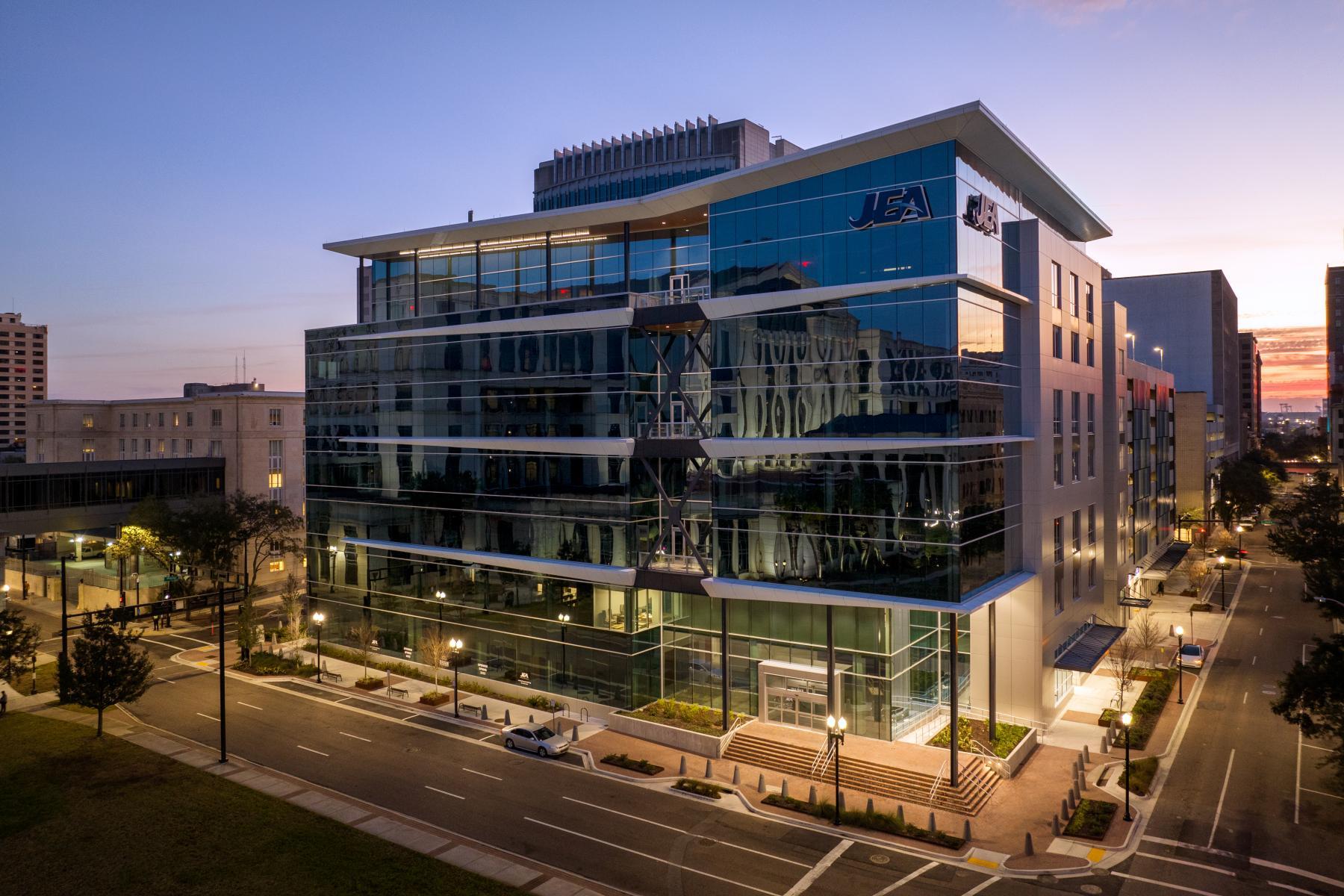 The downtown of a city is a good measure of how the community is doing overall—when a downtown is healthy and happy, a community generally is as well. Florida's JEA saw the opportunity to invest in the health and wellbeing of both in partnering with us to build a new headquarters in the downtown core. After all, JEA is a public utility that serves an estimated 478,000 electric, 357,000 water, 279,000 sewer customers and 15,000 reclaimed water customers—and they are dedicated to doing so as efficiently, effectively and sustainably as possible.
JEA's in-house sustainability leadership team had big ambitions for their new headquarters—including LEED and WELL certifications—to set a new sustainability standard for Jacksonville. But where to begin? What was the best strategy to balance the practical and the innovative, the efficient and the sustainable, the nice-to-haves and the necessary, to strictly align with JEA's budget, vision and customer needs?
Our design, construction and REM teams started an open conversation early in the project to help them determine clear goals, budgetary constraints, as well as which sustainability features were necessary, which were possible (with a little flexibility) and which of them might require some reimagining.
We helped JEA understand that we could make multiple, small sustainable decisions throughout the process that would add longevity and efficiency to the project without an overabundance of added capital costs, all while making a positive impact on the community. It started with the site itself—we provided long-overdue environmental DEP cleanup of the project site, a brownfield in the municipal core Jacksonville, chosen in large part for its walkability and connection to mass transit. From there, our teams drew on our collective insight to determine the most effective and cost-effective strategies to minimize the building's energy usage—from construction through building operation—while maximizing comfort, humidity control and flexibility for the future.
At completion, the new JEA headquarters will be one of Florida's most energy-efficient office towers:
JEA will see

65 percent energy reduction from the current JEA building

, on a per-square-foot basis.

JEA will use 42 percent less water than a conventional office building through high efficiency / low flow toilets and urinals, and low flow sinks with automatic touchless sensors, resulting in an annual savings of 500,000+ gallons of potable water.