Three Solutions for Navigating Landlocked Spaces in Healthcare Design & Construction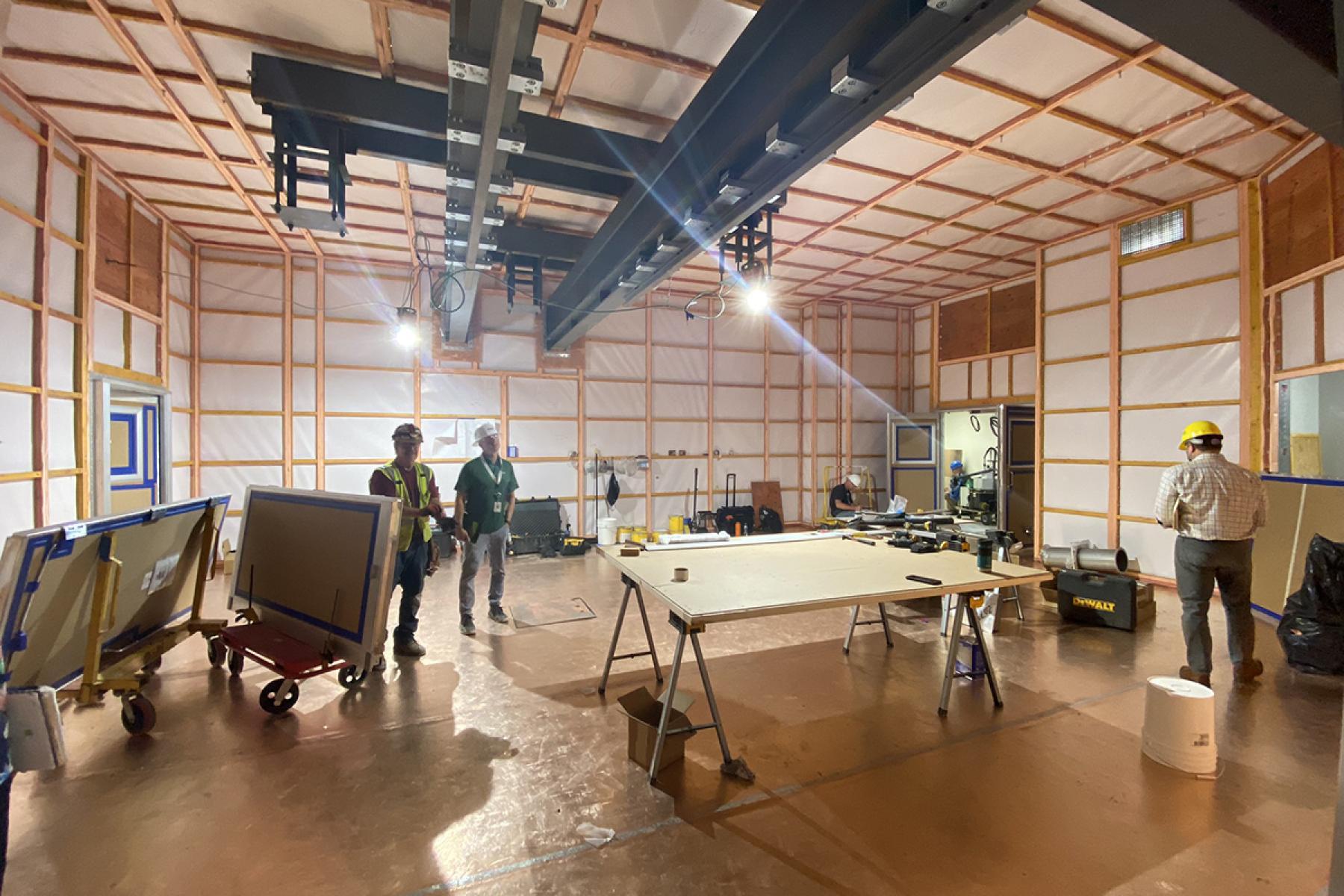 A new project—whether it's an office building, warehouse or hospital—offers opportunities that inspire innovation as well as challenges.
But when a project is landlocked—meaning surrounding lots are owned and used by others or the interior spaces are already being utilized by other departments within the hospital —a higher set of hurdles are added to the mix, particularly if the project is a healthcare facility.
In healthcare, landlocked facilities require even more considerations and intentionality to ensure patients' health remains the top priority while still navigating space constraints. It is critical to evaluate where within a healthcare facility these new spaces can provide the most efficient delivery, while also aligning with their existing programs and operational structure. These choices directly impact patients' lives by determining the accessibility of care.
Ryan Companies was approached by a large pediatric health system on a four-part project to consolidate services from two campuses into a single location. As health systems across the country are converting or updating existing spaces to fit their ever-changing needs and navigating the challenges of where to locate these facilities, this client was no different. 
One of the four projects included a complex remodel and installation of an intraoperative magnetic resonance imaging (iMRI) system into a landlocked space on the second floor of an existing hospital, creating a new hybrid operating suite. The location was challenging, but the task was big in its own right: the magnet for the new iMRI weighs 16,000 pounds and costs $8 million. Achieving success despite the lack of space required vision, communication and teamwork. Ryan tackled each hurdle that this landlocked space brought to our table by leveraging our team's collective insight and solution-focused mindset.
Here are three challenges often posed by landlocked healthcare facility projects and the solutions Ryan identified during the iMRI project that ultimately facilitated success for our client and their patients.
Challenge 1: Location.  As the hospital was surrounded by developed land, the iMRI remodel had to repurpose existing space. This left little room for construction staging and preparation areas for the iMRI system. The space selected for the iMRI was also sandwiched between an existing parking ramp, adjacent to active operating rooms, below the NICU and above the emergency department.
Solution: Collaboration & Creativity. Our approach was complex. We analyzed multiple spaces to determine an ideal solution for how and where to install the iMRI system. In working with the available space, our team got creative.
The collaboration of the contractors, architects and the original equipment manufacturers (OEM) was a critical step in the planning process: we collaborated with a variety of partners and more than 10 vendors to make the footprint work. Within the tightly confined space of 8,500 square feet, the teams got creative with construction staging and prep areas for the selected space in order to provide the least amount of operational disruption. Thus, creating storage rooms by repurposing spaces – even transforming a former gift shop into an equipment storage area.
With collaboration and conversations at the forefront of our analysis, the solution was to redesign two existing general operating room shells into the new hybrid operating suite which incorporated multiple points of consideration for the most effective space including how to move a 16,000-pound machine into the space. You can't just send it up the elevator and down the hallway. So, the team created a hole in the exterior wall where a crane could lift the iMRI directly into the space. Bringing our partners and vendors together early in the design phase allowed everyone to discuss and select the best location and design, evaluate and solve foreseeable issues or concerns and assist the team in communicating the complexity accurately and efficiently to the client.
Challenge 2: Noise. As the project moved forward, the pediatric hospital remained fully functional. Maintaining a consistent, high level of patient care remained the priority. However, construction is not quiet. Noise can be a detriment in a healthcare environment where peace and quiet are helpful for healing and necessary for concentration during life-altering surgeries.
Solution: Communication & Consultation. Our team enlisted the expertise of an acoustician (a person who specializes in the study of sound) to assess how to keep sound levels low, so patients were not overwhelmed by noise. While on-site, the acoustician documented existing noise levels, analyzed MRI frequencies and provided recommendations to limit noise transfer during construction, but also while the iMRI system was in use.
Our team focused on controlling the noise with everything within our power. We worked off-hours when possible to help reduce noise impacts. We also placed six layers of additional insulation on top of the required amount to mitigate noise transfer while the iMRI was being used—keeping in mind the most vulnerable patients were surrounding this new suite.
Throughout the process, we prioritized communication with the client and their staff—even months in advance—to inform them of project milestones that could impact noise levels and available working areas. Clear communication prevented staff from getting caught by surprise, providing them time to adapt, communicate with their team members and accommodate patients and families.
Challenge 3: Air Quality. With the NICU above and the emergency department below, the remodel was taking place among some of the most vulnerable patients in the hospital. Our team had to be very conscious of patients' sensitive immune systems, which meant keeping the air as free from dust and debris as possible.
Solution: Intentionality & Resources. Throughout this project, patient health and safety served as our compass. During every meeting, our team put patients first. We would ask, "What does this mean for the kids?" and recognized this work was life-changing for patients and their families. We also established a negative air space to help patients who were on the other side of the wall; the air pressure inside the room is lower than the air pressure outside of the room, which prevented dangerous particles and contaminated air from flowing into other areas.
While landlocked spaces and the strict code requirements of this project added challenges, Ryan forged ahead with a solution-minded approach. Intentionality, communication, creativity and collaboration are key tools in our toolbox that helped propel the iMRI project toward completion so patients can experience the high-quality care they need. This project is not only unique in its challenges, but also in its impact by saving lives.  
CONNECT WITH US
Contact Mike to discuss your real estate needs