Women in Construction: What It's Like Being a Woman in Construction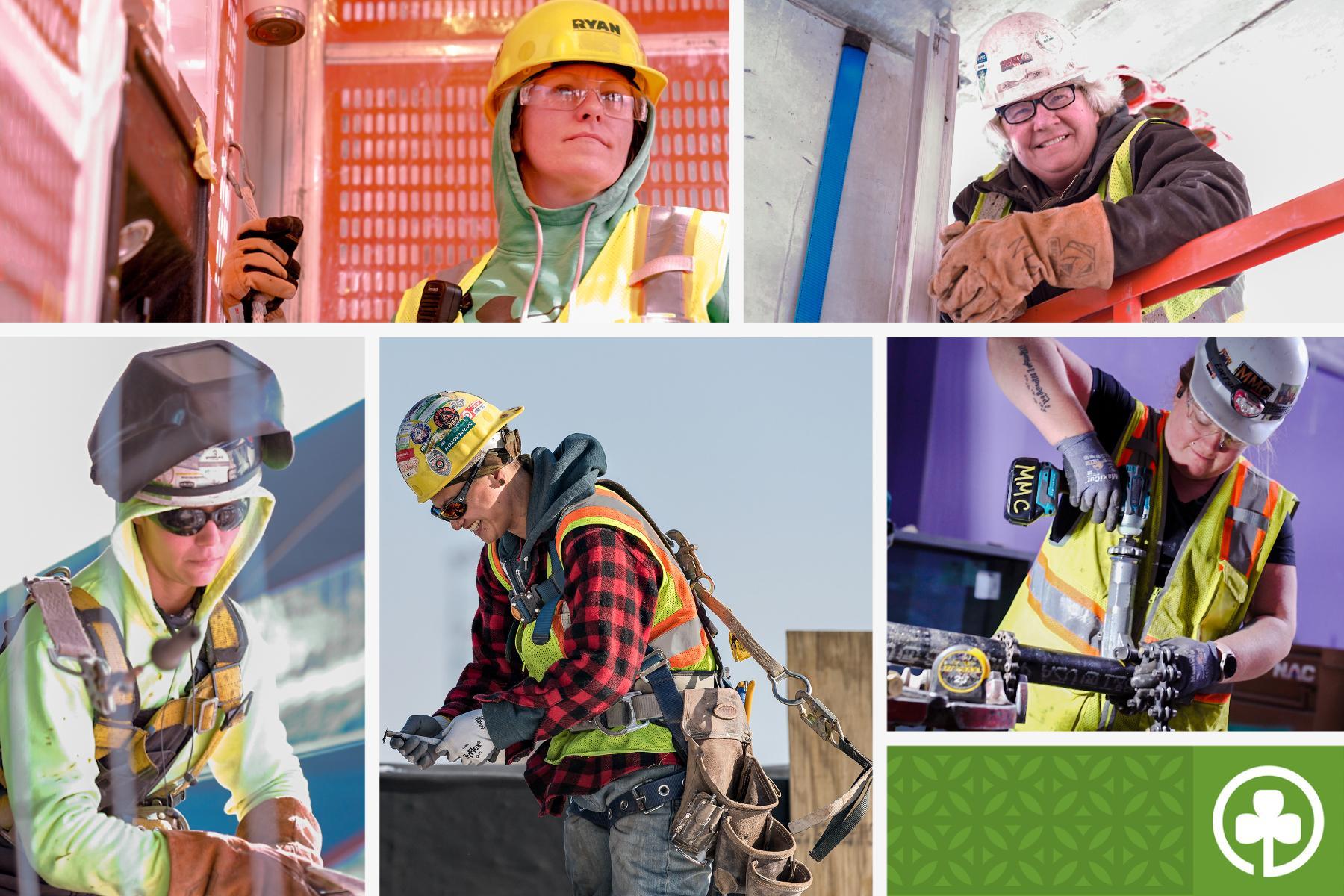 The fact that the construction industry has skewed predominantly male for some time now, only makes us that more grateful to have such incredible women in our offices, on our job sites and at the properties we manage. And while we've implemented multiple initiatives to ensure we remain committed to hiring, supporting and growing female employees, we know that the work can't—and shouldn't—stop there.
Hear from a few women in construction as they share their experiences, advice for future generations and ways to overcome the gender gap in the industry:
Angela Christensen

, Project Manager I, Cedar Rapids

Courtney King

, Senior Virtual Design & Construction Manager, Austin

Larissa Anderson

,

 Project Coordinator I, Minneapolis

Ale Macias,

Preconstruction Specialist, Austin

Jenna Campbell

, Senior Project Engineer, Seattle

Lori Schwemin, Superintendent, Minneapolis
Katerina Petrova, 

Field Operations Manager, San Diego
Q: What inspired you to pursue a career in the construction industry?
Jenna: I didn't come from a family of construction nor did I have any construction exposure growing up, but post-college I got an opportunity to work for a civil subcontractor, which is where I met one of my best female friends. She was the only female project manager at the company and was great at her job. I think that was the boost I needed to continue pursuing a career in construction.
Angela: I have always been interested in the way buildings are designed. However, I had one internship in Civil Engineering where I felt like I stared at a wall all day and begged for work. The next summer I took a change and tried a construction internship since I had a family friend in the business. Day 1 was a million times better than my entire civil internship. During that summer, I was making relationships with owners and subcontractors, walking the jobsite each day, and most importantly contributing real work/results to help the project along. I never looked back.
Q: What are the advantages of being a woman in construction?
Ale: Bringing a different and valuable perspective to an industry where most of your peers are men. I think in certain ways women have a different approach or thought process, which can provide unique points of view when analyzing, planning and problem solving.
Larissa: Women are more efficient analytical thinking. Studies have shown that women are better analytical thinking than men. Due to the way the female brain is wired, women can better understand multiple perspectives and communicate effectively.
Jenna: For one, you often get your own restroom on jobsites which is a great luxury. Also, you get to bring a different perspective to every issue that arises. Women experience life differently than men do. You get to bring those different experiences to the table and potentially expose a new outlook or resolution. 
Q: How do you deal with the challenges that come with being a woman in a male-dominated industry?
Katerina:  Although I am a woman in a mostly male field, it is never on my mind when interacting with my peers. I lead interactions with my character, work ethic, and professionalism; these are the qualities my male peers end up respecting and remembering me for. I don't view myself through the lens of "woman in construction" but rather how well am I serving and fulfilling the responsibilities of my position.
Q: What's a common misconception about women who work in the construction trades?
Larissa: Women are not strong enough to handle heavy labor. Many construction jobs are less physically demanding than many traditional jobs held by women. Stereotypical careers for woman like nursing or waitressing can be just as physically demanding as some construction jobs.
Q: What advice would you give to a young woman who's thinking about a career in construction?
Ale: Never doubt your instinct or knowledge when it is challenged, or just because "men usually know more about construction than women." Don't be shy to speak up and express your concerns and opinions just because you are young or a woman.
Angela: There are a lot of people out there telling you that you should demand respect, gain career positions, or get awards purely due to the fact that you are a woman. Try not to focus on what makes you unique simply because you are female. Instead, show them how amazing you are by the skills you have. Use your strengths and find ways to better your weaknesses. Work hard and show them why you are worth all those things, everything else will come naturally.
Larissa: Do NOT let anyone tell you that you cannot do something! You can do anything you set your mind to!
Katerina: Don't overthink every moment! As a young construction professional, you will be given countless opportunities to learn from more seasoned and experienced people. It can be intimidating to be the "greenest" person in the room but embrace those who advocate for you, doubt you, challenge you, support you – they all offer valuable lessons.
Jenna: I would tell young women to not be afraid to speak up. It can be intimidating being the only woman or one of very few women in a meeting setting, especially when you are at a young age, but your input is valuable. It took me a long time to feel comfortable enough to voice my opinions and ideas and it's still something I occasionally struggle with today.
Q: What's the best part of your job?
Lori: The traveling, the different people and construction trades that I have worked with.
Larissa: Working on the jobsite with my entire team. (PM's, engineers, field staff, etc.)
Courtney: As a Virtual Design Coordinator, a lot of my job feels like I'm playing a video game. I get to fly around models as if I'm actually walking through the building, and occasionally build out landscaping, and add people and cars to scenes for renderings and animations. For those of you who grew up playing "The SIMs," you'd really enjoy this job!
Q: How do you think construction can attract more female candidates?
Angela: Teach young girls how to be good "builders." It is more typical for young men than young women to be involved in labor-driven jobs throughout their youth. Many women, myself included, graduated with all the 'book smart' knowledge and little of the 'street smart' experience. Gaining real life (physical) construction experience from a young age can really open up girl's career opportunities. I believe there are not many women in construction not because they are not interested, but rather they may have never been exposed to the industry in the first place. We need to teach them how to use tools and build projects so they can start tinkering on their own.
Ale: By providing equal opportunities, compensation, and a respectful work environment for them. This is one of my favorite things about working for Ryan; I truly believe they strive to provide this to all of their employees.
Q: What makes you proud of working in the construction industry?
Lori: That I have made it up to the position that I have and proud to say that I work for Ryan.
Courtney: It feels really great to be part of building something tangible for a community that will add value to the lives of those around it. Whenever I drive past a building that I worked on, I feel a great sense of pride that I contributed to it.
Angela: The thing that makes me most proud to work in the construction industry is to see results and solutions coming from many different team members. I love seeing people from different roles or companies working together to solve problems for a common goal. In the end, we all want to succeed. I never want my peers to lose in order for me to win. A sense of community amongst team members makes all the struggles of a project worth it.   
Q: What do you think is the most important change happening in the construction industry?
Ale: A big one for me is seeing more women in executive positions. I feel for the longest time that the industry was a little rigid when it came to how and who should fill certain roles in construction. I'm very happy to be witnessing this transition and seeing how many companies are interested in retaining their employees by giving them the opportunities they deserve—regardless of their race or gender. 
Larissa: The construction industry is becoming more inclusive. There are many opportunities for leadership positions.