3 Design Tips for Bringing Employees Back to the Office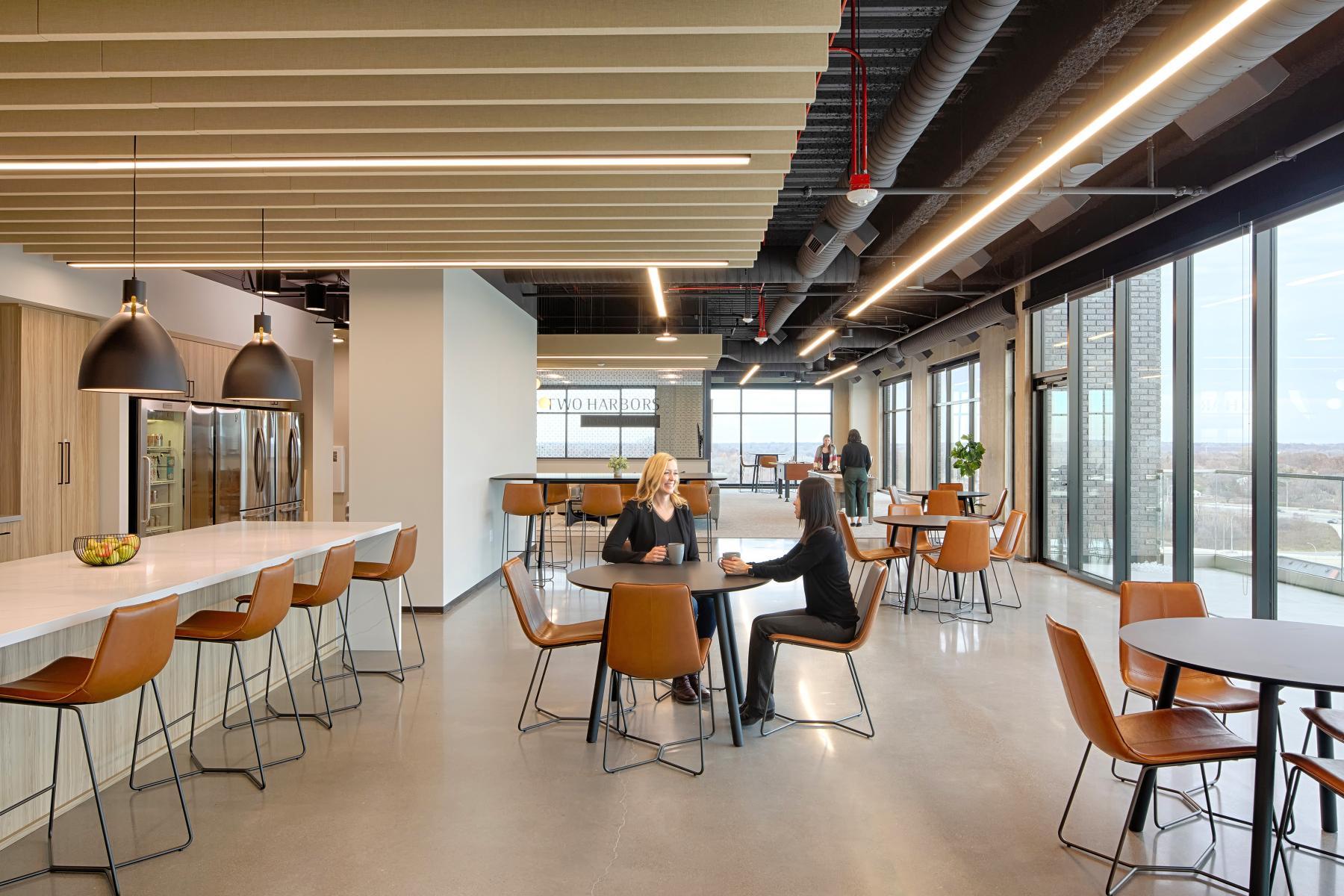 By: Josh Ekstrand, national director of design, and Jeff Steinke, senior vice president, real estate management
Over the last two years, working from home has become the norm—and so have 30-second commutes, video meetings and watercooler talks with your cat or toddler (we're not judging). Working from home has been a blessing for some, a curse for others and somewhere in between extremes for most.
There was a trend to make the workplace a destination before the pandemic started, but at that time, many predicted that office spaces would shrink and move to hoteling or "hotdesking." But now with employees' work styles and organizational needs continuing to evolve, companies must focus on creating flexible office spaces with amenities, wellness improvements and technology that improves the in-office experience.
Here are three office design tips that will bring employees back to the office by choice:
1. Create workspaces that support all working styles.
Goodbye to the days of a one-size-fits-all office. Now, office layouts and design must accommodate many different working styles and environments by creating something for everyone. This evolution of the pre-pandemic hospitality trend acknowledges that workplaces benefit from space that aren't used for specific tasks, also known as "flex space." These flexible office spaces encourage collaboration and sociability among team members, which has been shown to positively impact employee wellness and improve workplace culture. And, we should mention that these areas are not only popular with tenants, but also improve time-to-lease and lease renewals
A few examples of flexible spaces include:
Flexible desks that can be reserved or booked for different uses

Café spaces for people to connect, collaborate and host evening events

Rooftop decks and outdoor spaces for teams to meet or connect
Note: While hospitality-style amenities are top-rated among employees, not all is lost if your building lacks a café space; it can always be added as part of your overall improvement strategy.
2. Focus on holistic wellness and the improvements that will increase employee satisfaction.
Designing office spaces that improve the health and wellness of employees extends far beyond seating arrangements and relaxing break rooms, or nutritional snack bars and fitness offerings. While those are important, your wellness efforts can extend much deeper. Factors such as indoor air quality, access to daylight and thermal comfort can improve employees' alertness and productivity. For some buildings, controlling these factors may be less intrusive, whereas for others, the core and shell may have to be modified to make meaningful improvements.
One of our Ryan-managed buildings in Minneapolis, City Center, recently achieved the WELL Health-Safety Rating, which is a certification that empowers building owners and operators to prioritize the health and safety of tenants, visitors and staff through operational policies, maintenance protocols, stakeholder engagement and emergency plans. (You can read more about the enhancements that were made here.)
Certifications like WELL can act as an essential market differentiator for potential tenants and can even equate to higher rent amounts and lower vacancy rates.  
3. Integrate office technology with advanced features to enhance the collaborative experience.
Rethinking how the office environment blends with technology is an important strategy in bringing employees back to the office and improving the overall office experience. Providing  spaces that easily adapt to technology and other on-site collaboration tools that employees can't replicate from home is a great way to create compelling and productive in-office experiences. Throughout the industry, we're seeing many employers actively investing in the built environment to enhance the workplace, energize their team members and promote in-office collaboration through technology that makes their jobs easier, more efficient and even more fun than a remote experience.
Examples of enhancing the office experience with technology could be:
Advanced meeting system to provide seamless in-office and from-home continuity

An office locator tool to help employees find each other in the office

Wellness features like touchless doors, antimicrobial surfaces and elevator buttons

Technology-controlled café
Investing in office amenities that employees want and will actually use is a winning strategy for employers and property owners alike. Right now in the property management industry, we're seeing a "flight to quality." The commercial office and industrial buildings that offer high-end amenities and renewed/new spaces lease faster than those that don't—regardless of price.
To find out more about how our real estate management or architecture + engineering teams can help you, contact us.