Building a Success Story: Goodyear Civic Square at GSQ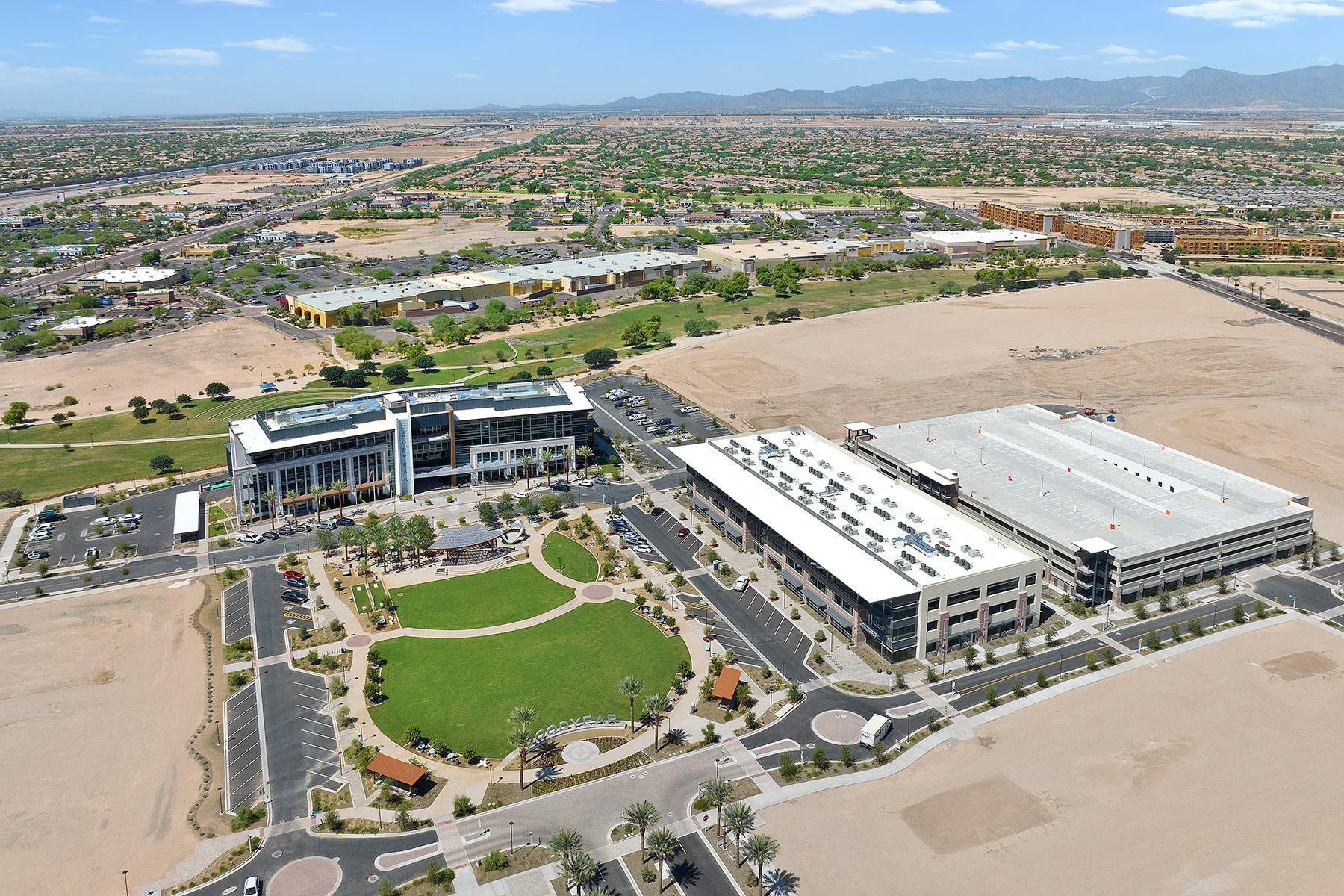 Goodyear, AZ
(
Aug 24, 2023
)
A community dream is just a dream – until ideas turn into action and drawings on a screen translate into buildings on the street.
Then a dream becomes reality—and a story becomes a success story.
The city of Goodyear, AZ—which is the 14th fastest-growing city in the U.S.—had a dream to develop a traditional city center and downtown area to provide a place for community members to work and play. Spanning 47 acres, the development includes:
Four-story city hall with two-story connected library, totaling 125,000-square feet, creating a convenient urban center for community members

Three-story, 104,000-square foot Class A office building

Two-acre park for community events, food trucks, parades, concerts, etc.

Multifamily housing and space for new restaurants, retail and entertainment

Four-level 912-car parking garage: the first parking garage in the city's 106-year history
And the results speak for themselves. Since the completion of Goodyear Civic Square at GSQ in August of 2022, this project has won numerous accolades, including:
As the general contractor and project manager for Goodyear Civic Square at GSQ, our team brought in our expertise to help bring the plan to life. Our construction team collaborated with key players—including the city of Goodyear, city of Goodyear residents, developer Globe Corporation and architect Butler Design Group.
With such a large, layered project with numerous moving parts and multiple key players, how did we help ensure it was a success story?
1. We defined the project standards right away. The success of Goodyear Civic Square at GSQ's quality and craftsmanship began with an organized and integrated design-build approach focused on sharing challenges and maintaining constant communication throughout the project. Clear standards were defined based on the client's goals during the design phase. Mockups for each critical element of the project were modeled in 3D and then verified with in-place mockups continuously throughout the project. This resulted in very few design challenges throughout construction due to the efforts of the project team modeling even the smallest of details prior to any work that started in the field.
 
2. We partnered together to deliver client and community priorities. Goodyear Civic Square at GSQ was designed to be safe, inviting and highly walkable, so the design team was tasked with putting the pedestrian experience first at all levels of the project. This resulted in our project management team collaborating with the project's design team to create several passively secure measures for visitors, including: narrow streets to slow down traffic, wide sidewalks, passive wayfinding, balanced site lighting to create a comfortable nighttime experience, and integrating surveillance and security elements into site architecture.
For site interiors, circulation corridors were utilized to create safe areas for city employees and members of the public that would allow for an inviting and secure space for all. Our project management team's partnership with the design team on this initiative resulted in a welcoming atmosphere, all while ensuring that the site had proper safety measures in place.
Our team also collaborated to construct shared spaces that were designed to elevate the community experience as a whole. From the two-acre civic park that can now host a multitude of community-wide outdoor events, to the Class A office building welcoming a multitude of employees, these intentional spaces are specifically built for the community to use and enjoy. The client's primary purpose for this project was to build a central hub that would intentionally invite and attract more employees and businesses to the area – and this space achieved that goal.
3. We established a positive work environment with subcontractors and team members. On every project, success begins with those who are accomplishing each task. That's why team culture is imperative. As part of Goodyear Civic Square at GSQ, every team member, subcontractor and tradesperson played a critical role in the project's success – and it was their awareness of the community impact this project would have that helped drive motivation and ultimately, success.  Because of this, the subcontractors bought into our collective team mindset and played key roles in constructing the project.
The work environment was intentionally created to provide safety, collaboration and connection. A large tent was erected to provide shade during the hot summer months, and beneath it, everyone could pull up a chair and have lunch, talking about their role on the project and share stories. The bonds formed between team members helped to promote a healthy work environment for all, which led to open communication, problem-solving between groups and a first-class project.
Collaboration is at the heart of our construction team's success to deliver such a multifaceted project as Goodyear Civic Square at GSQ in Goodyear. Together, the project stakeholders created a collective winning approach that involved open communication and transparency throughout the design and construction phases of the project. Each respective team played crucial roles as the client, construction and design teams worked and communicated seamlessly to define the scope of work while making calculated adjustments to the obstacles they faced.
Goodyear Civic Square at GSQ now serves the beating heart of this suburban area, offering opportunities for professional growth and personal fulfilment. As the city continues to expand, our team is also constructing a 160,000-SF parking garage to accommodate this continued growth and visitors to the city center. This economic urban center is a tangible reflection of teamwork and a success story that we are proud to be a part of.
Want to learn more about working with us in the Southwest?
Contact Rich to learn more.