Navigating the Complexities of Automation Facility Design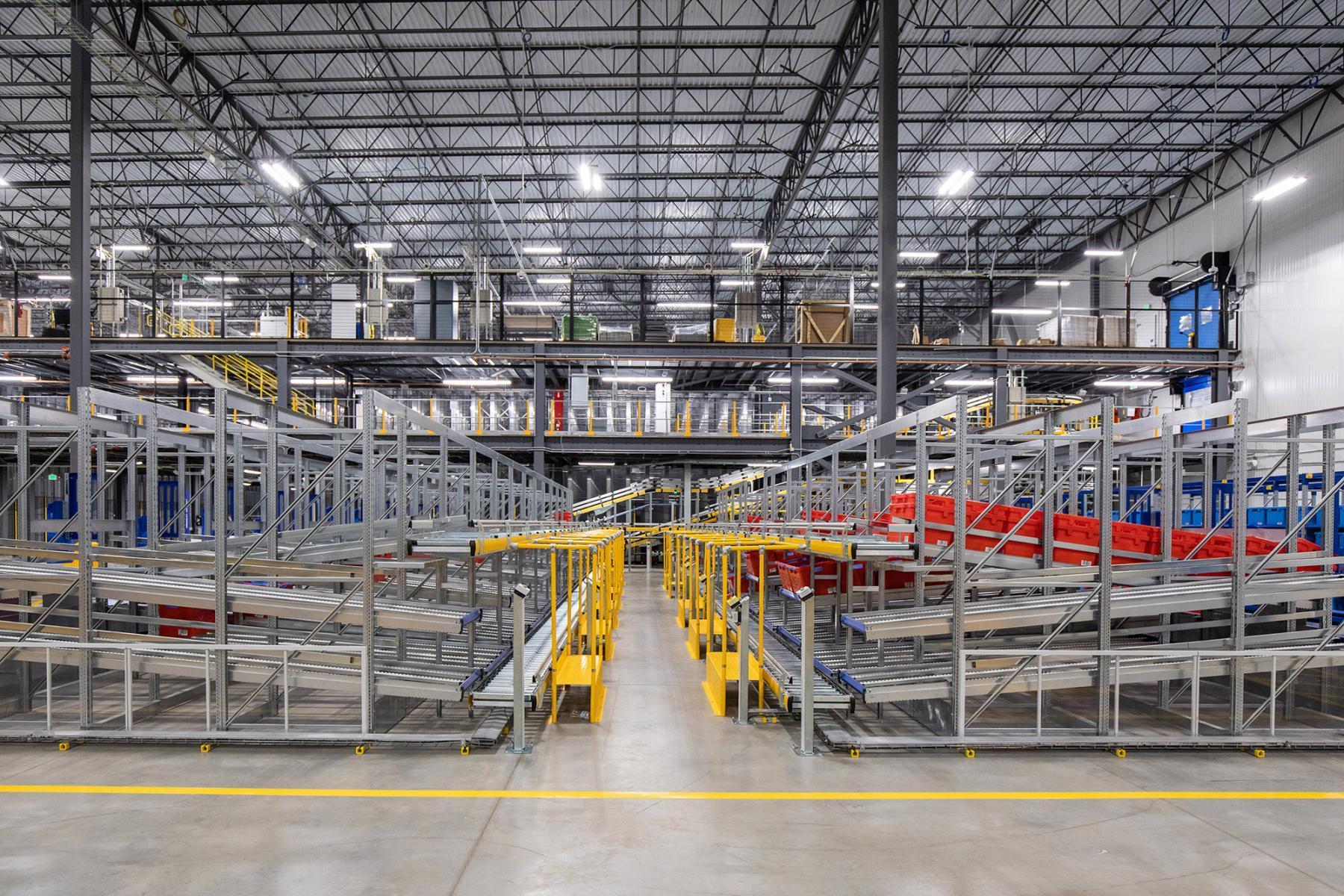 As companies continue to focus their efforts on establishing efficient, effective distribution and delivery processes, automation solutions are growing in demand across all industries.  
Automation solutions, or the use of robotics and automated components within workflows, streamline the process of storing and retrieving products, thus increasing speed, safety and productivity.  
While the use of automation is growing across all sectors, industrial facilities are consistently incorporating automation within their warehouses.  
Our Architecture + Engineering (A+E) team of design experts have played a significant role in successfully designing for automation within industrial facilities, delivering more than 60 million square feet in automated industrial spaces. Within our industrial portfolio across 25 states and two Canadian provinces, we have 60+ active or completed projects featuring automation components. 
Automation systems are intricate, technical and sensitive to changes or undefined facility design parameters that can impact their ability to work at an optimum level. While our team brings extensive experience, designing for automation within industrial facilities is a complex process that requires attention to detail and transparent communication. 
Read on to learn more from our industrial design team and the strategies we implement to successfully integrate automation solutions into our design.  
 

​​​​​​

We always start by gaining a comprehensive understanding of the site.

Because of automation systems' sensitivities to movement, it is critical that a project site is engineered to provide a consistent and sturdy foundation. Our A+E team partners with geotechnical engineers and earthwork contractors to recognize soil pitfalls and assess the soil material's ability to provide the support needed and how it might react during seasonal conditions when the ground starts to thaw. From that assessment, we can communicate necessary remedial measures (e.g., recompact the material or import a different material to the site) to ensure full transparency with clients before proceeding forward on a project. 
 

We design to meet safety requirements.

To achieve safety, you must design for safety. Our team prioritizes the understanding of how the automation systems work (and where they are placed) to avoid creating safety obstacles,

such as coordinating exit paths with conveyors and mezzanine supports

.

The combination of designing for safety and streamlining processes with automation solutions has proven to be effective when it comes to achieving a safe work environment. Efficiency isn't the only reason industrial facilities are incorporating automation solutions into their workflows. Studies show these processes increase safety, as well.

According to

Beverage Industry

, automation can increase the safety of a facility by the controlled and orchestrated movement of equipment and product through the warehouse, while human error and inexperienced operators are common causes of injuries and property and product damage. Similarly, an 2022

Amazon safety report

concluded that

recordable incident rates and lost-time incident rates were 15% and 18% lower at Amazon robotics sites than they were at non-robotics sites. 

 
 

We enlist the expertise of trusted vendors.

Collaborating with skilled partners can help ensure a more efficient, cost-effective process.

Utilizing our extensive national vendor network, these experts become part of our project team to help navigate through unique

challenges. We collaborate with a variety of vendors, including those in mechanical electrical systems, fire protection, HVAC, plumbing, steel and concrete. Having vendors at the table brings a critical eye and solution-centric mindset and can offer solutions the automation provider hasn't experienced before such as a specialty fire sprinkler head or electrical disconnect switch.





With such a large roster of experts involved in a project, it is important to immediately establish transparency and eliminate any potential role and responsibility confusions, as well as address any contractual and work culture differences. Early identification of who is responsible to pull building permits, for example, and establishing a responsibility matrix helps ensure there are no communication gaps or surprises. 


 

We clearly communicate to achieve mutual understanding.

Automation vendors are often located overseas, which creates a need to navigate language barriers, differing schedule priorities and to manage different safety cultures. Our team has partnered with automation vendors on projects with as many as 13 languages spoken across one team. When factoring in such drastic communication differences, intentionality is key. Harnessing the use of a translator and working closely with leaders on the job site is a game changer, ensuring trust and communication is prioritized. 




Constant communication is needed internally, as well. Scheduling frequent design meetings, progress reports and weekly meetings throughout the process helps create necessary dialogue and establishes a consistent channel for feedback to prevent error before construction begins.



It is also vital to

establish understanding—not just between the client, our team and the vendors—but with the community and its citizens. A common misconception surrounding the incorporation of automation solutions into a facility is the elimination of employment for people. But in reality, there are just as many people-focused roles created in order to support the automated workflows and robotics. Communicating this to the city representatives and community at large can help establish clarity and a positive attitude toward project impact.


 

We build around operational needs.

Our team's

integrated design approach focuses on the specifics of the automation process. This is critical because the automation is the lifeblood of the facility operations. Industrial buildings are heavily focused on the operational aspect in comparison to many other product types. Typically, the owner is spending as much money on the automaton system as the building. Any minute where that isn't functioning is monetized. Having our team integrated with the design process allows for more efficiency, maximizes the owners' dollars and minimizes the time it takes to design and construct an effective facility. That's why it's important for designers to first, understand the operation, and then design the facility around the system. The design build model is particularly well-suited for automation because designers can intentionally collaborate with vendors early in the design process, guiding the automation solutions vendors and considering their schedule so everyone is on the same page. 

 
With the complexities surrounding the implementation of automation, it is important to collaborate with a team who has the knowledge of what is critical and understands the value of being as exact as possible. With industrial projects that utilize automation solutions, one inch off could impact the entire success of the workflow and project. By understanding the essential components of an automation facility and collaborating with vendor experts through clear communication, you can better understand the "whys" behind the "whats" and create a successful design for such an intricate project.  
CONNECT WITH US
Contact Eric to discuss incorporating automation into your industrial facility